Notes from the Venice Biennale
Held every other year, the Venice Biennale is to the world of art what the Olympics is to the world of sport. It's a series of exhibitions held throughout the summer dotted around the ancient city of Venice in three broad parts. A main show held in the sprawling Arsenale, the now empty naval headquarters of the once independent Venetian Republic, attempts to capture the artistic spirit of the moment. National pavilions showcasing artistic talent are grouped in a park called the Giardini. These are run by national governments, an important tool for cultural diplomacy and nation 'branding.' Ancillary exhibits held in palazzo, villas, and churches are organized by cultural organizations, museums and foundations from around the world.
I had the fun fortune of attending the vernissage of this year's Biennale in June. It is an opening week of events, openings and parties that bring together the good and the great of the art world, where plutocrats rub shoulders with philosophers, where artists, activists, curators, creators, models and moguls decamp to probably the world's most idyllic urban setting.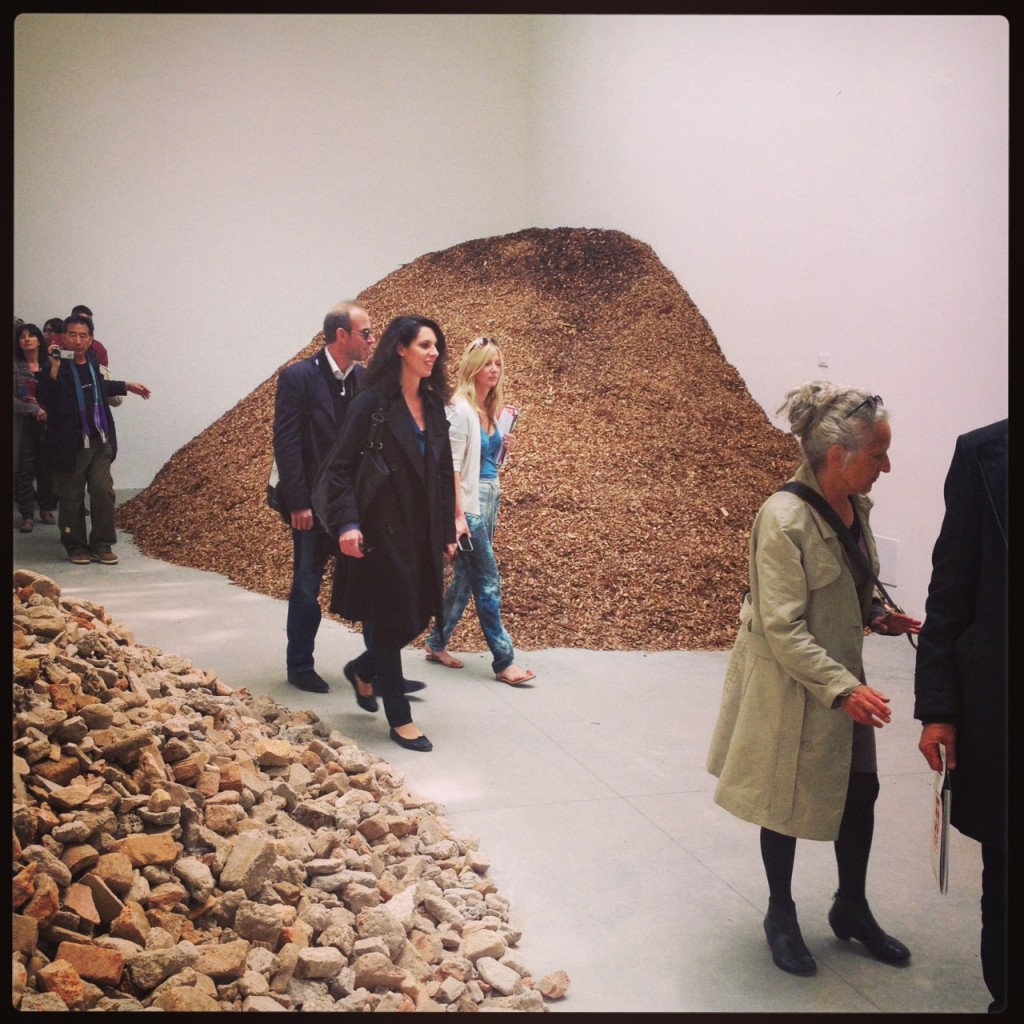 Spanish Pavilion, artist: Lara Almarcegui (b Zaragoza, 1972). Photo by Daniel Elsea.
For those of us who work in city-making, seeing one of the world's most iconic cityscapes transformed into a contemporary art gallery – en masse – is a brilliant phenomenon. As it has for many decades, art today twists and turns notions of beauty; if often shocks; it overturns assumptions and it comes in dynamic forms – encompassing not just painting and sculpture, but architecture, video, sound, spoken word and performance, and three-dimensional media. It comments on the human condition today, reflecting anxieties and distorting realities. It requires an open mind.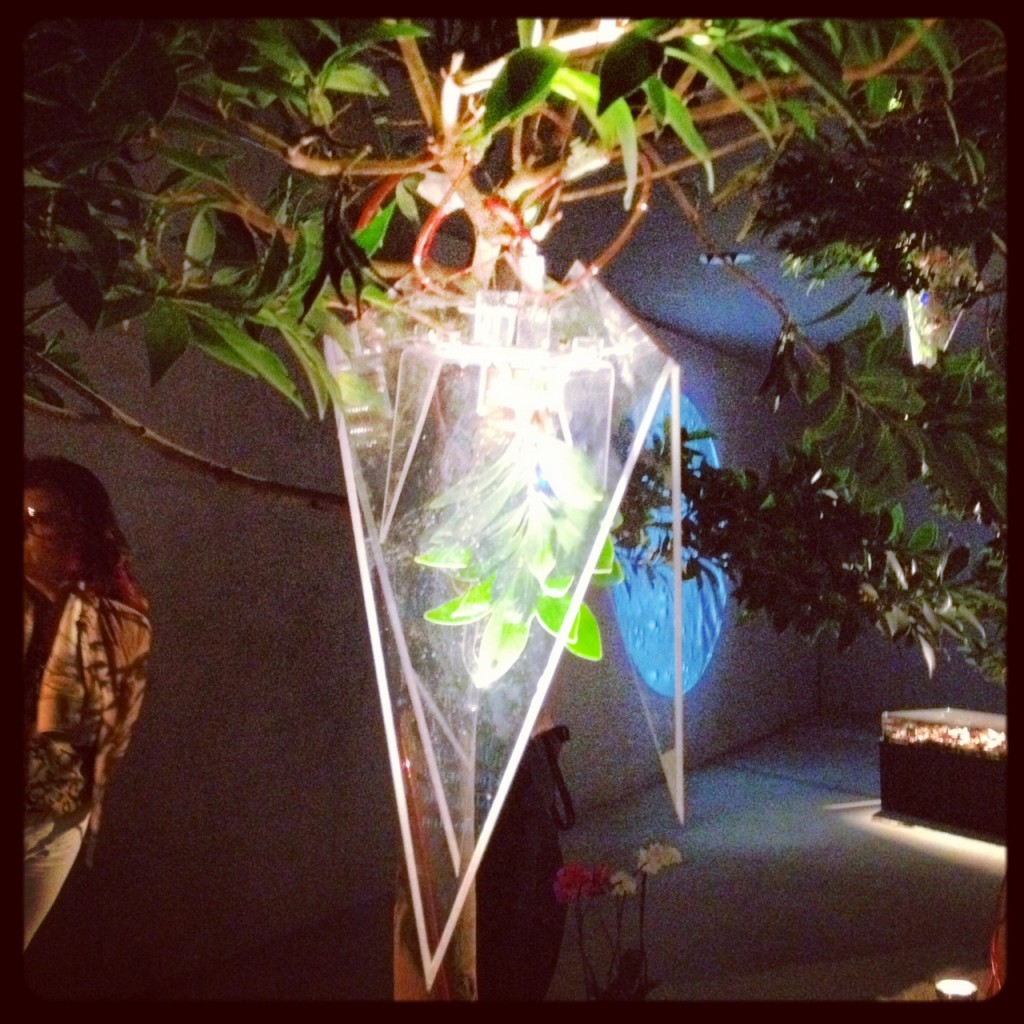 Finnish Pavilion, artist: Antii Laitinen (b 1975 Finland). Photo by Daniel Elsea.
Venice is a funny place to celebrate contemporary art. It is anything but contemporary. Much of the city's original land uses are outdated; its building typologies have become redundant. What does one do with dozens of beautiful centuries-old palaces and churches very precariously sitting around on an awkward lattice of tightly woven canals that are barely navigable? Every square inch of Venice is UNESCO-protected. Like the post-industrial cities of the American Midwest or the British Midlands, Venice's core function has outlived its usefulness, and its population has dwindled.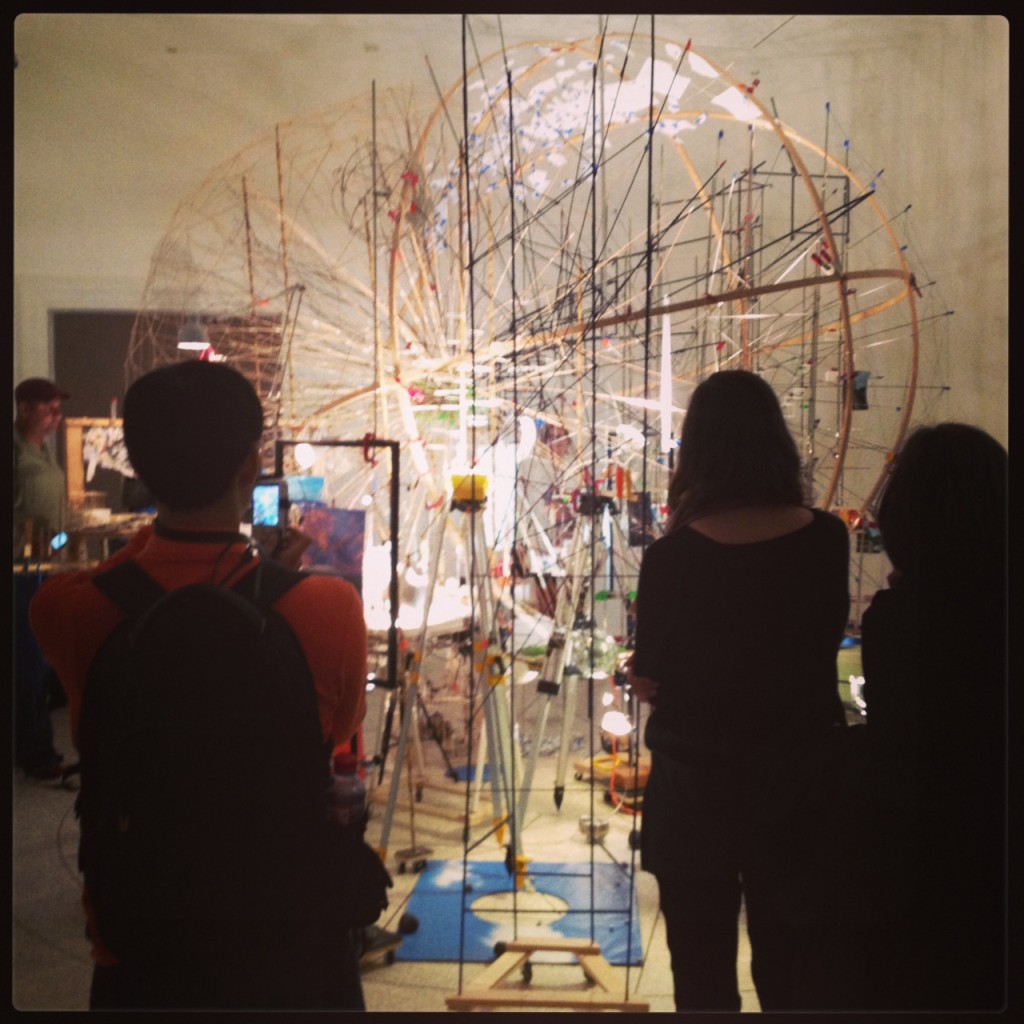 American pavilion, artist: Sarah Sze (b 1969, Boston). Photo by Daniel Elsea.
Venice's bones are full of ancient culture, but through the Biennale, it becomes a contemporary cultural destination as well. Then there is the art itself. Much of it, I observed, dealt with urbanization itself, the increasing pressures of human impact on the natural environment, the changing conditions of the built environment – especially in the developing world. The theme of this year's Biennale was "The Encyclopaedic Palace." It basically was a sensorial visual overload of everything that was as much an exercise in archaeological methodology as it was a comment on the over-saturated multimedia world we now inhabit. Apt both for a place like Venice and for a time like today's. Twitter meets Titian.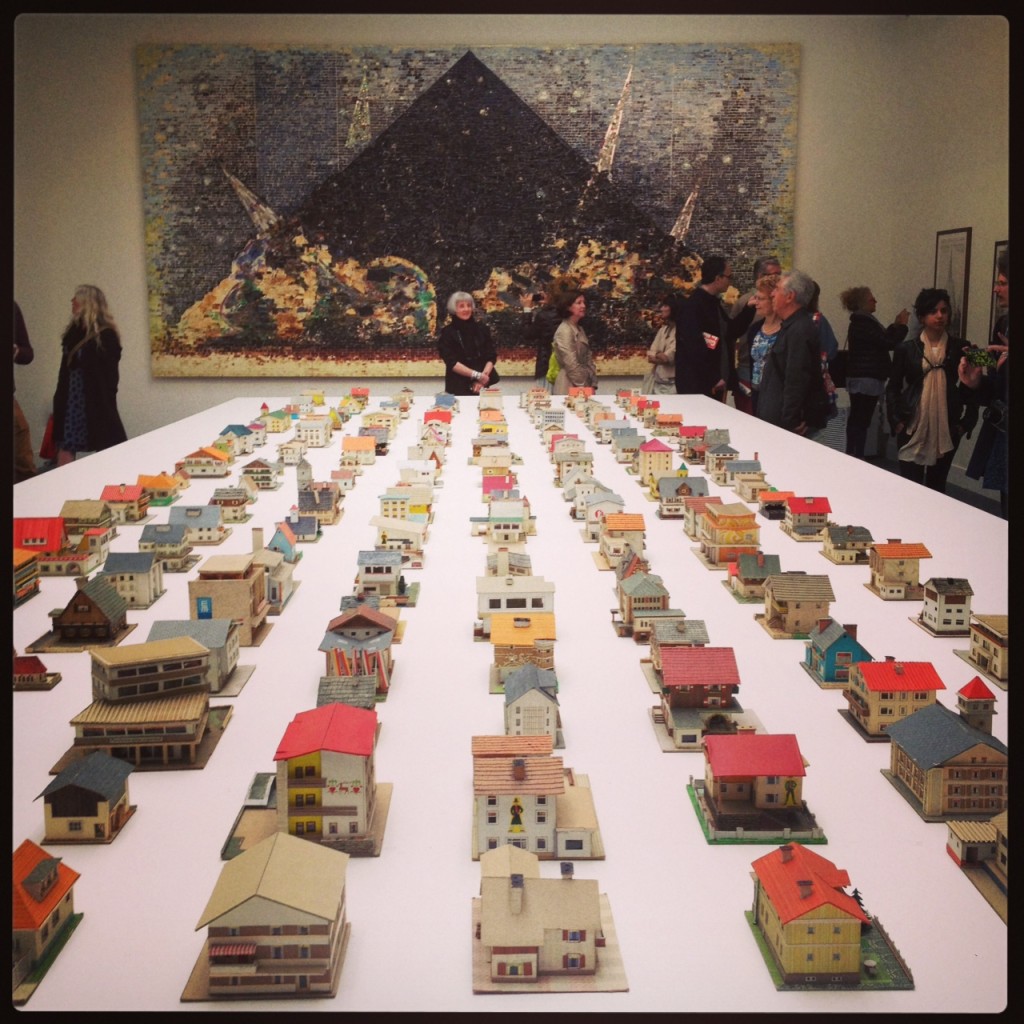 "The Encylopedic palace," Arsenale show. Photo by Daniel Elsea.
The Golden Lion award for best national pavilion went to Angola for its exhibit "The Encyclopaedic City," which was a visual analysis of a city. The artist Edson Chagas took a series of photographs of lost corners and hidden places across Luanda, the Angolan capital. They were interspersed throughout the pavilion, the 14th Century Palazzo Cini, printed in large form on thin newsprint in piles of paper placed on modern shipping palates. Each pile has thousands of copies of scenes from Luanda, neatly aligned and casually displayed for visitors to take with them as they please. The Biennale also gave a special mention to the Japan Pavilion, which featured a group show about collective community action in the face of emergency, inspired by the Fukushima recovery efforts.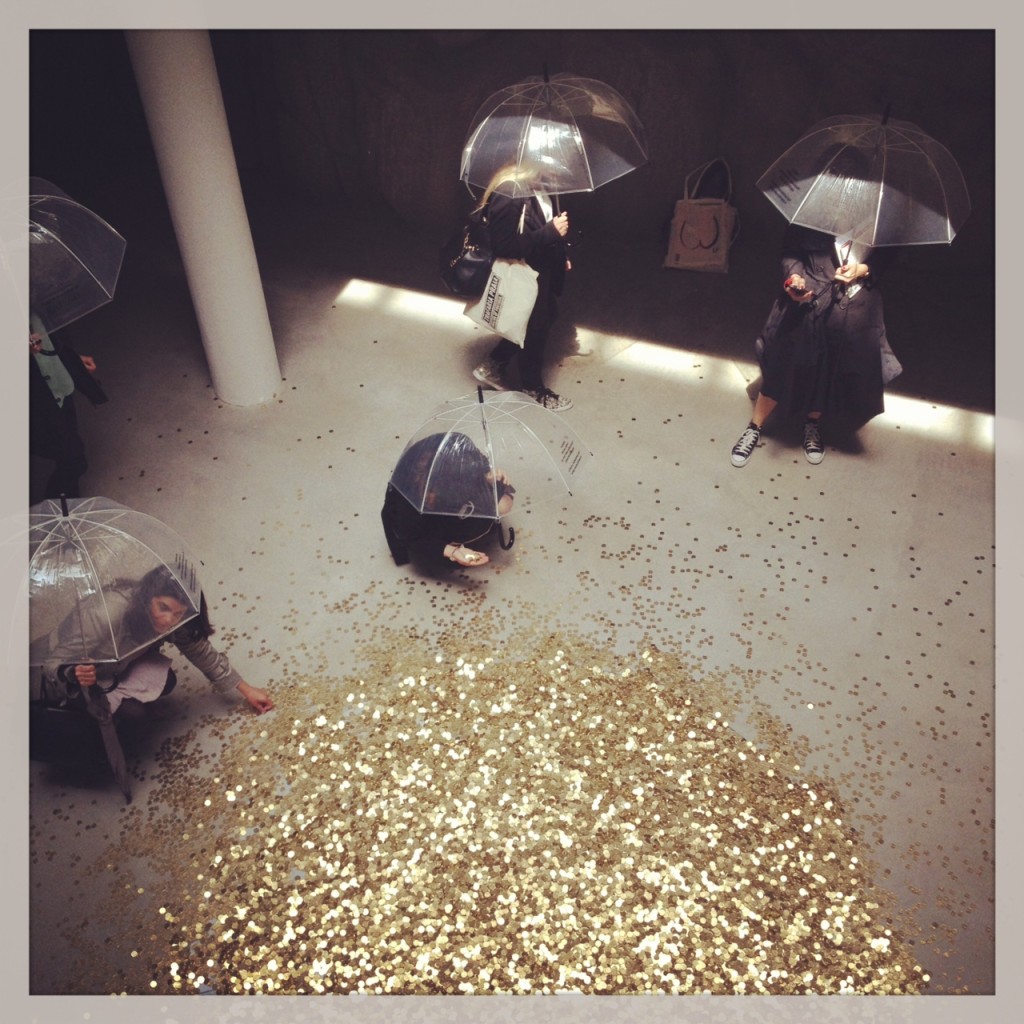 Russian pavilion, artist: Vadim Zakharov (b 1956, Dushnabe). Photo by Daniel Elsea.
In the Finnish Pavilion, artist Antii Laitinen created a forest-like room that brings into question the human relationship with nature. Robotic 'flowers' grew and shrivelled according to the carbon dioxide levels present in the pavilion. Artist Sarah Sze's Triple Point at the American pavilion is a series of tantalizing installations that comprise thousands of objects from our everyday lives. Spider-like, they take over the entire space, like an uncontrollable cancer that at one point bursts open out of its neo-Palladian shell. Her sculptures reveal a condition where growth is out of control, but also delicate and fragile. It's rampant sprawl that can all come tumbling down. In the Spanish pavilion, the artist Lara Almarcegui created a series of landscapes made from a deconstructed building on the outskirts of Venice. Mountains of rubble are here clinically organized by material – wood, glass, stone – reminding us of the basics that go into the construction of buildings and the temporality of architecture. These are just a few of the artists who were commissioned. Climate change, human migration, outmoded infrastructure, environmental change, water, energy – all of these themes were woven throughout the literally thousands of pieces of art on display at Venice.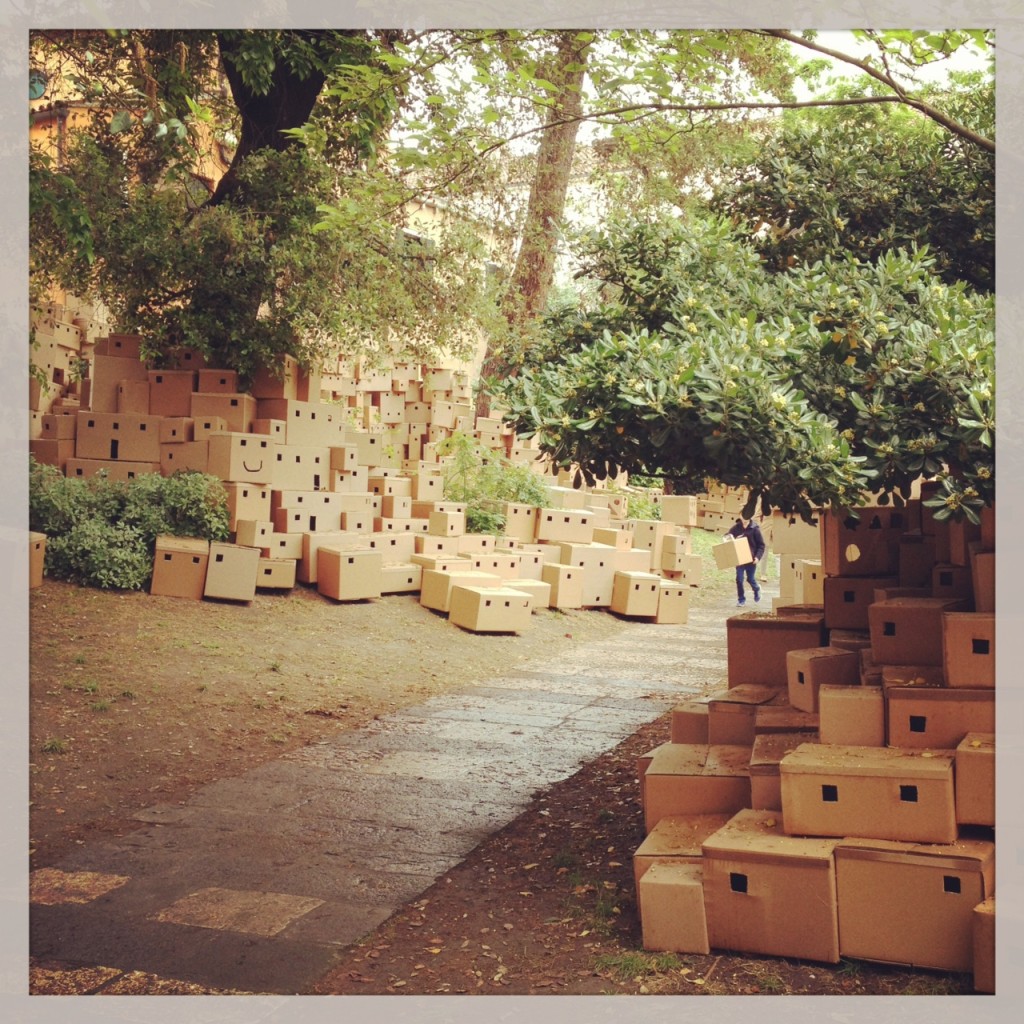 Palestinian pavilion, artist: Bashir Makhoul (b 1963, Galilee). Photo by Daniel Elsea.
The Art Biennale is the pulse of art and visual culture of the moment. In a way, it tells us what's going on in the world's inner consciousness. It was exhilarating to see just how much the city – in all its glory and irony – is influencing artists. The art on view right now in Venice reveals that we are increasingly all urban creatures, and that our evolving and complex relationship with the built and natural environment is very much on our mind.
The 2013 Venice Biennale of Art is open to the general public until 24 November 2013, Tuesday-Sunday, 10am-6pm, in dozens of venues around the city of Venice.
Daniel Elsea is creative director, Buildings + Places, at AECOM.