Smart mobility: connecting people and places
Source: Rocky Mountain Institute.
Cities cover 2 percent of the earth's surface, contain over half of its population, consume 75 percent of global energy and give off 80 percent of greenhouse gas emissions (GHG). Cities are growing.  Between 2010 and 2050, the number of people living in the world's urban areas is expected to grow by 80 percent — to 6.3 billion — with 70 percent of the world's population living in cities by 2050. This growth will pose challenges for urban mobility – for the networks of transportation facilities and services that move the flow of people and commerce into, out of and within the world's cities.  The ease, safety, and reliability of transportation influence our capacity to do business, obtain health care, and participate in social and recreational activities.
A 21st century economy requires a city to have a transportation network that is convenient, dependable, accessible, and connected.
Smart Mobility recognizes that the changing nature of travel behavior and trip requirements, consumer demand and environmental concerns require the development of a new network of mobility solutions. It is an overarching basis for policy and investment coordinating a wide variety of activities that moves people and goods to enhance economic, environmental, and human resources.  Smart Mobility takes many forms.  Advances in technology facilitate integrated and smart mobility solutions, while leveraging the existing infrastructure with new concepts and business models.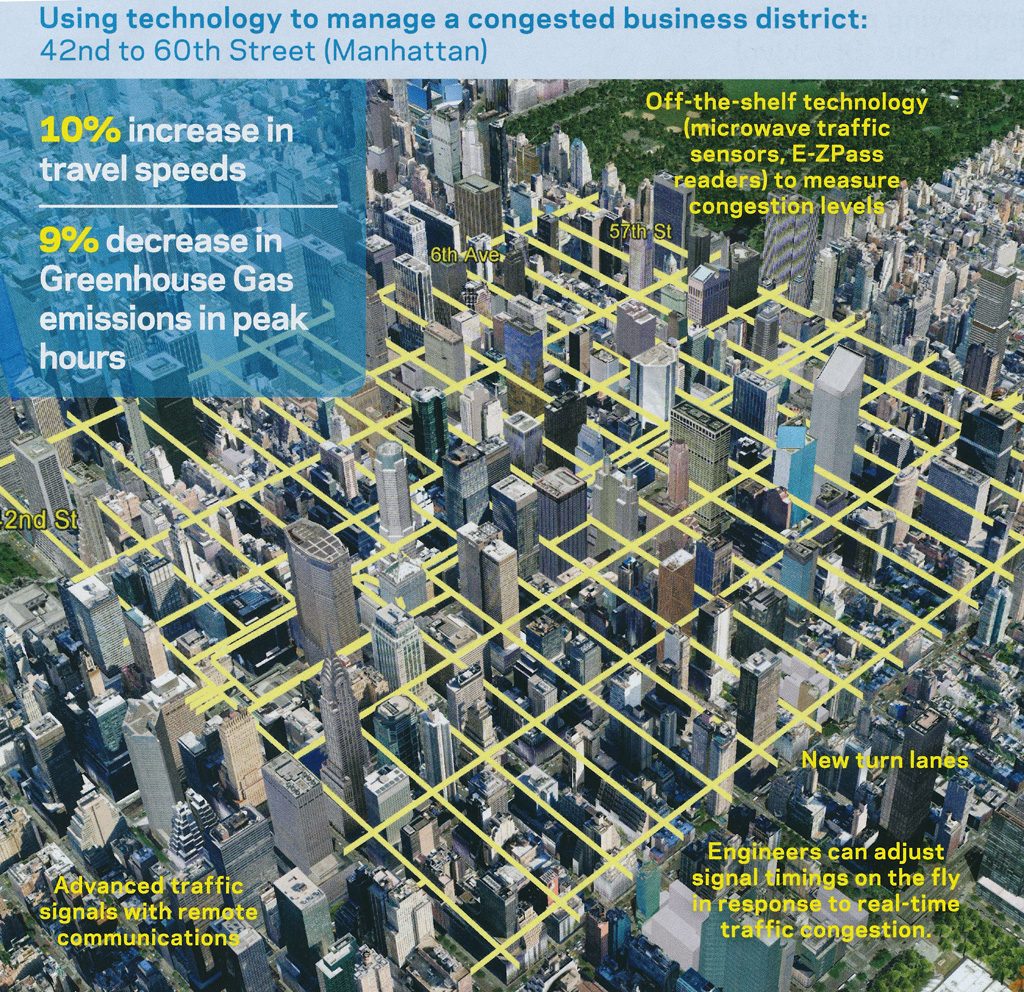 Source: ITE Journal, April 2013
The cities of the near future will be getting "smart" using a combination of high- and low-tech solutions. The new mobility includes such diverse modalities as: peer-to-peer car sharing, shared-use mobility, integrated way-finding, electric vehicle (EV) charging infrastructure, and new investment in mass transit systems.  Many components of "smart" cities are already ubiquitous, such as smart phones; others are in rapid ascent, like bicycle lanes, electric vehicles, mixed-use development and redevelopment around multi-modal transit hubs.  From electric vehicles, to car sharing, to smart parking, to Intelligent Transportation Systems and Wi-Fi lampposts, new technologies and designs are being applied to optimize infrastructure, reducing congestion and addressing the challenges of climate change.
Smart mobility means making a complete connection using technology like in-car sensors and connectivity to gather and integrate information that helps smooth traffic flows.  It's about managing demand and increasing the capacity of existing networks while reducing costs, accidents and pollution.