AECOM is pleased to announce that the STM has awarded Gestion Prolongement Ligne Bleue (GPLB) the professional services mandate for the Montreal Metro Blue Line extension. AECOM and its partners, working in the GPLB joint venture, will leverage their expertise in geotechnical engineering, tunneling, structures, track design, mechanical, electrical, telecommunications, roads, traffic management and project management.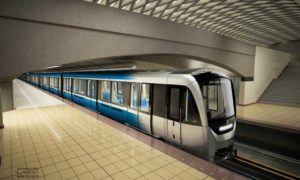 Photo credit: Société de transport de Montréal (STM)
"We are very pleased to have won this important professional services mandate for the STM. AECOM is once again associated with the development of the Montréal metro network, after having participated in the last extension project of the Orange line in Laval", said Yvan Côté, Vice President, Transportation, Canada East.
The project to extend the Blue Line includes six kilometers of tunnel from the Saint-Michel station to the Anjou station, namely five stations, an underground garage, service centers and auxiliary structures, bus terminals and park-and-ride facilities and fixed equipment (track, systems related to traction power, train controls and telecommunications as well as motorized facilities such as elevators, escalators, fans and pumps).
The mandate of GPLB for the STM, which will be undertaken as part of an integrated project office with the client, includes updating the preliminary project, defining the reference project, providing complimentary engineering services based on the selected delivery mode as well as performing procurement, construction monitoring and project management.
About AECOM
AECOM is built to deliver a better world. We design, build, finance and operate infrastructure assets for governments, businesses and organizations. As a fully integrated firm, we connect knowledge and experience across our global network of experts to help clients solve their most complex challenges. From high-performance buildings and infrastructure, to resilient communities and environments, to stable and secure nations, our work is transformative, differentiated and vital. A Fortune 500 firm, AECOM had revenue of approximately $20.2 billion during fiscal year 2018. See how we deliver what others can only imagine at aecom.com and @AECOM.
AECOM Contact:
Yves Dallaire, M. Urb,
Director, Transportation Sector, Eastern Canada
(514) 687-6028