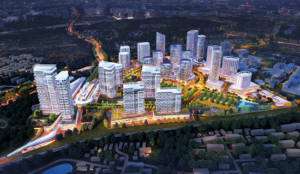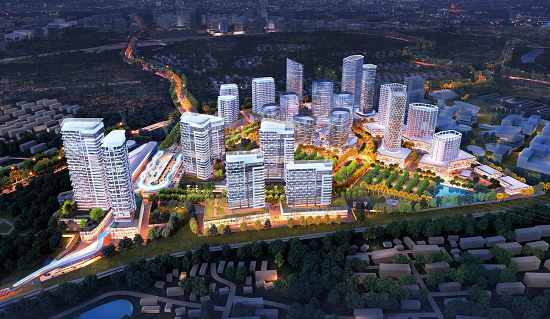 BSD City of Sinar Mas Land envisioned their biggest landbank to be the first integrated smart digital city in the country. As a part of its transformation, one of the priority by enhancing the mobility of residents and workers within the area by improving public transportation facilities. The advancement includes the Intermoda BSD City, in which people can feel at ease while transporting within this township or going to and from surrounding cities and regions.
---
The Intermoda BSD City designed to be the exemplary green and modern Transit Oriented Development in Tangerang. The project site is situated adjacent to the Cisauk train station as one of the stops in the Jakarta-Tangerang commuter line. It is also positioned at the middle of BSD City development, with this excellent positioning and high accessibility, this project has potential to be the transit gateway of BSD City.
Within Intermoda BSD City, it is designed as a vibrant mixed use development embracing Smart and Creative Business. This is enhanced by connecting its neighbour Atma Jaya University with the creative district and the Intermoda destination. Just to the north is BSD's Grand CBD which is home to AEON Mall and other rising developments with well-built road infrastructure and future toll access.
As Intermoda BSD City Infrastructure's appointed engineer, AECOM provided innovative solutions to unleash the potential and control challenges in the design and construction through Beyond Transit oriented development (TOD), it is the intention to create a gateway between BSD City and Central Jakarta. An intermodal destination that may serve as a one stop shop for the home-to office-home again daily journey. A place where connectivity and mobility serve as an agent for economic prosperity in a vibrant district of BSD City.
Socially, the compound has the Pasar Modern Intermoda, a two-storey building that offers spaces for small medium enterprises. These enterprises offer wide range of products, from fresh cooking ingredients, clothing to culinary and others. The design nods to our tropical climate, so we tend to make many openings and more permeable. These openings allows cross ventilation that keeps the interior comfortable and pleasant. We have a 300-metre skywalk – fresh air, not air conditioned – that connects the station with the market and terminal, encouraging people to walk through an active experience.