With the global appetite growing for cleaner, more cost-efficient energy solutions, renewable power sources are becoming the preferred energy generation alternative of the future. The International Energy Agency forecasts that by 2020 more than a quarter of the world's electricity generation will be met by renewables. Forming part of this new mix is colocation — combining solar and wind generation on the same site.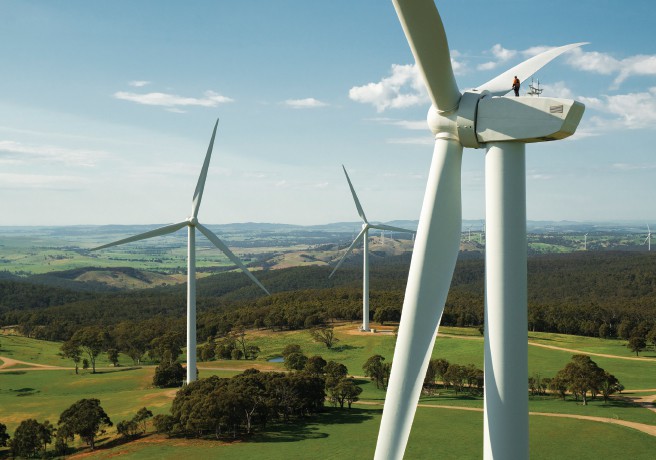 Pairing the two sources can deliver significant investment and operating savings of up to 16 percent according to a recent report titled Colocation Investigation: A study into the potential for collocating wind and solar farms in Australia for the Australian Renewable Energy Agency. Researched by AECOM, the government report investigated the business case for retrofitting existing wind farms with solar capacity as well as co-development of wind and solar greenfield opportunities.
The addition of solar technology to existing wind farms is a "game changer," says Steven Nethery, Sydney-based Technical Services Manager of global wind generating firm and AECOM client Goldwind. "You've built your grid connection, done all the environmental analysis, constructed roads, liaised with the community and government organizations to press ahead with a wind farm, but how much of that do you ever use again? All that knowledge is parked. Colocation is about using it again to get some cost savings and optimizations on the solar farm, and it's not just solar either, there are other opportunities for shared infrastructure too, in terms of storage facilities or water treatment plants."
In July (2016), Goldwind received planning approval for a 10-11 MW solar photovoltaic power plant at the Gullen Range Wind Farm in New South Wales, currently supplying 60,000 homes, that will share existing infrastructure and grid connection with the existing wind farm on site.
Nethery believes it is only a matter of time before such colocation strategies are widely adopted as a matter of standard practice.
In addition to making best use of existing knowledge and infrastructure, one of the other great benefits of colocation is continuity of supply, known as 'firming.' This will be demonstrated at the Kennedy Energy Park in Queensland, Australia. These planned wind and solar installations are to generate up to 1,200MW of renewable energy for the region, which according to global wind energy development company Windlab, is enough to power 400,000 homes.
"The wind is consistent in direction and daily profile, blowing through the evening until mid-morning, which complements the daily solar profile, producing continuous power generation around the clock," says Geoff Burns, Project Director at Windlab.
One of the challenges for the future is the capacity of the transmission network. "The Kennedy Park area has one of the highest levels of solar irradiance and a world-class wind resource," continues Burns. "But the transmission network is confined to a relatively narrow strip connecting the centralized coal-fired generators to the south with the more densely populated strip along the east coast." The lack of transmission infrastructure away from the population centers, mining infrastructure and traditional centralized power stations is a significant challenge to the growth of renewable energy in Australia.
Despite some challenges, renewable power generation continues to become more cost competitive and is clearly set to grow as the major source of energy supply. Combining renewable resources and increasing the productivity of the existing infrastructure and site investigations is a logical progression for this industry. With reduced development costs and construction timeframes, coupled with shared use of existing infrastructure and operating costs, renewable colocation will shape the way of the future.