The silent healer: acoustic design in health environments
While we know that rest is crucial to the healing and recovery process, the findings of a new AECOM study suggest that too many patients are exposed to unwanted noise and a lack of privacy while they are attempting to make the journey back to good health. Acoustic specialists Danny Boglev and David Peoples suggest how to reduce unwanted noise.
At a time when there is great awareness of noise-induced health impacts, hospital patients are suffering considerable noise disturbance during their stay according to an AECOM study conducted in Australia. According to the World Health Organisation (WHO), overnight noise in a hospital should be no louder than the hum of a refrigerator and that anything more than the murmur of a typical office space disturbs sleep, raises blood pressure and can even increase the incidence of heart disease.
In this survey of health departments, hospital operators and designers, more than half of the respondents highlighted sleep disturbance as being a primary issue occurring in hospital projects completed in recent years. Similar numbers of responses were received regarding acoustic reverberation in and around wards, and the impact of noise from nurses' stations on wards.
Nearly half of the respondents noted a lack of privacy for patient consultations, in some cases relating to poor sound insulation between rooms, and in other cases relating to the acoustic conditions within shared areas, such as wards.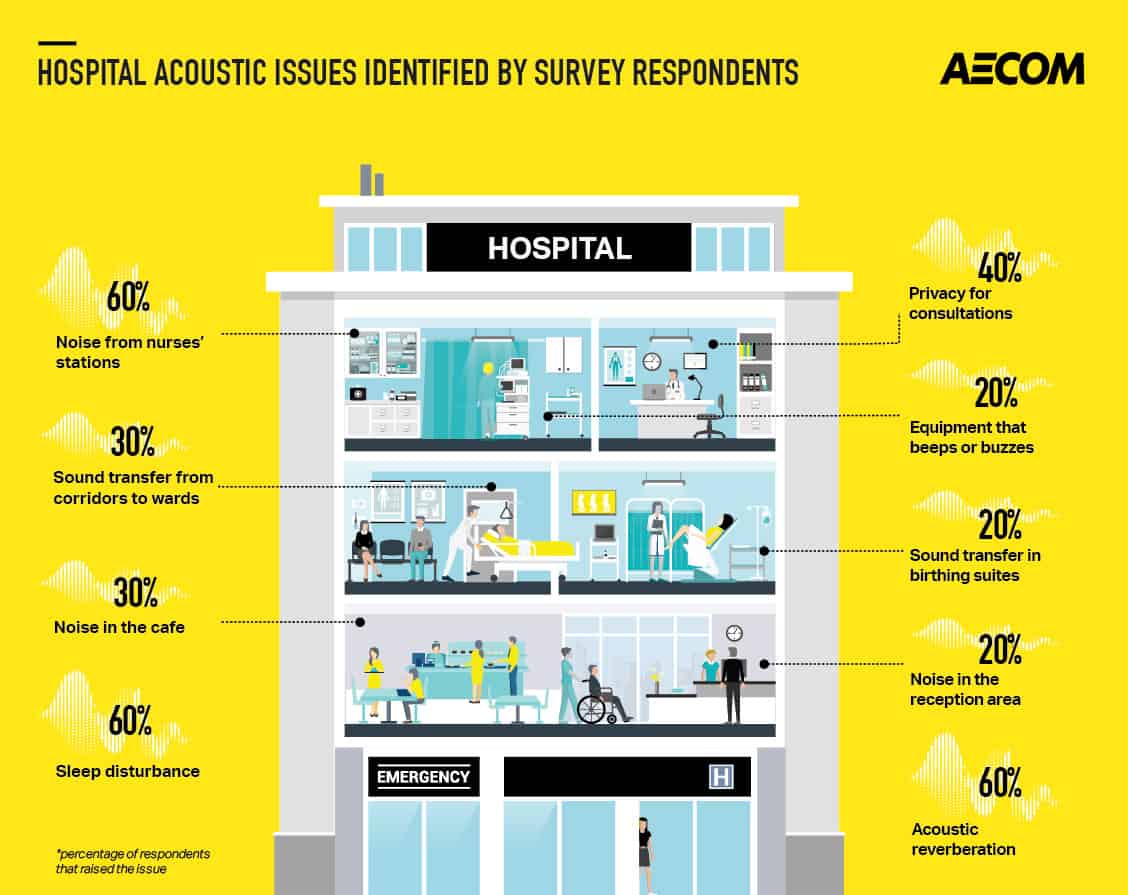 Unique set of challenges
The feedback to the survey establishes a common theme, in that nearly all of the responses relate to noise generated within internal areas of the hospitals, and the transmission of this noise to patients. For the most part, the acoustic issues that were highlighted occur due to the relatively open-plan nature of the hospital areas and the fact that the internal surfaces are hard, giving rise to the echo and reverberant noise throughout the wards.
Hospitals pose a unique set of challenges that do not exist in other types of buildings, such as the issues of infection control and washability – with obvious implications for the sorts of materials that can be used in construction and outfitting hospital interiors. However, there are solutions available and they need to be assessed and implemented not just for the sake of the patient, but also for the staff that are trusted to heal them.
Maximising patient and staff wellbeing
The impact of sounds in a hospital can be profound for the wellbeing of the patients beyond the issues of annoyance and privacy. It's acknowledged that poor acoustic conditions may have a negative impact on a patient's physiological health, and this can prolong their recovery time and length of stay in hospital. Acoustics can also impact perceptions of comfort, safety, and security for patients, all of which can affect a patient's recovery.
Poor acoustic conditions don't just impact patients' recoveries. Rather, hospital staff also suffer from the stress of working in noisy environments. A good acoustic environment helps staff hear and analyse audible warning alarm sounds on medical equipment and patient call signals. Furthermore, flawless communication is important during the handover of shifts and the exchange of patient information. Providing staff with a better, less-harsh working environment can create one fewer stress point in an otherwise high-stress environment.
Although acoustics are not the only contributor to a patient or staff member's wellbeing, this is definitely a factor. Hospitals are built to save lives and heal people. WHO recommendations and studies clearly show the links between noise, sleep disturbance and sickness. Providing hospital environments that promote quality rest is a key contributor to helping people heal and thus move more quickly through the hospital system, freeing beds for others. At the same time, providing staff with a better work environment can lead to better staff well-being and supports the aim of reducing staff turnover.
Two key steps to noise control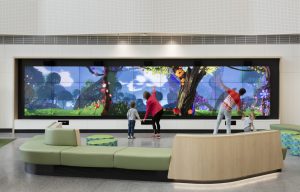 Most of the acoustic issues highlighted by respondents to the AECOM survey are largely the result of the fact that the internal surfaces in hospitals are hard (to make infection control more effective) and acoustically reflective, giving rise to reverberant noise. The reverberant noise propagates readily throughout the hospital, along corridors and through wards.
The first key step to noise control is installing sound-absorbing ceilings and wall panelling. Installing these types of treatments in most buildings is relatively common and straightforward. There has been reluctance to apply such treatments in hospitals due to infection control and washability requirements, which are seen to be compromised by the fibrous nature of most sound-absorbing materials. However, in recent years, sound absorbing ceilings and wall panels that are washable and that incorporate infection control agents have been developed for use in hospital environments. Such treatments make a considerable difference to the acoustic environment, and go a long way to alleviating the highlighted noise problems. This has been demonstrated recently in some hospitals that have installed these materials to great effect.
AECOM performed the acoustic design for the recently opened Monash Children's Hospital in Melbourne, Australia, which features hygienic-grade, acoustically absorptive materials that are strategically placed to target both public and clinical spaces prone to generating high noise levels. The architectural feature ceiling above nurses' stations incorporates a sound-absorbing surface finish that moderates noise occurring at the staff station; whilst an acoustic ceiling tile system is used in all hospital corridors to suppress noise generated on the ward, as well as in all individual and shared patient bedrooms.
The second key step is in the design and layout of spaces at the conceptual stage of designing a hospital. Noise-sensitive areas, such as neonatal intensive care units, wards, and sleep-study areas, require a high level of acoustic isolation from activities within a hospital that are prone to generating excessive noise, such as a helipad, medical imaging equipment, HVAC plant rooms, and public areas. Designing acoustic solutions to achieve the high levels of acoustic isolation required for such spaces can be costly and space intensive. Therefore, it is essential that their location is carefully planned to achieve suitable acoustic separation from noisier areas of the hospital.
By promoting these two approaches, our next generation of hospitals will benefit patients and staff alike.