Construction management of risk
The phrase construction management (CM) means different things to different people, so to put the record straight, here's a guide to how it works. At its simplest, CM is a methodology for delivering a construction project, in effect it's a procurement strategy. The key differentiator of CM over more traditional procurement routes is that it saves the client's time and money, and minimises risk through greater flexibility and project control.
Traditionally, construction works are procured against a defined scope (i.e. a design completed by the client's team before tendering) and the chosen contractor is appointed to construct the works. A project management company is appointed to oversee the design process and to be the employer's site representative to administer the construction contract.
A construction manager is engaged as a fee-earning professional to programme and co-ordinate design and construction, and to improve the buildability of a design. CM procurement is universally known as 'fast track', which is a means of reducing project time by overlapping design and construction. Each package of work starts as the design and specifications related to that element are completed. This provides more flexibility to focus on the proper delivery of key elements later in the construction process, such as façade, building services and architectural finishes. A CM team works closely with the members of the design team to advise clients on all aspects of buildability which may have time and cost implications, hence leading the way to improving project delivery and viability.
Typical procurement route and associated characteristics are shown below:
Characteristic
Traditional
D&B
Mgt. Con.
Con. Mgt.
Diversity of responsibility
Moderate
Limited
Large
Large
Size of market from which costs can be tested
Moderate
Early
Moderate
Large
Timing of cost certainty
Moderate
Early
Late
Late

Need for early precise definition of client

requirements

No
yes
No
No
Speed of mobilisation
Slow
Fast
Fast
Fast
Flexibility in implementing changes
Reasonable
Limited
Reasonable
Good

Availability of recognised standard

documentation

Yes
Yes
yes
Yes
Ability to develop proposal progressively
Reasonable
Limited
Reasonable
Good
Cost-monitoring provision
Good
Poor
Reasonable
Good
Construction expertise input to design
Moderate
Good
Good
Good
Management of design production programme
Poor
Good
Good
Good
Influence in selection of trade contractors
Limited
None
Good
Good

Provision to monitor quality of materials &

workmanship

Moderate
Moderate
Moderate
Good
Opportunity for contractor to exploit cash flow
Yes
yes
Yes
No
Propensity for confrontation
High
Moderate
Moderate
Minimal
Schedule Comparison Tradition vs. CM Construction Process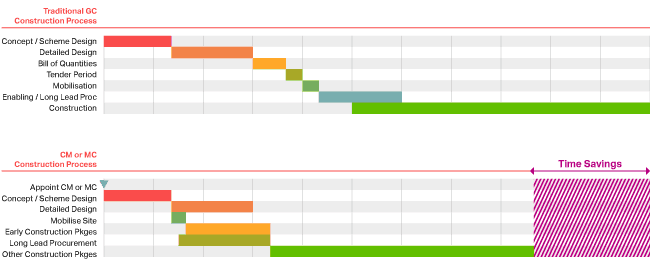 Potential extensions of time under a traditional procurement route can be due to design amendments or refinements made by the client or design team. These tend to be naturally mitigated under CM because key final decisions can be made progressively as work packages are procured. Similarly, while site instructions to clarify, modify or accommodate changes can also lead to extensions of time, a CM approach offers more time to make decisions on key packages, with the cost and time of such changes being adjusted when tenders are received to suit client expectations. Additionally, the involvement of specialist subcontractors during the design process can add value, and in some cases reduce client expenditure.
Communication between clients and package contractors using CM is also more direct than traditional routes. This enables clients to make prompt decisions and implement them quickly, anticipate site level problems more readily, and achieve greater cost certainty regarding amendments in design or delivery by working more collaboratively with all involved parties. CM offers flexibility and control that is essential for clients with fast-track projects, enabling decision making and risk management to be focused on at every stage of delivery.
A typical example of the contractual and senior management relationships of Construction Management.
Construction management Organogram: Contracual Relationships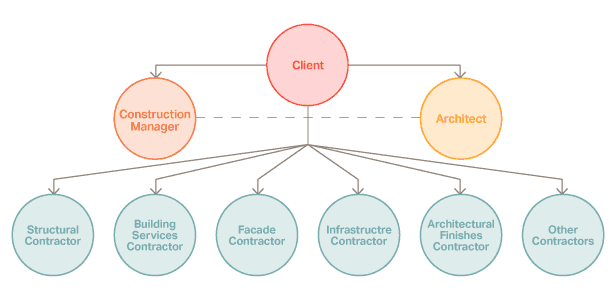 Management Relationship: Senior Management Relationship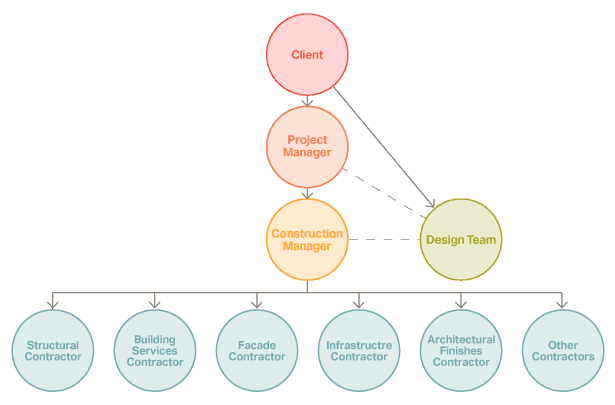 Under a traditional procurement route, using standard contract terms and conditions, a client team has little ability to influence the order and timing of the works – the main contractor's obligation is typically to complete the works by a given date. With CM, the client team has the ability to directly influence the order and duration of activities, and can select package contractors with available resources to fast-track activities should delays in the overall programme become apparent. Unlike a traditional route, the CM team and the client have direct influence and control over the construction and procurement schedules.
The cost of emplying a CM team is more than offset against a traditional route where the main contractor will include allowances for profit, overheads and risk at an increased level. The CM provider is appointed by the client and takes on the role the general contractor would do under a traditional route, by dividing the works into separate, transparent packages. The construction manager is employed on a fee basis, on a non-adversarial form of contract. The contracts for the packages of work are signed directly with the client and the management of the packages is undertaken by the CM team, who are fully empowered by the client. Under CM, each package of works is competitively tendered by the CM to ensure best possible value for the client. The construction manager always acts in the best interests of the client, which offers transparency and flexibility to the whole delivery process.
The contract for each package contractor is signed directly with the client. The client will also have control over the selection and appointment of package contractors, with evaluations based on a wide range of benchmarks including safety, quality and experience rather than just price. Variations and associated increases in cost are minimised with CM as the design for the whole project does not have to be complete from the outset.
Construction Cost Breakdown Comparison Traditional vs. CM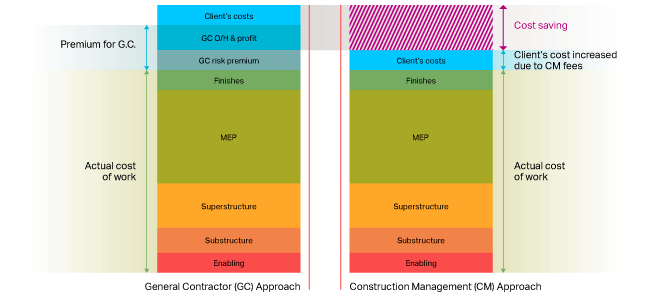 The project design can be further developed during construction as each package of works is procured separately; this enables quick mobilisation and commencement of works on site after the first package has been awarded. The CM team reviews drawings, thereby also reducing design team and client risk. Overall CM is more methodical, manageable, predictable and allows risk to be better managed. The correct balance of cost and quality is achieved by prudent subcontractor selection for each key element of the works; this is particularly relevant with facades and building services but applies equally to structure and finishes. Package contracts are typically entered into near to the time of commencement of the works, making fixed-price tenders possible. This methodology often delivers results significantly more competitive than those submitted several months, or even years, ahead.
For projects of several years duration, the client can also take advantage of developments in technology ensuring the latest equipment is installed rather than defining everything at the outset of the project.
Clients are often concerned that the final cost of a CM project is not known at the outset, and only becomes certain after the last package is awarded, however the flexibility of developing the design within a CM framework, having full control over the packages of works consistently returns substantial savings over traditional procurement routes.
Construction is becoming increasingly complex as projects become larger in scale and more technically challenging. Since the CM aligns the interest of the construction delivery with those of the client, the client is able to make better informed and timely decisions throughout the delivery process.
CM combines the experience, wisdom, creativity and engineering skills of the design and delivery team to drive significantly improved client value. There is complete control and alignment. Design and construction delivered in a non-adversarial, collaborative environment may mean different things to different people, however to clients it means simply one thing, project success.