First generation retail schemes need to stay relevant in the face of retailer mega trends, demographic changes and newer, more attractive developments. Increasingly powerful retail trends include channel consolidation, cross-format competition and the merging of online and offline shopping. AECOM's Michael Hubbard and Robert Bliss look at whether such trends can be successfully accommodated within existing retail offers.
The way we live, where we reside, increasing urbanisation, smaller purchasing volumes and the changing demographic profile of European nations are all factors forcing landlords and retailers to review and appraise their business models, with associated capital assets playing a major role in business delivery. Without refurbishment or fuller re-development, well-located first generation retail centres risk being stuck in the middle of the retail landscape, caught between these shifting trends whilst living on past glories.
In spite of rising competition amongst retail schemes, combined with discount and online retailers taking increasing market share, 'bricks and mortar' retailers still represent a significant place to shop. Online retailing has become one of the biggest threats to established retailers, yet where there is a threat there is often an opportunity.
The move from 'bricks and mortar' to 'clicks and mortar' offers retailers the ability to combine all sales channels, whilst staying relevant in the face of increasing online trade. This also offers both landlords and retailers an unprecedented opportunity to provide an enhanced, improved customer experience. A chance to truly differentiate.
Retail regeneration; comparison of online sales vs. retail sales in 2016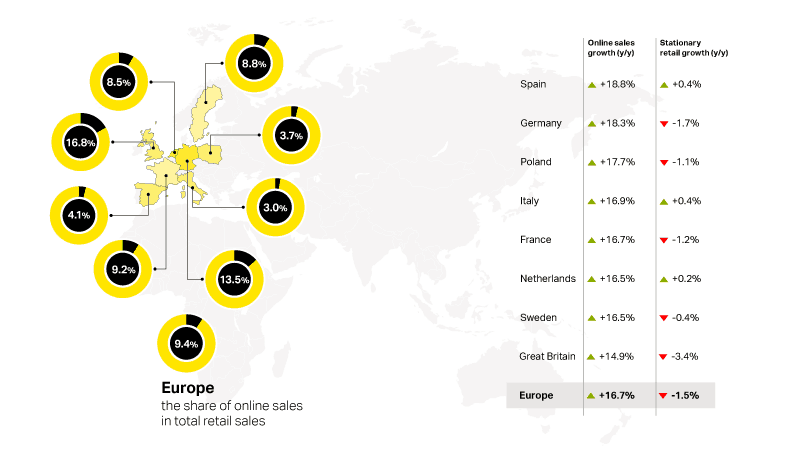 Refreshing and refurbishing retail assets is often an integral part of any turnaround plan, with brand enhancement, portfolio optimisation, and an improvement in financial returns all key factors. The retail units themselves also play an integral part of any marketing strategy, enabling an alignment of key marketing messages, and branding to customer segmentation.
Innovative, thoughtful design and execution is essential in any refurbishment or redevelopment, with minimising customer impact and maintaining operations typically critical to maintaining cashflow and hence investment returns.
Though important from a financial perspective, operational continuity is also key in maintaining customer loyalty, therefore involving centre operational and leasing teams in the design and construction process is essential.
The flexibility of a multi-package construction management approach rather than the appointment of a general contractor is also typically preferable for such complex, fast-track refurbishments, allowing risk to be proactively managed with all key stakeholders deeply involved.
Shopping centres remain at the sharp end of the retail supply chain. The 'last mile' of the supply chain influences or affects proximity and convenience trends, and these in turn create delivery and restocking challenges.
A high percentage of retailers' costs continue to relate to store operations, shopping centre design therefore aids or improves the management and control of these value chain costs. Shopping centres must enable retailers to stay at the forefront of effective supply chain solutions, innovation is no longer an option, it is absolutely essential.
Key design considerations for refurbishing or refreshing retail schemes include:
Innovative design that responds to fast-changing market and lifestyle changes.
Encouraging a centre to work as a people and communications hub, not just a place to shop.
Improving property sustainability, and hence reducing total occupation costs.
Getting retail unit size and the 'mix' right, constantly embracing the market.
Putting leisure at the heart of a scheme, and using this to drive footfall.
Better accessibility drives more frequent customer visits.