#CoolJobs: Proud to lead a team that is skilled, trained and ready for action!
I am pleased to offer a look into some of the exciting projects and capabilities within the mission support services (MSS) team at AECOM. I am a computer science major with a focus in software engineering. You might find it strange that a software engineer runs a team focused on aviation services, but I spent 18 years working as a government civilian for the United States Air Force and Navy. In both roles, I supported software development and design efforts for aircraft maintenance systems and security systems onboard aircraft carriers, and also served as program manager for numerous command, control, communications, computer and intelligence systems.
Headquartered in Huntsville, Ala., our team of more than 700 people is dynamic, diverse and highly skilled in pilot-training aspects such as simulation software development, unmanned systems support and contractor logistics support (CLS). MSS operates in numerous locations including: Ft. Rucker, Ala., Daleville Ala.; Las Vegas; San Antonio; and Lakehurst, N.J.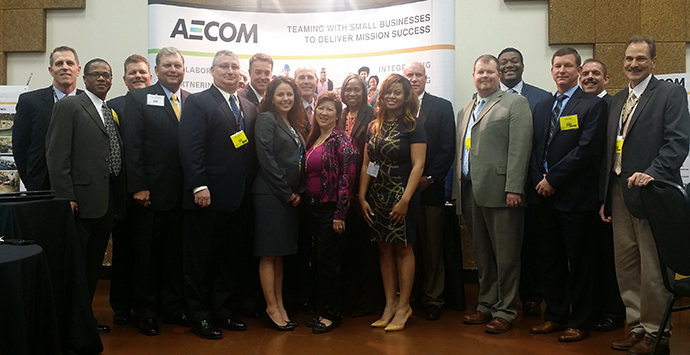 Members of the MSO Team coming together with sister organizations to support the Association of the United States Army (AUSA) symposium in Huntsville, Ala.
AECOM is the sole provider of initial entry rotary-wing pilot training for the U.S. Army, U.S. Air Force and many of our allied partners at the U.S. Army Aviation Center of Excellence in Fort Rucker, the largest helicopter flight training school in the world! We employ more than 300 trained, certified pilots who in turn train over 1,500 students to fly annually, and we have been the incumbent on this project for 26 years. We also offer a commercial off-the-shelf image generator (X-IG) designed to provide state-of-the-art visualization for simulator training systems, providing pilots with an enhanced training experience and preparing them for future military assignments during wartime and peace. X-IG is complete with special effects such as a high-fidelity, 60-hertz refresh rate for near-real geospatial actualization of terrain. This capability adds richness and realism to the training experience and lends a feel much like that of a video game.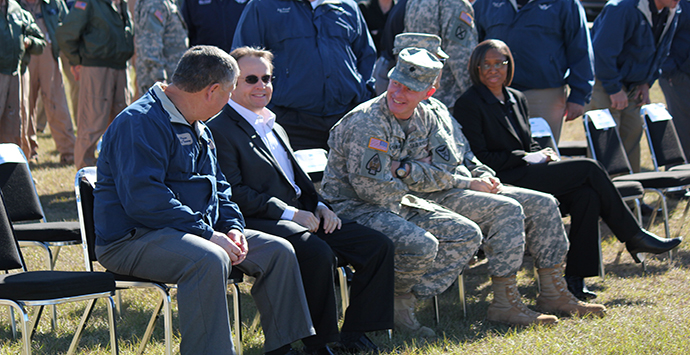 Initial Entry Rotary Wing Pilot Training Program receiving an award for completion of 100,000 hours accident free without a recordable incident.
Our unmanned aircraft systems (UAS) team is located in Las Vegas and provides support to original equipment manufacturers on a number of reputable unmanned aircrafts. A recognized expert in UAS services, we offer dedicated program management, maintenance, logistics and related services to our clients. Specifically, we have provided aircraft systems maintenance/repair and technical services on multiple research development tests and evaluations, acquisition and operational support contracts since 1993. Our UAS team is very busy with both within the Continental United States (CONUS) and outside the Continental United States (OCONUS) travel supporting our clients wherever, they need us!
Finally, our CLS team provides aircraft maintenance and modifications, shelter reset and kitting for a wide variety of fixed- and rotary-wing platforms. Our clients include the U.S. Army, Air Force, Navy and the defense logistics agency. The CLS teams support operations in Huntsville, San Antonio and Lakehurst by providing field service representatives but they also serve as additional capacity to support quick-reaction deployments and temporary duty trips at CONUS or OCONUS locations. This team is always skilled, trained and ready for action.

Cynthia Crutchfield is a senior vice president of mission support services based in Huntsville, Ala., United States. She has been married to Michael Crutchfield for 24 years, and they have one child, Michael, 14. Cynthia enjoys family time, collecting porcelain dolls, scrapbooking and working with her sorority to provide community service.