We're so excited to be in Brooklyn! Opening our new office in Industry City and building a multi-disciplinary team on the "innovation coast" brings so many opportunities and connections.
As a principal leading AECOM's landscape architecture studio here, I'll help our team expand beyond boundaries and think in new ways to deliver projects that improve our cities. We're looking forward to discovering game-changing methods of practice across our many disciplines.
My team is charged with investigating the possibilities, planning and leading large-scale urban design projects. The space in Industry City provides a stimulating environment to be creative, but most importantly, it provides a platform for collaboration across AECOM and direct involvement with local neighborhoods and communities.
To celebrate our work, our new office and Brooklyn itself, I would like to introduce some of my team members who speak about their projects and their Brooklyn connections.
From: Lulu Loquidis, Landscape Designer
With our move to Industry City, I've gained additional perspective on NYC's layered and complex relationship with its waterfront. As a landscape architect, I believe we have a responsibility to understand the influence of human life on natural processes, cycles and systems in order to create the best possible solutions.
Our studio works at multiple scales, with projects ranging from the redevelopment of waterfront districts in New York and New Jersey to plazas and parks that enhance the public realm. Currently, I'm a lead designer for flood resiliency projects in the New Jersey Meadowlands. Leveraging iterative design and direct community engagement, we're working to mitigate coastal and systemic inland flooding through the development of parks, enhanced wetlands and green infrastructure.
As a young, female leader working and living in Brooklyn, I hope to bring my experience at the intersection of design, engineering and public policy to meet the challenges of a globally shifting climate.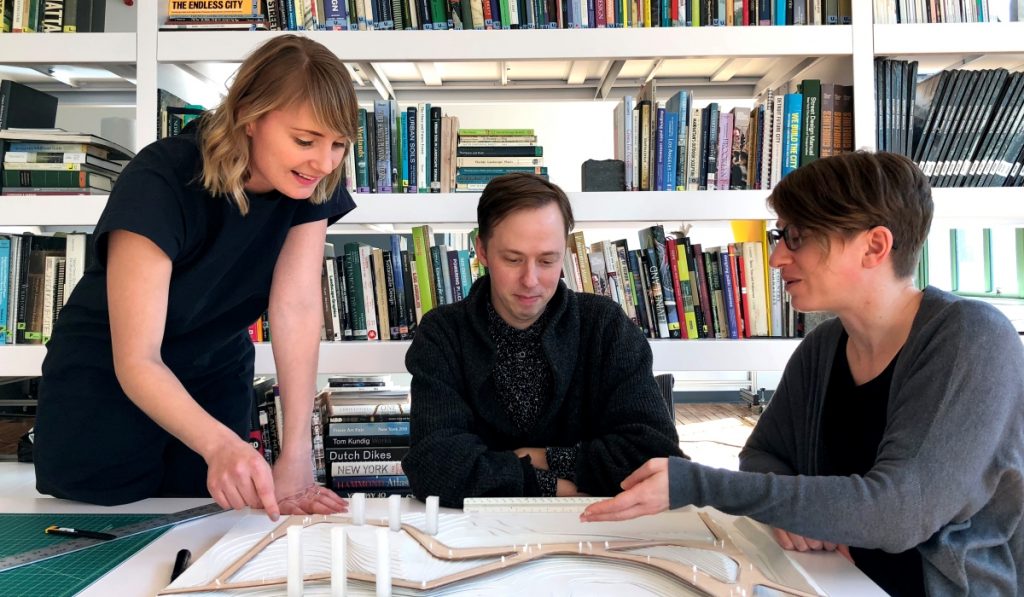 Lulu (at left) works with colleagues Jeff McLeod and Anna Hochhalter on the Rebuild by Design Meadowlands project.
From: Anna Hochhalter, Landscape Designer
I'm a designer with a focus on public realm and ecological projects. My work ranges from large-scale strategy to detailed site design.
Teamed with Lulu, we're working on "Rebuild by Design Meadowlands," a project to create flood resilience in a region of the Hackensack River in New Jersey. We're implementing a program of green infrastructure, performative parks and wetland creation, as well as improvements to public facilities, existing parks and the channel network.
Industry City's mission to incubate makers of many kinds and at many scales puts our design studio in a dynamic context as we work to address pressing social and ecological challenges. Each day, I find inspiration in the determination and diversity that is palpable throughout Brooklyn!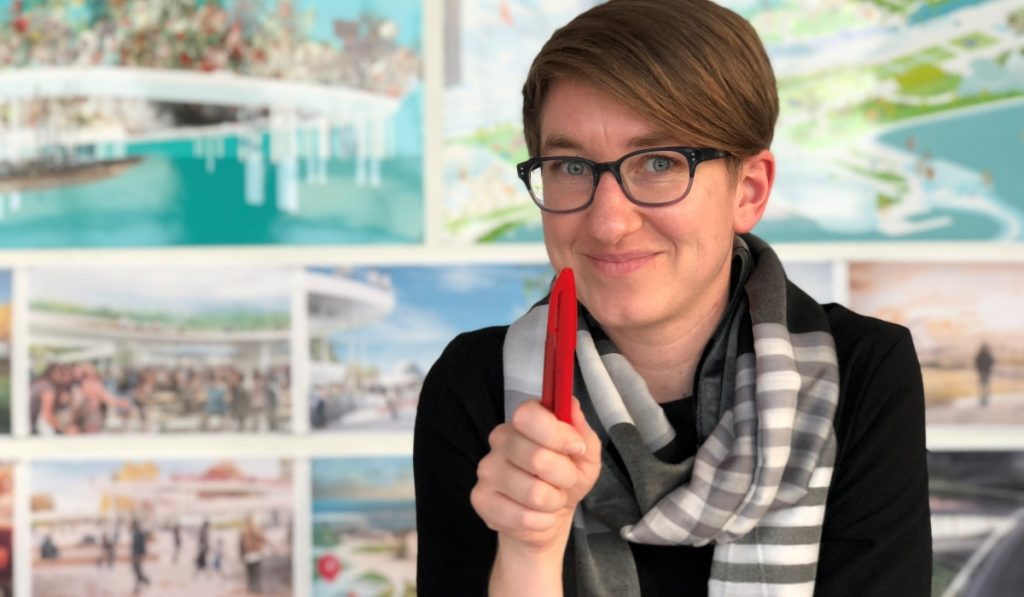 Anna in AECOM's new Industry City office. 
From: Andrew Liang, Landscape Designer
My role is to push forward-thinking design for the public realm in multi-disciplinary infrastructure projects, ensuring design excellence within our team.
Currently, we're working on a pair of projects in Peterborough, Ontario, a post-industrial city just outside of the Greater Toronto Area. The first is Bethunescape, a streetscape revitalization masterplan that will turn a 12-block street into a winding, mixed-use linear park. The other is an urban pocket park we're calling the "Ice Forest." It will feature a plaza, skating trail, wooded walking paths, mist gardens and a faceted mirrored wall. It is fantastic to help shape these interesting places where natural environments and people come together.
As a Brooklyn native, my favorite places are attached to my fondest memories of growing up here — spending every summer at Brighton Beach and down Emmons Avenue in Sheepshead Bay.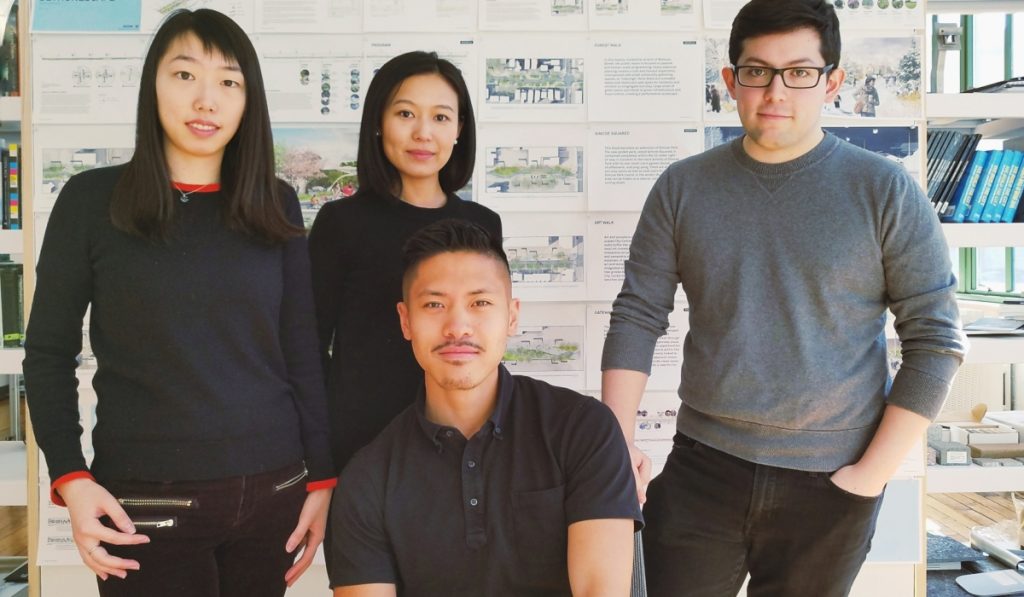 Andrew (center) with his team (from left to right) Wenyi Pan, Yi Lun Yang and Mario Ulloa. 
From: Susan Bemis, Associate Principal
I help our team collaborate across disciplines and business lines to develop projects that go beyond traditional infrastructure.
One example is the Lower Manhattan Coastal Resiliency project, which will weave resilient infrastructure into the community context, with the goal of protecting people, businesses and neighborhoods from the potential impacts of climate change. We're creating great places for people that also look to address one of the most complex and immediate issues of our time.
Here in Industry City, we're getting to know the Sunset Park community and will host an ACE Mentor team this spring with Sunset Park High School. Students bring such great energy and a fresh perspective, and we get to show what a career in landscape architecture and urban design can look like. Helping spark that interest in young people is so rewarding and helps build an inspired future workforce.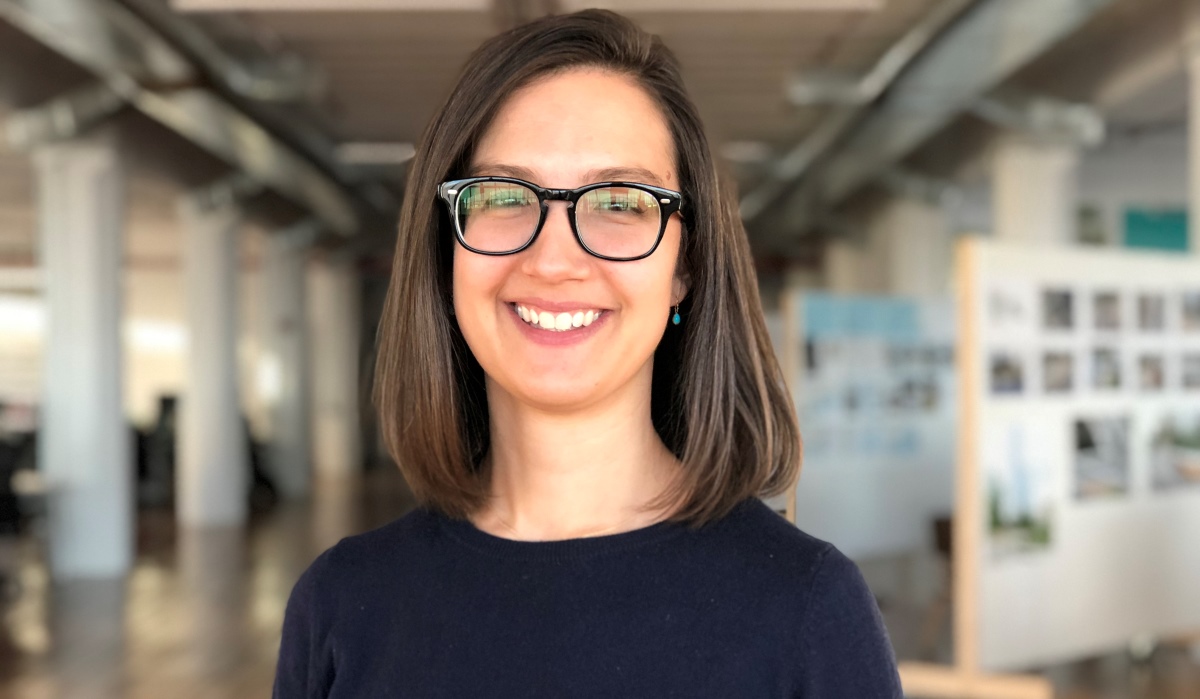 Susan in the Industry City office. 
From: Lauren Micir, Landscape Designer
Trained as a landscape architect, much of my work has focused on large-scale resilience projects. I love how we use design to address challenges occurring on a global scale, while delivering projects that positively impact our shared public space and day-to-day experience of the city.
As designers, we work closely with structural, geotechnical, coastal, civil and stormwater engineers, as well as city agencies and local communities. Our job is to amalgamate insight and expertise from this wide variety of technical disciplines and stakeholders to deliver projects that protect the city from future coastal storms and flooding, and enhance the waterfront.
The creative atmosphere in Industry City is fantastic — I love the huge windows and views across the harbor. I've lived in so many Brooklyn neighborhoods and one of my favorite things to do is hop on my bike and explore places new and old, and soak up the nuances of all the different areas and their distinct cultures.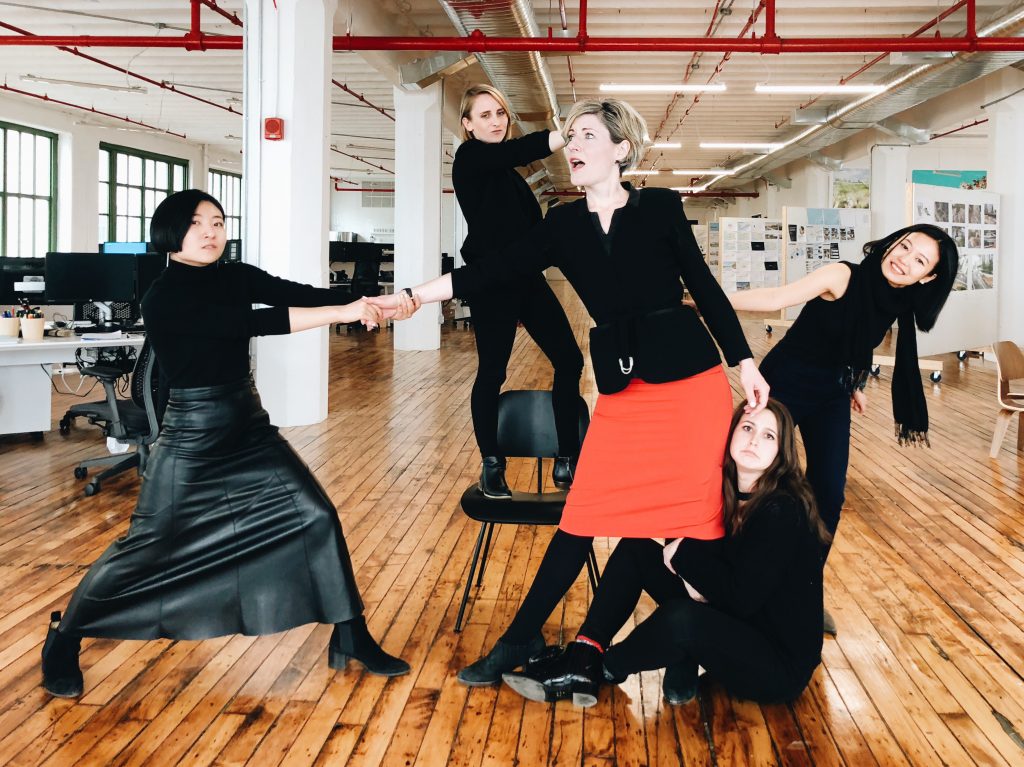 Lauren and team stretch their creative muscles — from left to right: Ran Wei, Mallory Clark, Lauren Micir, Katie Barsanti and Yi Lun Yang.