For future cities, think small, as in nano
The "Energy-Efficient House of the Future," designed by AECOM for the Government of the Chuvash Republic and RUSNANO Corporation.
"Based on recent Department of Energy Annual Energy Outlook reports, residential and commercial buildings account for 36% of the total primary energy use in the United States and 30% of the total U.S. greenhouse gas emissions."[i]  Consequently, there is an ever-increasing demand for more energy-efficient, sustainable, "green" buildings. The use of nanotechnology-enhanced building materials offers many advantages over traditional building materials in this area, including: more energy-efficient insulation and lighting; heat-rejecting coatings; lighter and stronger structural composites, concrete and steel; and glass that changes opacity in response to temperature change.  There are even nano-additives that can be used in cement and paint that react with smog, neutralizing its hazardous constituents.[ii]  These applications can significantly reduce carbon footprints and help meet the global sustainability challenges.
Nanotechnology, engineering of matter at the atomic scale to create materials with unique properties and capabilities, can be classed as a disruptive technology, a new technology that unexpectedly displaces an established technology, and an enabling technology, one that can be applied to existing technologies to make them better.
Nanomaterials were used in the Halley VI Modules, commissioned by the British Antarctic Survey, engineered by AECOM and designed by Hough Broughton architects. Translucent nanoaerogel panels, the most thermally efficient material known, were incorporated and substantially reduce energy loss in the extreme, harsh climate.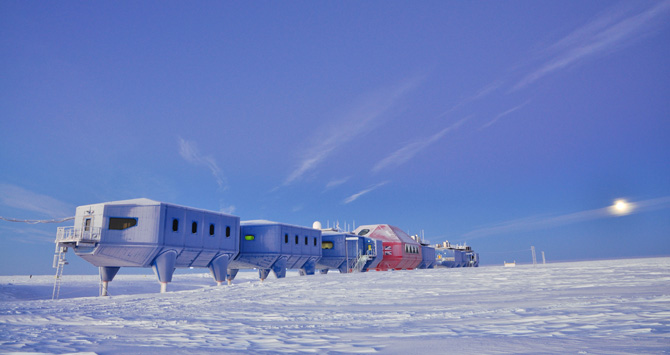 Halley VI. Image courtesy of British Antarctic Survey.
It is currently predicted that nano-enabled construction materials will increase from approximately 7% of the total in 2011 to 54% in 2025, as falling prices allow greater penetration of higher volume markets.[iii]
Nanotechnology is poised to make a significant contribution to enhancing sustainability. This powerful technology presents many new opportunities as well as challenges.
Bill Looney (
bill.looney@aecom.com
) is a senior program manager in AECOM's
Environment
practice.
---
[i] WTEC Panel Report on Nanotechnology Research Directions for Societal Needs in 2020,: Mihail C. Roco, Editor; Ch 6; p182; October 2010
[ii] Bethany Halford,  Building Small – Nanotechnology makes inroads in the construction industry, Chem. Eng. News, June 13, 2011, Volume 89, Number 24 pp. 12 – 17
[iii]   Data from -The Freedonia Group, Inc., 2009