What I've learned from Greta Thunberg
As the world looks to Glasgow for the COP26 conference on climate change, we'll be discussing some of the changes our industry needs to make and reflecting on the COP debate on the AECOM Blog. Join the discussion on social media by following us on Twitter and LinkedIn. Find more information in our special COP26 edition of our "Future of Infrastructure" report: https://infrastructure.aecom.com/
Inspired by teenage activist Greta Thunberg, who set sail in 2019 for New York from Plymouth, UK, in a racing yacht so that her journey to attend a climate change summit was carbon neutral, I'm cycling 475 miles to Glasgow from London for the COP26 conference. Accompanied by my nephew, AECOM colleagues and around 130 other riders, we'll be cycling approximately 70 miles (110 kilometers) per day for seven days as part of #RidetheChange, an event designed to build climate action awareness.
Like Greta, our ambition for this ride extends way beyond the carbon we'll be saving. Primarily, we want to influence decision makers to be bolder in making climate commitments in Glasgow, but also to inspire others to take action to reduce their own carbon footprint. Instead of asking people to sponsor us with money, all riders have a Do Nation page to raise support through climate action pledges. These include commitments to eat less meat, to switch to a green energy supplier, turn off the lights, ditch disposable cups, make meals with friends and use the dishwasher at night. We ask supporters to make changes to their lifestyle for two months, with the hope of creating lasting sustainable habits. The most important part of this is to stimulate more conversation and understanding around the need for urgent climate action and to make political leaders aware that they will not remain in power if they do nothing.
Of course, Greta isn't the only young person inspiring us oldies to do more to protect the earth. Working with community youth as part of AECOM's consulting projects is key to ensure long term engagement and implementation. As part of a recent sea level rise vulnerability and adaptation project we did in the San Francisco Bay Area, we worked with a local community-based organization to run a three-week training course on climate change for cohorts of youth, African Americans, Hispanics and Pacific Islanders so that the training could be culturally and linguistically specific. Many of the youth hadn't visited the Bayshore and were excited to understand the relationship between sea level and ground water rise, and the flooding of their streets during high tides. Their passion for ecological solutions to this flooding was inspiring.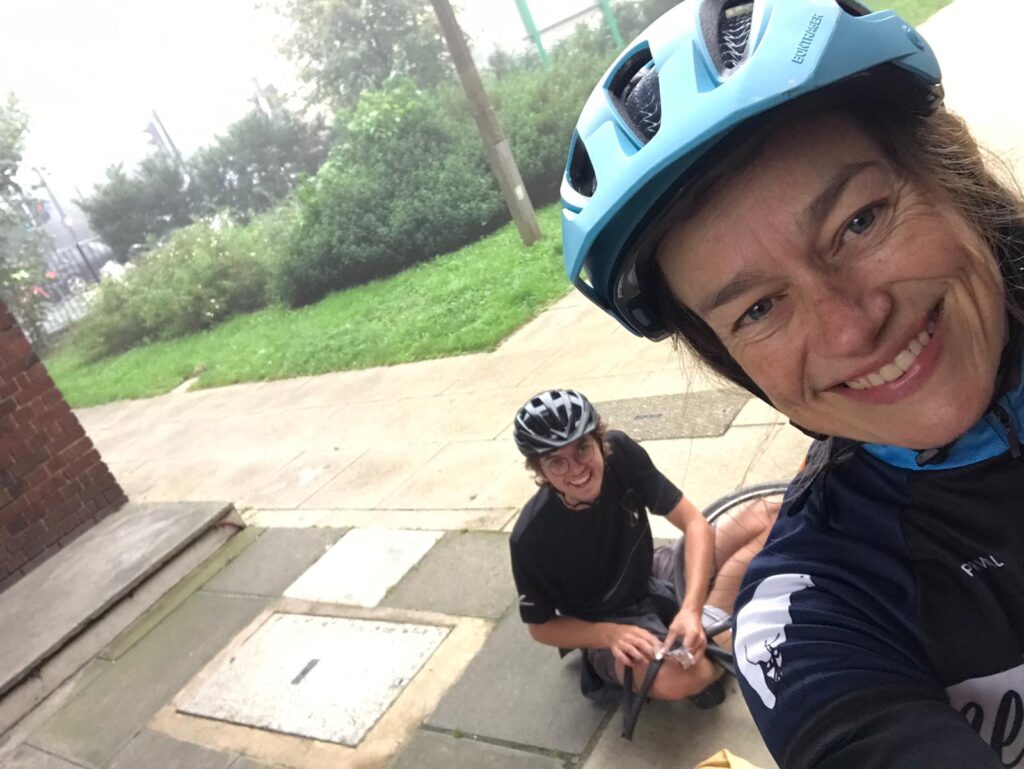 Along the route I'm also going to be listening to what Toby Roads, my 24-year-old nephew, has to say. He works for Sustrans, a walking and cycling charity organization and as we were sorting out important details like rain jackets and overshoes in preparation for the ride, he said, "I'm passionate about encouraging sustainable transport. As part of my day job, I run school event days. Hopefully my personal experience will help to inspire students to get on their bikes, especially for short journeys. Most importantly though I get to hang out with my aunt!"
As a rather competitive person, I have big ambitions for this ride. I might not be the fastest on my rental bike but as I set off for Glasgow, I'm currently in second place on the pledge leaderboard, having amassed 225 pledges. Collectively, Ride the Change cyclists have gathered 3,266 pledges, saving 120,166 kilograms of carbon dioxide. That's equivalent to 1,083 flights from Glasgow to Amsterdam. I'm hoping my lovely AECOM colleagues and friends – and any other readers of this blog! – will power me to the head of the pack. Please choose a pledge here!
PS: For this ride, I'll be in bike specific gear, including very padded shorts, but normally you'll find me in everyday clothes. In fact, I made a short film a few years ago to encourage women to bike in whatever outfit they need at their destination – high heels and dresses included. Check it out at www.stylishspokes.com