Innovating today to improve how we get there tomorrow
We're all going somewhere. How we get there could be radically different in the near future thanks to transformative trends in the transportation industry. Ride sharing, bike share and transportation network companies (TNCs) are increasing mobility choices, providing new ways to connect to transit, and enabling people to reduce the number of vehicles they own or go car free.
Electrification of the vehicle fleet will decrease reliance on fossil fuels, with resulting benefits for air quality and the environment. And perhaps most impactful, connected and autonomous vehicle technologies can open mobility options for people and places that currently lack access, can be harnessed to provide new and better forms of public transit, and can increase safety.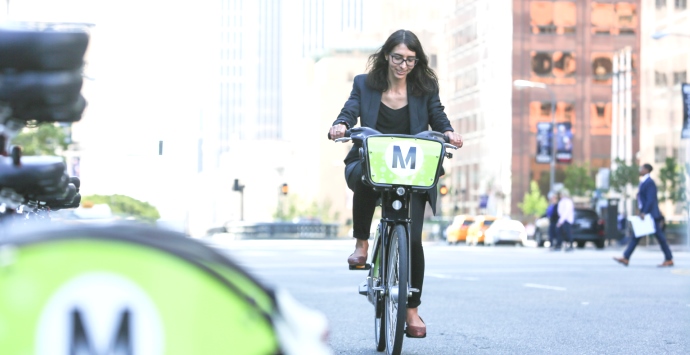 Los Angeles Metro's bike share program provides a new option for on-demand, shared mobility.
Each of these trends in the industry has implications for infrastructure and policy. Ride sharing and TNCs shift the value of space from parking areas to curb zones for passenger pickup and drop-off, with design implications for both. Bike share works best when supported by a network of dedicated bike lanes. Electric vehicles require either static charging stations or inductive charging infrastructure in roadways.
In the near-term, autonomous vehicles may require dedicated infrastructure to realize some benefits such as vehicle platooning. Connected vehicles, on the other hand, will require lane striping, signage and traffic lighting, wireless and mobile networks, and connectivity for data transfer to enable vehicle to infrastructure communication (as well as ongoing maintenance of this infrastructure). Over time, as the vehicle fleet mix transitions, autonomous vehicles could operate in narrower lanes and be parked in smaller, more remote locations, freeing up land for new development and public benefits, and allowing localities to reimagine how road right of ways are designed. For example, McKinsey estimates that such vehicles can occupy parking spaces that are 15 percent smaller than current designs as they wouldn't need open-door space for passengers when parked, which could free up more than 2,200 square miles of parking space in the United States.¹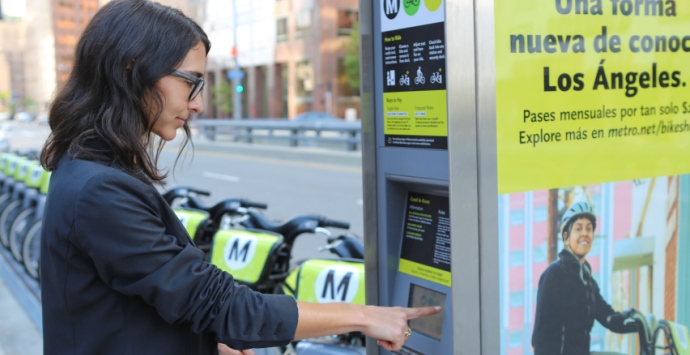 Bikes are ready when you need them and riders can integrate payment with the TAP cards they use for Metro buses and rail lines.
In addition to infrastructure implications, whether these trends result in benefits to public mobility depends on the policy and regulatory choices made today. Shared mobility and connected and autonomous vehicles have the potential to complement high-capacity transit, but they could also induce more and longer vehicle trips. As rides become more convenient, those who can't drive now become future riders, shifting from using public transit to lower-occupancy vehicles.
As a senior project manager with AECOM Ventures, I am fortunate to work with transit agencies and local governments across the country and the world to channel transportation technologies and their resulting infrastructure impacts into increased safety and mobility choice and access. Rather than asking what we need to do to accommodate changes in technology, I work with clients to proactively plan for how new transportation technologies can be harnessed to support public goals. This includes:
Working with the Tennessee Department of Transportation on a statewide strategic plan to identify how emerging mobility solutions can increase safety and eliminate the roughly 1,000 deaths that occur on the state's roadways a year²;
Piloting autonomous bus technology for the Minnesota Department of Transportation in cold weather conditions so it can be deployed in areas that experience snow or ice conditions;
Studying the feasibility of autonomous technologies for Oklahoma City's streetcar to improve service reliability and safety while decreasing operational costs;
Supporting a safety assessment of Dubai's autonomous shuttle and planning for their bus rapid transit program, which provide new options for local circulation and long-distance travel.
Assessing mobility needs and creating an operating plan for the Los Angeles Metro Mobility Hubs project, that combines bike share, car share, and on-demand shuttle services with transit.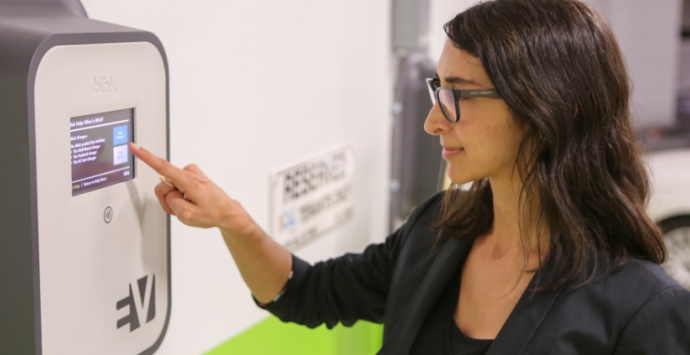 Electric vehicle use is incentivized with charging infrastructure and priority parking spaces at AECOM's downtown Los Angeles office.
Fully realizing the benefits of recent trends in transportation technology requires a proactive approach focused on directing technology to further public goals. Now is the time to establish policies, build strategies, pilot projects and ready infrastructure. I'm inspired by the potential for transportation to have a real and lasting impact on public safety, equity and opportunity, regardless of where people come from or where they're going.
Sources:
1. Urban Mobility at a Tipping Point, AutoParkit™ prepared for changing parking landscape
2. Tennessee Traffic Fatalities Historical Report 2012 – 2016

Photo credit: Dale Griner