Installing solar powered water pumps in Mkutani
Our recently launched Blueprint Travel Grant program supports employees making service-based trips around the world in partnership with charitable organizations. As they return from their journeys, we're following their stories through the #AECOMBlueprint blog series.
This past summer Bill and I, along with students and other professionals, traveled to the village of Mkutani, Tanzania to install a solar pumping system in collaboration with Engineers Without Borders USA (EWB-USA). The main purpose of the project was to provide means to a more reliable clean water source.
Mkutani is a village of about 3,000 people, located in an arid region of central Tanzania where clean water is scarce. Traditionally, the community relied on polluted surface water supplies for drinking water, leading to water-borne illnesses such as dysentery and cholera.
To combat this problem, the EWB-Boston Professional chapter successfully drilled a 120-meter deep bedrock well near the village during their visit in 2016. However, due to financial constraints, the well was equipped with a hand pump rather than an electrical pump. Although installing the hand pump was an important step, it was prone to wear and tear and rather difficult for people of all ages and physical abilities to operate.
As a joint project with EWB-Boston Professional and EWB-MIT, we replaced the hand pump at the existing well with a submersible electric pump powered by solar energy! With help from villagers and local subcontractors, we also built and installed a complete water system, including a 10,000 liter storage tank, a concrete tank stand to provide sufficient head to the system and the interconnecting piping between the pump, tank and tap stand. Our project also included the design and installation of a security fence and gate.
With this new setup, anyone can collect water at an affordable cost of about $0.05 cents per 20 L "jerry can" and the money collected is used to provide maintenance to the system. During our service project, we facilitated extensive educational sessions with the system operators and village water authorities to ensure that the system would be properly maintained for years to come.
Bill provided technical expertise in the pumping, hydraulics, and water quality assessment and my background in construction and structures was used for overseeing the concrete installation and designing the security fencing and supports. The project would have not been possible without support of the local NGO, Safe Habitat, and members of EWB-Boston Professionals and EWB-MIT. Our team is eternally thankful for the generous donating partners and for the AECOM Blueprint Travel Grant program. The grant money was used directly towards the purchasing of project materials, including the water tank!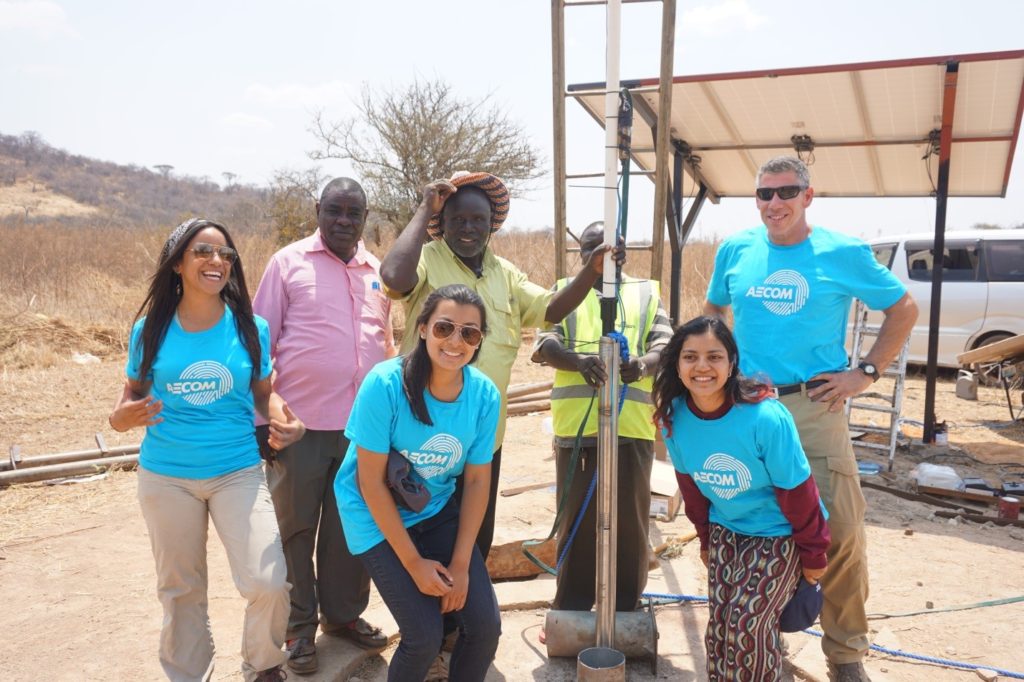 This trip and the work with EWB-USA, in general, has been a direct contributor tomy career path. During my graduate studies, I participated in EWB-MIT, which together with EWB-Boston Professional, started working on this project. Through the process, I met Bill, through whom I learned some of the values and mission of AECOM as a company, including the technical expertise, professionalism and community awareness that is developed as part of the company's culture. These values fit the profile of my professional career path and thus my beginning at AECOM.
Through the Blueprint Travel Grant program, we were able to provide a more sustainable water source to all the people in Mkutani. This project is a part of the relationship we're continuing to develop with the community. Accordingly, we have already started working on the next phase of the project which is to design and construct a pipeline that would bring water from the well's location to the village that is approximately 2 km away. We sincerely look forward to the opportunity to continue doing this work together with EWB-USA.