Putting people first: "Building Healthy Places"
Ayala Triangle, Manila. Copyright AECOM photo by Robb Williamson.
There is clear evidence that developers, planners, engineers and designers have contributed to the global health and obesity crisis since the inception of the mass-produced affordable automobile. Seemingly inexplicable decisions were made during the 1950s in cities such as Sydney, to tear up extensive light rail systems to enhance the design of roads for speed and efficiency of automobile movement.
A recent Urban Land Institute Publication, "10 Principles for Building Healthy Places," states that "one of the strongest health/land use correlations is between obesity and the automobile: one California study showed each additional hour spent in a car per day is associated with a 6 percent increase in body weight, whereas every kilometer (0.6 miles) walked each day is associated with a 5 percent decrease according to a study in British Columbia."
A massive urban retrofitting process is currently underway worldwide to correct 60 years of neglect toward providing means for pedestrian and bicycle movement. Excellent examples of where this is occurring include AECOM's work at the World Trade Center in New York, public realm planning in Doha, Qatar, the River of Life urban regeneration in Kuala Lumpur, a connected pedestrian network at Ayala Triangle in Manila, and the Los Angeles "Bridge to Breakwater" public realm. These projects alone will provide more than 200 km of new paths and trails.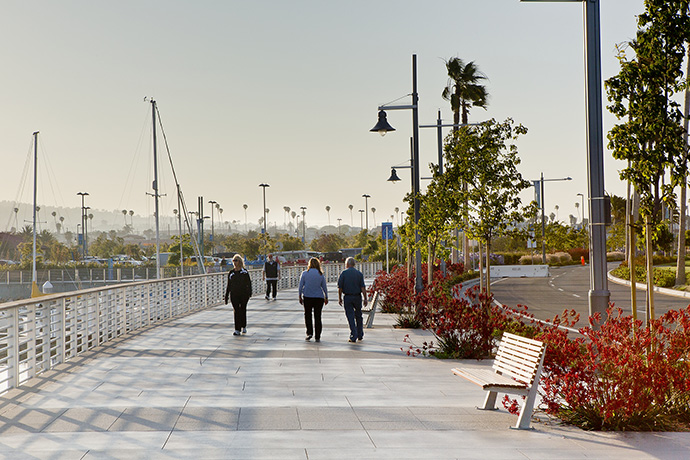 Port of Los Angeles. Copyright AECOM photo by David Lloyd.
Common themes in all of these large-scale place-making projects include the generous provision of street furniture and trees, safe pedestrian crossings, and easily accessible transit, parks, playgrounds, bike paths and jogging trails.  While many other factors also impact global health, well-connected, safe pedestrian and bicycle movement systems are a starting point that planners and landscape architects can directly influence. It is time to make sure that human-powered movement is approached with the same care and priority that has been traditionally afforded to vehicular movement systems.

Jacinta McCann (jacinta.mccann@aecom.com) leads AECOM's global Design, Planning + Economics practice.