Speaking with millennial change makers
How are brands engaging with a generation that prioritizes purpose over power, and longs to be part of something bigger than themselves?
As AECOM looks to deepen connections with the communities in which we operate, this was a question I had top of mind during a recent conversation with an inspiring group of people — all part of the National Millennial Community — to talk about brands and the millennial generation. Learn more about the organization and the interviewees below.
1/ Research shows that millennials reward brands that make their lives better and are more likely to look past trends and instead gravitate toward brands that stand for something real. As future leaders of governments, businesses and organizations, does this statement ring true for you?
Ariana Nikmanesh: While I believe millennials reward brands that make their own lives better, I would go further and say that millennials reward brands that make the lives of others better. For example, I'm loyal to a company that donates 50% of its profits to help children with pediatric cancer in the United States. Not only does the company provide quality products, it also facilitates support of a greater cause.
Woody Joseph: Personally speaking, there's great value in allying with those who assist the betterment of our society, be it economically, politically, environmentally or socially. Coming from a household that emphasized the value of each and every dollar, it's critical that I'm confident in the establishments where I choose to spend that dollar.
Shelbey Prusia: If I see my money and support being used in a way that helps people, animals or the environment, I'm more likely to support that brand. Advocating for the greater good is better than sticking a well-known name on it.
Aymon Sukkar: Core values drive us to make choices within the marketplace that create demand for services/products that are designed and manufactured with social and environmental justice taken into account. We reward brands that live our values.
2/ AECOM's reason for being is to improve lives and communities — from delivering clean water and energy, to planning new cities and restoring damaged environments. What would inspire you to learn more about an organization like ours?
Ariana Nikmanesh: Powerful storytelling — specifically about the impact of your projects locally, nationally and worldwide. Hearing the stories of the things you've built, how they've improved society, and the stories of the individuals you've helped along the way would inspire me to learn more.
Anubhav Maini: Besides learning about what a company does, I would be inspired to not only learn about the lives of the people who were impacted, but also about the individuals who helped make it happen. If I can relate to these people, I may feel more strongly about the brand and would consider working there myself. 
Betsie Garcia: Highlight the employees who love what they're doing. Big or small, they're making an impact. I would absolutely like to learn more about a company with a people-first policy — a company that has an interesting work culture with fascinating and diverse people. Millennials are not just interested in names and brands; we're interested in the people behind those brands.
Shelbey Prusia: This generation is extremely social-media focused. People get their global, national and local news through social media articles circulating through their feeds. People want more of a personal relationship with an organization. They want to see live tweets, interaction and updates. People don't want to know when you've finished a project; they want to be part of that project from beginning to end. 
3/ How does the strength of a company's brand impact your decision to pursue employment with an organization?
Ariana Nikmanesh: A strong brand leads me to believe the company has resources to support individuals in their entrepreneurial pursuits. As someone who enjoys autonomy and creativity, I feel working for a strong brand would provide me with the opportunity to create something bigger than myself. Along with having the resources to pursue bigger goals and dreams, strong brands also provide a sense of culture and purpose. I want to work for a company that stands for a purpose recognized by the community at large.
Anubhav Maini: In general, I feel more inclined to pursue roles at companies that will offer the complete package — a fitting role, a great manager and colleagues, the brand, the pay, the potential to grow and the culture/incentives. A strong brand is a motivator while seeking employment, but not the only one.
Betsie Garcia: I'm interested in finding employment with companies where I know my voice, as an employee, will be respected; where I'm able to pursue my talents and grow; and where I'm trusted to fail because it'll provide a learning opportunity.
Woody Joseph: The aspects of a brand that help determine my interest in seeking employment center around its values pertaining to employees; its responsibility as an entity with political, social and overall influence; its historical standing; and how effectively it enacts its mission.
4/ What advice do you have as we look to share our story more broadly with the millennial generation?
Anubhav Maini: Millennials love "snackable" content, i.e., videos, interactive/cool GIFs. You already have the stories; it's now about documenting them and getting the word out.
Betsie Garcia: Don't go looking beyond what you already have available to you. Start the story with your people. Let your employees be your influencers on social media. Let them be voices of the company.
Woody Joseph: Have a means for partnership (a call to action) for campaign initiatives. Showcase active involvement with quantifiable results to provide credibility. Ensure your intentions are truly authentic. Most importantly, find the "why-should-I-care" factor.
Aymon Sukkar: We're not much different than previous generations. The major difference is the historical events each generation lives through. We've grown up in a time in which human activity has caused so much destruction to the planet, and we've had to question the decisions of previous generations and make new choices. For many of us, it's very important to see companies create sustainability programs that focus on setting and meeting carbon reduction goals. Authenticity is also important. An organization can claim they support minority groups and equality, but clearly taking that risk publicly and communicating their core values in such a way is rare in today's market.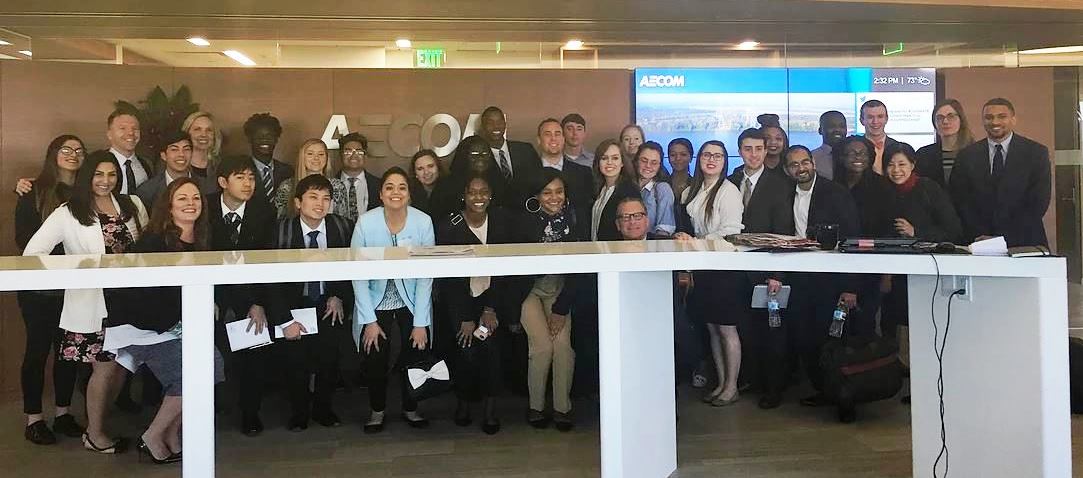 AECOM leadership met with the National Millennial Community team to share ideas at our Century City headquarters in Los Angeles.
About the National Millennial Community
The National Millennial Community was founded in 2015 by Bill Imada, Chairman and Chief Connectivity Officer of IW Group, Inc. Bill has brought together a community of millennial thinkers who strive to change the conversation about the millennial generation. In their effort to change the conversation, the National Millennial Community has executed multiple think tank conversations with key influencers in media and business.
| | |
| --- | --- |
|  The interviewees: | |
| | Ariana Nikmanesh is a senior at the University of Colorado, majoring in marketing with a minor in political science. She serves as the university's representative for the National Millennial Community, a group of millennial thinkers who aim to change the conversation about their generation. Additionally, she is chair of the Business School's Student Advisory Council, providing insight to the dean and administration. Ariana is an advocate for women's rights and a member of the Denver Women's Commission. An Iranian-American, she consults for Disney, helping to ensure Muslim and Middle Eastern characters are accurately represented. |
|   | Anubhav Maini is a first-year master of business administration candidate at Brandeis International Business School, specializing in marketing and data analytics. With a background in brand strategy and media marketing, he has worked for brands such as MTV, VH1, Comedy Central and Nickelodeon. Anubhav strongly believes in the power of education and equal opportunity, and previously taught underprivileged children high-school subjects back in his home country of India. |
|   | Betsie Garcia is a transfer student at California State University, Northridge (CSUN). A junior, she is majoring in marketing with a minor in graphic design. She transferred into Northridge from Ventura College in Ventura County, California. After the Thomas Fires, she joined her local Red Cross chapter to assist those affected by the devastation. Born and raised in Ventura County, the Thomas Fires struck home for Betsie and inspired much of the work she currently does as a student at CSUN. |
|   | Woody Joseph is a graduating pre-law student studying public relations at the University of Florida. He is an active member of the Public Relations Student Society of America, National Association of Black Journalists and the National Millennial Community. Additionally, he is a research assistant in the STEM Translational Communication Center in the College of Journalism and Communication. With the experiences he gains, specifically in advocacy, he hopes to be well equipped to work in statutory law. |
| | Shelbey Prusia is a freshman at Eastern Wyoming College and will be transferring to the University of Wyoming in the fall to pursue a bachelor's degree in journalism. While at EWC, Shelbey was co-editor for the school newspaper and actively involved with the National Millennial Community. After obtaining her journalism degree, Shelbey plans to earn a law degree, also at the University of Wyoming. Coming from a small town, she hopes to pursue a career in a bigger city, bringing her small-town values with her to complement a new urban lifestyle. |
| | Aymon Sukkar recently graduated from Sonoma State University with degrees in psychology and business administration. With a passion for organizational culture and tapping into the full potential of employees, he aspires to be an industrial-organizational psychologist. An AmeriCorps VIP-SE Fellow, he is building volunteer capacity at one of the top nonprofit community health centers in the United States. Additionally, he is a diversity training facilitator and, as a Syrian-American, consults for Disney ensuring Muslim and Middle Eastern characters are accurately and respectfully depicted. Aymon represents northern California as a member of the National Millennial Community. |
| | |