Left to right: Panelists Neeraj Bhatia, Alexa Arena, and Andrew Laing.
Urbanism, the future of work, and the implications of both for real estate were top of mind when the Strategy Plus team hosted a Think+Drink event in AECOM's San Francisco office earlier this month. The "thinking" portion of the event, attended by more than 50 guests, centered on a lively panel discussion.
The conversation was-wide ranging and touched on some unexpected topics such as the surprising uses Houstonians find for their city's parking lots. Panelists Neeraj Bhatia (architecture professor at California College of the Arts), Alexa Arena (senior vice president at Forest City), and Andrew Laing (global practice leader, StrategyPlus, AECOM) also debated more practical topics, ranging from the influence of the tech industry on work patterns (especially relevant for those of us in the Bay Area), to the reality of workers using the broader city as a workplace.
Some of us on the team were intrigued by one topic in particular: the role of suburbs and what their status means for future cities. The debate centers on whether suburbs (particularly those in the United States) are declining and only arose relatively recently as an anomalous urban development pattern, or, as some argue, represent a natural advancement in city planning and show no sign of going anywhere. Considering the stakes for urban infrastructure and real estate over the next 20 years it's surprising that a scan of the literature finds this debate unresolved. A trend one way or the other would dramatically impact the look and feel of future cities, not to mention the ways future citizens of these cities will live and work.
For this post let's consider a possible future that bends toward one side of the spectrum. Imagine a 2034 in which migration to urban centers has continued steadily for 20 years. New semi-urban communities with their own walkable centers have sprung up around existing city centers. Overall density has increased significantly as people prefer to live relatively close to their friends and colleagues. The people of these cities buy fewer cars to avoid inadequate infrastructure, preferring instead to use public transit and buy transportation on an as-needed basis. They live in smaller dwellings, and instead of a daily commute routine to the same office, they purchase a variety of work services depending on given day's workstyle need. Technology has not replaced the need to interact with associates in person, but instead has augmented and supplemented those interactions.
A trend in this direction would mean a rethinking of strategy for real estate developers. Instead of leasing large office blocks to single-use tenants, city blocks would be broken up into smaller leases and building types tailored to a broader range of functions. Imagine mixed-use development on a new scale and with a new level of connection to the city. Forest City's 5M project speaks to this future. They're already partnering with thousands of organizations and individuals and throwing thousands of annual events as they embed themselves into the community at the beginning of a multi-phase development. The development sprawls across a San Francisco city block. It makes use of existing buildings, includes plans for new construction, and focuses on activating adjacent streets and alleys.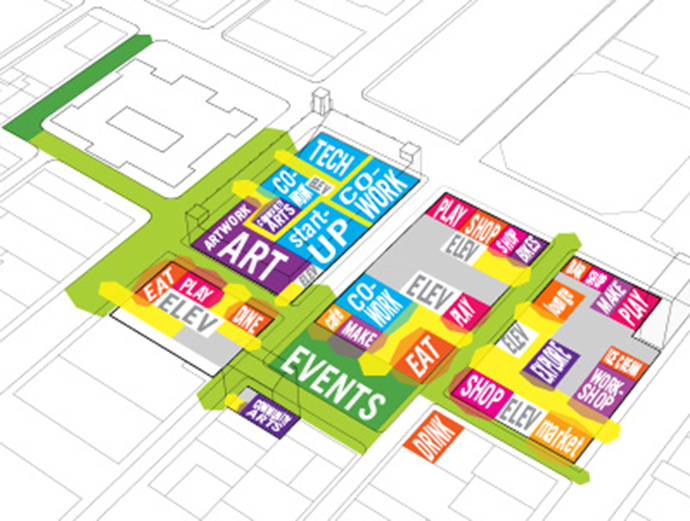 Growing urban populations and new trends in real estate development provide powerful arguments on one side of the suburb debate, as in Forest City's 5M development.
Whichever direction the future trends, today's suburbs may be the bellwether for U.S. cities. But in truth, the trend may be well underway in high-growth cities around the world such as Tokyo, São Paolo, and Mumbai. Will the global trend towards urbanization continue? If so, which city will be the U.S. poster child? Do mega-cities in other parts of the world show us a window into the future for U.S. cities? The debate continues and we look forward to exploring the possibilities with you. Let us know what you think!

Devin Harvath is a design strategist with AECOM's Strategy Plus practice in San Francisco.