Urban SOS finalist "En Comúna" suggests app to map and connect Quito communes
A finalist in the Urban SOS: Fair Share student competition, "En Comúna" proposes developing an app that would allow residents of communes to share resources and improve the social and economic infrastructure of their communities. We talk to Mateo Fernández-Muro from Polytechnic University of Madrid and Francisco Miranda of Parsons The New School for Design about their vision, which is already being implemented with 18 communes in Ecuador.
What attracted you to the Urban SOS competition and this year's focus on applying sharing economy principles to address urban infrastructure challenges?
We have been following Van Alen Institute for some time, and we share the belief that design can transform cities and people's lives. We heard about the Urban SOS competition while working on our 'EN COMUN(A)' project at Parsons School for Design (The New School). We were exploring the potential of sharing economies to establish more equitable access to resources in order to improve the built environment. The competition was a unique opportunity to further our work because it offers international exposure for the project, and, if we win, potential financial support toward making our work a tangible reality for the communes.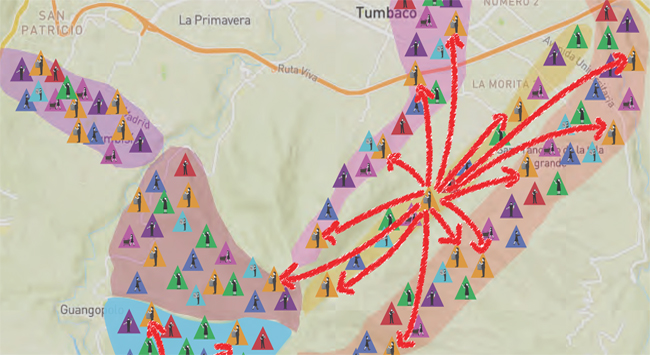 Already working with 18 communes in Ecuador, the team aims to map their needs and resources and ultimately make it easier for residents to work collaboratively and connect.
Could you describe some of the challenges people face in Quito's communes and how your project seeks to address them using physical and digital interventions?
The people of the communes face a number of challenges. Even though the Constitution of Ecuador provides self-determination collective rights to the communes, government officials don't recognize these rights in practice. The communes aren't officially mapped, so they're vulnerable to land appropriation and in effect don't really have any legal or political power. As a result, the communes also lack basic infrastructure such as paving, water and sewage, and street lighting.
Our project offers the communes planning, economic and governance tools that make it easier for residents from different communes to connect with each other, share resources and compile information about their communal land.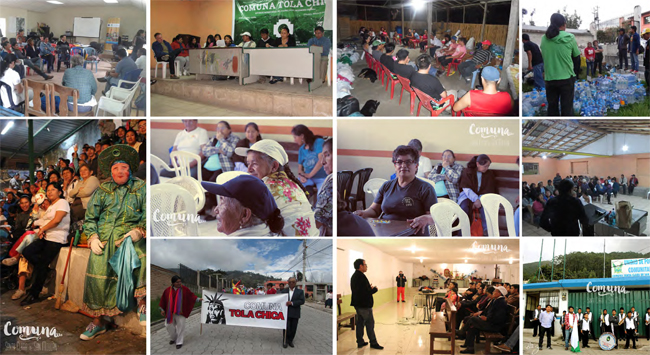 The project would help residents of communes throughout Quito with a range of community development projects, from creating cooperative banks to connecting employers with workers.
What has been their reaction of commune residents to the competition and your project?
We have had the chance to meet with residents of several communes as well as with specific leaders of the communes in order to present our ideas and get much needed feedback from them (both on our tools and on next steps).
The local residents and their leaders have been very receptive to our project and are giving a lot of their time to help shape it. We feel fortunate to find and develop a project with partners who share the same ideals we do and who are tremendously committed to the project. Their positive and supportive reaction has been decisive in continuing our work.
Urban SOS is a global innovation competition that challenges students to collaborate across disciplines to re-imagine the future of our cities and pioneer unique solutions to urban challenges. The 2016 competition was themed "Urban SOS: Fair Share" and challenged students to combine the tools and technologies of the sharing economy with physical design to support more equitable access to resources, improve the built environment and enrich the quality of life of urban residents. Urban SOS: Fair Share was presented by AECOM and Van Alen Institute in partnership with 100 Resilient Cites. For more information on the competition visit aecom.com/urbansos.