#WomenExcel: Be Inspired at AECOM
Left to right: AECOM'S Lyn Clark and Sergio Escobar, of the Stockholm Bypass Team, at the 2015 Be Inspired Awards.
I'm Lyn Clark, roads functional manager on the £2.0-billion ($2.9-billion) Stockholm Bypass rock tunnels contract, for which AECOM, as part of a joint venture, is providing project management, design, building information modelling (BIM) and contract preparation services. I have spent the last four years working on this project, so it was with great pride and pleasure that my team accepted the award for Innovation in Mega Projects at the 2015 Bentley Be Inspired awards ceremony in London. This annual competition covers all types of infrastructure projects around the world and is one of a kind in both global scope and categories offered.
I'm particularly proud to have been among the minority of women present. Gender equality in the industry is progressing and the number of women in engineering is on the rise, so it was an honour to represent them on stage — both as a female engineer and as an award winner.
Funded by Swedish transportation authority Trafikverket, the Stockholm Bypass will connect the southern and northern parts of Stockholm via 21 kilometres (13 miles) of new motorway, with 85 percent in rock tunnels and four major interchanges, three of which will be underground. Construction began last year and is expected to finish in 2025. When complete, the Stockholm Bypass will be one of the longest road tunnels in the world.
I began working on the project in October 2011, starting with the roads team based in Glasgow, Scotland.  Following promotion to functional manager for all roadworks, I managed staff both in AECOM offices and in our joint venture partner's local roads team.
The client selected this project as a BIM pioneer, bringing this transformative technology to Swedish infrastructure for the first time. We are privileged that the client understands the resources needed to promote BIM development on key infrastructure projects.  Using a common data environment, we successfully brought together 500 designers from 19 countries and produced construction-ready 3-D models. I'm proud to have played a role in enhancing collaboration across disciplines by fully embracing a new technology.
The Stockholm Bypass project has required  all of us to overcome challenges, ranging from Swedish road-design standards and language barriers, to unfamiliar technology, cross-functional collaboration and more. We gained the trust of the client and JV partner, who have both since heralded this project as the new standard for excellence. Winning a Bentley Award further validates the hard work and extraordinary efforts of our team.
I started in this business in Glasgow in 1992 with legacy firm Scott Wilson Kirkpatrick, where I was a trainee civil engineering technician. I worked my way up in what was then a predominantly male profession. Getting to work on Stockholm Bypass is without doubt a milestone in my career and I am honoured to have been recognised as a female engineer for my work on this transformative project.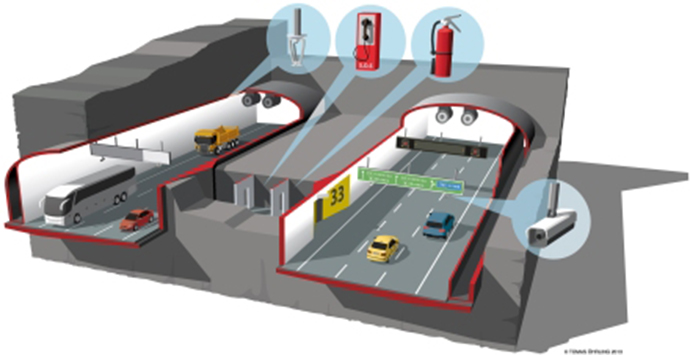 A typical cross section of the Stockholm Bypass.

Lyn Clark is an associate in AECOM's Glasgow Citypoint office and is currently functional manager for roads input to the Stockholm Bypass Project. Aside from her role as an engineer, she enjoys boxing training, hill climbing and walking; in September 2015 she spent a week climbing the Dolomite Mountains of Italy and walking the Great Glen Way in Scotland.
LinkedIn: Lyn Clark