Healthcare planning and emergency response: the case for choosing modular solutions
The spread of coronavirus and the resulting pressure on health services around the world has provided a chance to reflect on our existing emergency preparedness measures as well as the way we deliver healthcare facilities over the longer term. Modular Integrated Construction (MiC) is an effective alternative to traditional construction methods that can improve delivery times and increase capacity, says AECOM healthcare planning expert Michele Wheeler.
Health services around the world have been operating under immense pressure due to the coronavirus pandemic, which has come on top of the usual seasonal surges that tend to stretch systems to the max.  As the world waits for a vaccine, it has become clear that practical contingency plans and the creation of additional capacity to provide facilities in an emergency are crucial.  In response to initial waves, additional emergency facilities were built at speed to cope and the use of modern methods of construction were key to their effective delivery – and can be in the future.
Modular Integrated Construction is a construction method that uses free-standing integrated modules ― complete with finishes, fixtures and fittings ― which are manufactured in a factory and then transported to site for installation in a building. The use of MiC in healthcare is not new: organisations first used prefabricated units for individual services such as outpatient and temporary wards or operating theatres to create additional capacity
Additionally, Design for Manufacture and Assembly (DfMA) is vital to appreciating the benefits of repeatable design to the healthcare sector. DfMA is already widely used in sectors such as the automotive and consumer-products industries, where large numbers of high-quality components are needed. In construction, DfMA can be used to manufacture components such as concrete floor-slab elements or partition walls to a standard specification in a factory, before they are brought onsite. Or, DfMA can be used to manufacture the parts used to assemble entire prefabricated units, such as temporary wards or bathroom pods and include Mechanical, Electrical and Plumbing (MEP) components in MiC.
Over the years, the industry has made huge strides, tailoring the facilities to the needs of clients, increasing standardisation of rooms, the material and manufacturing of the building engineering and equipment and improving the quality of the products. MiC facilities in healthcare can now be seen in the provision of isolation rooms and wards, critical care units, high-dependency units (HDU), community facilities such as family planning clinics, GP surgeries, mobile MRIs, hospital wards, clinical departments, doctor's surgeries, surgical theatres and operating rooms, modular office spaces, reception areas, clean rooms and laboratories.
In this article, we discuss the wider benefits of adopting MiC and DfMA into general hospital planning and the construction of permanent hospital facilities, and how those benefits can be leveraged to enhance Emergency Preparedness Response and Resilience (EPRP) strategies, while sharing global examples.
How DfMA helped the UK respond to coronavirus
While DfMA and MiC have not yet been fully adopted into mainstream healthcare planning in many parts of the world, the UK has been using them for the last 30 years.
At the Royal Stoke University Hospital, a modular 12-bed critical care unit that included an isolation unit was delivered in just 24 weeks while normal working operations at the hospital continued. More recently, AECOM designed and provided building engineering services on a dedicated cancer centre in Liverpool. Thirty per cent of The Clatterbridge Cancer Centre's structure comprised modular components, ensuring high build quality, reducing onsite timescales and reduced onsite health and safety risks.
These techniques were also used to deliver the NHS's temporary emergency critical care hospitals, known as Nightingale Hospitals, that were commissioned during the initial pandemic response.
AECOM collaborated on the construction of the NHS Louisa Jordan hospital in Glasgow, which took just three weeks. In an interview for Building Magazine, Graeme Watson, project director at AECOM, explained how repeatable design sped up procurement, saying: "We assessed what we needed the most of and procured those products in the first couple of days. Having immediate access to clinicians meant they were able to see and touch the bedhead luminaires and make decisions there and then, so we could order 1,200 luminaires within minutes." He added: "Traditionally, healthcare projects have initially been architecturally led, but incorporation of repeatable design, modular and off-site from the start brings quality, speed of delivery and safety benefits."
Case study: Grange University Hospital, Gwent, South Wales
The early completion of the £350 million 560-bed Grange University Hospital in Gwent, South Wales, was made possible thanks to the use of modular construction and off-site methods. Off-site and DfMA methods were already being used, but when coronavirus hit, the construction team were asked if they could fast-track the build programme. Just four weeks later, the hospital took possession of 50 per cent of the space which enabled the hospital to provide support during the crisis, which otherwise would not have been possible had a standard build approach been planned.
The DfMA healthcare component and the associated workforce labour savings of 237,099 working hours (the equivalent of 5,927 working weeks) provided a 23 per cent overall planned programme saving. 821 precast columns where installed, which led to an 85 per cent savings in working hours and 1200 precast wall modules were installed, leading to a 95 per cent savings in working hours.
The formal completion of the hospital is expected in November 2020. Once fully open, it will provide complex critical care treatment for more than 600,000 people in Southeast Wales.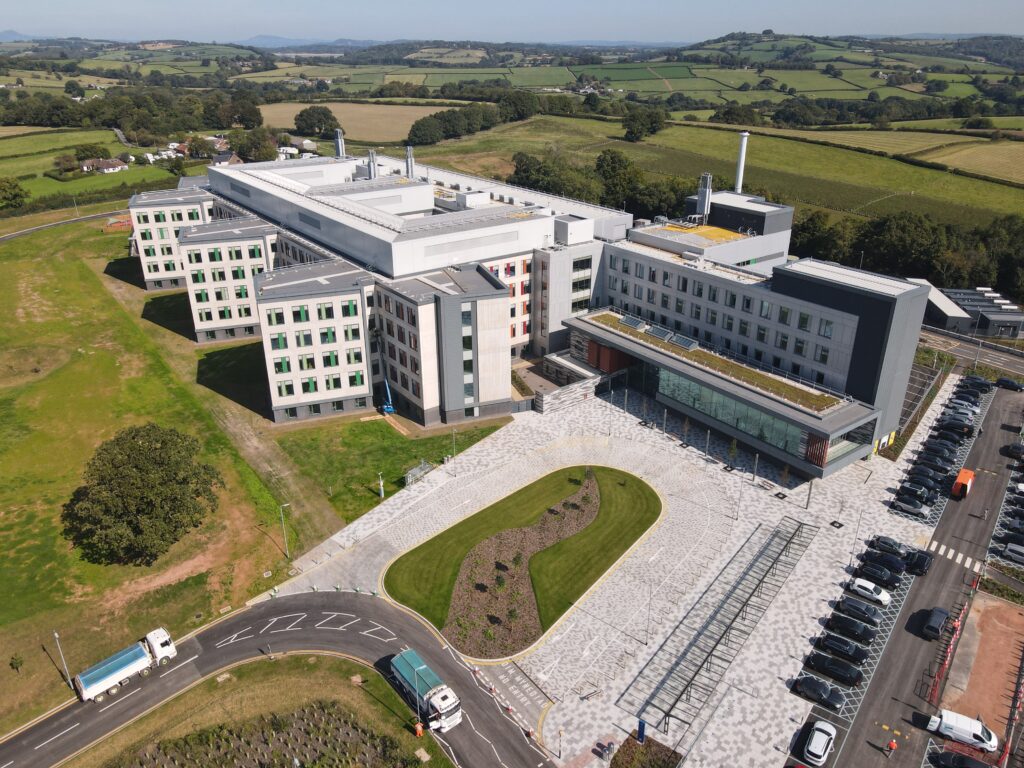 The many benefits of a modular approach
Given the long-term success in the UK, there is a strong case for integrating repeatable design methods into healthcare planning elsewhere around the world both during this current coronavirus pandemic, as well as in the future.
There are many benefits. Modular facilities can help with managing demand and capacity, surge, and winter pressures and in times of emergency. Projects are typically completed 50 per cent faster, with less accidents on-site and quality is ensured by the fact that production takes place in a controlled factory environment. There is less impact on the 'live' operations of a hospital or healthcare facility as these facilities can be delivered much faster than traditional on-site construction.
What's more, the shorter time frame also results in less impact on existing healthcare facilities, reduced vehicle movements and waste on-site, savings on energy costs and an overall more efficient use of public funds.
The MiC volumetric units or DfMA component parts can be brought to site during off-peak times, with much of the construction happening in the factory. This reduces on-site construction waste, lowers safety incident levels and makes it less intrusive to staff and patients nearby.
Procurement is often done via government frameworks ― often resulting in a five percent reduction of standard cost rates as well as faster appointments and delivery of healthcare facilities made as a result of direct awards or mini competitions.
Furthermore, with MiC, there are already various repeatable room designs and clinical layouts available – a real benefit for those working in or managing healthcare facilities. This can be particularly useful in an emergency when there is no time for design and ready-made solutions are most practical. When time permits, however, suppliers can tailor the clinical spaces to individual needs.  MiC can be used across all healthcare sectors including acute, primary care and mental health.
What's more, the life expectancy of these buildings is approximately 70 years and can be adapted to meet future clinical need or re-used for another service ― particularly useful in transforming them for clinical or administrative services.
A worthwhile investment
As coronavirus continues its hold on countries around the world, solutions are still being explored to create sufficient isolation, quarantine and critical care facilities, regardless of whether they are temporary, permanent or a refurbishment of existing areas. MiC and C solutions bring cost and time savings, factory-level quality, as well as lessened impact on live healthcare sites and safety to allow clinicians and managers to focus on continued provision of patient care.
These methods provide an alternative way to quickly and safely build additional capacity to meet the urgent and growing demand for facilities faced by healthcare systems today – both in emergencies and as part of a long-term programme.
Case study: Outpatient clinic, Hawaii, United States
In western Oahu, Hawaii, modular prefabricated construction methods were used to complete an outpatient clinic including most of the interior partitions and the primary structural frame. The partitions used in the provider offices and patient exam rooms contain prefabricated modular electrical systems, prefinished cladding, plumbing systems, glazed doors and storefront windows as well as accent art graphics. This wall system is part of a programme to standardise elements across all provider facilities.
At the same time, the client is also creating a complete computer 3D model including heating, air conditioning and ventilation (HVAC), electrical, plumbing and finished wall systems. Ultimately, they will provide these models to each of their project teams so that architects can "plug and play" into their specific conditions and know that they are documenting a complete building that meets all of the client's programmatic requirements. This increases efficiency in the design process and coordination of systems, while reducing capital costs for the benefit of the client's overall insurer system.