Virtual visions of the future
Immersive technology is helping local communities, commuters and infrastructure companies to understand the designs and impacts of big new projects writes visualization specialist Andy Thomas
The last things rail commuters want are delays and yet more fellow passengers. And so when construction works and capacity expansion were announced for one of the busiest rail stations in U.K., the news might not have been welcomed by all passengers.
However, by using immersive technology, including virtual reality (VR) headsets, passengers were given a glimpse of the completed future station. And the response was impressive. As soon as they saw how the station will look after this programme of work, most were excited by the benefits of the upgraded and extended facilities.
Bringing infrastructure projects to life
Increasingly, immersive technology is being used as a powerful communication tool by companies involved in a range of large infrastructure projects from high-speed rail to new highways and bridges. Because two-dimensional plans can be hard to interpret, it's often a natural response for users and local communities to be sceptical about the impacts of constructing big projects. However, with immersive technology it becomes possible to show the near reality and when people see the whole picture and understand what is proposed, they often switch to support the proposals.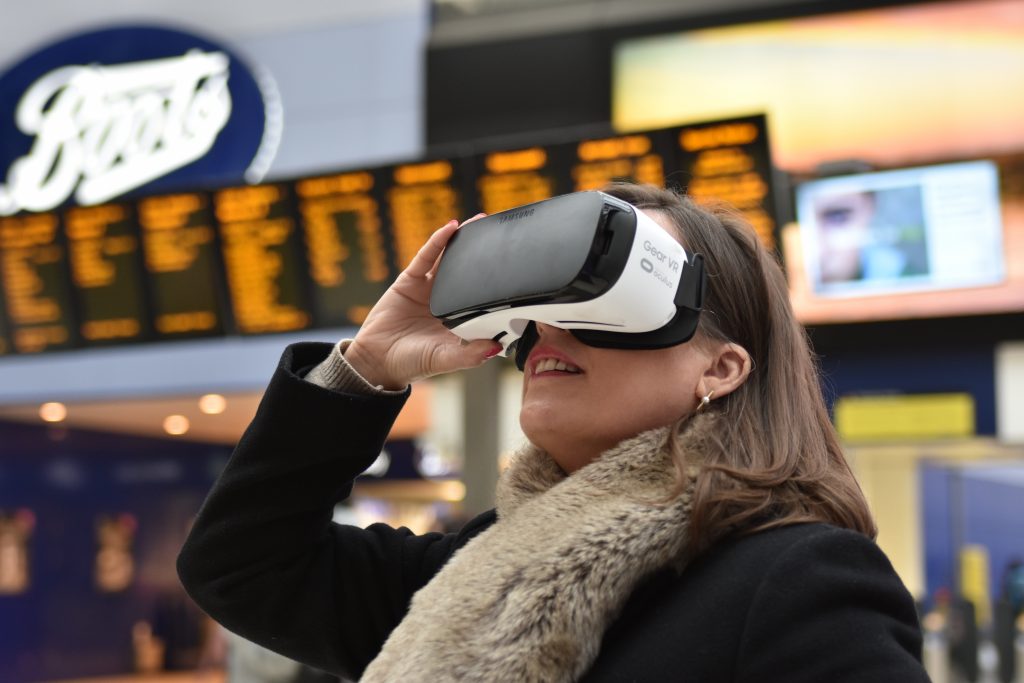 Close to reality
To explain the London station upgrade project we created a fly-though experience of the finished building. We digitally recreated the whole station using photorealistic textures, materials and lighting. The realism was also partly helped by the fact that our engineering teams were working on some parts of the refurbishment including a bridge, so we had access to their digital building information modelling (BIM) data. Running on cable-free Samsung and Oculus' Gear VR, the lightweight headsets were used by Network Rail on the station concourse to enable passengers to 'experience' what the station will look like when complete in December 2018.
Digital decision day
Used to impressive effect around the world, in one U.S. project, community consultations using VR for a proposed new bridge in Florida took an unexpected turn.
With its fantastic water views, white sand beaches and laid-back lifestyle, the town of Dunedin in Florida's central Gulf coast is an idyllic spot. Any new building in this protected environment requires careful thought and planning, and so, when the time came to consider replacing the two 50-year-old causeway bridges, the consultations needed to involve all interested parties from environmentalists and businesses to cyclists and condominium associations. To help explain the options for the new crossing designs, the innovative step was taken to use VR imagery in the consultation process, enabling the locals to become immersed in the virtual realm and explore the proposed new bridges and their potential impact on the area.
In earlier meetings when this technology was not used, the community was adamant in its opposition to a high-level fixed bridge. Following the second workshop using VR, the community opposition lifted because people were able to see that it was not as obtrusive as they originally thought and the price was lower too.
For this project, AECOM's in-house visualization studio created 360° stereoscopic imagery to be viewed with Samsung Gear VR headsets. This digital imagery requires painstaking attention to detail to create the most realistic effects. Because viewers are actually immersed in the world of the visualization, they can see more than with a standard non-VR render. This requires the visualization artists to create a full 360° of detail around the horizontal and vertical axes.
With a number of studios in the U.S. and U.K., AECOM's specialist immersive technology team draws on a range of leading-edge immersive technologies including virtual and augmented reality with solutions such as Oculus Rift, the HTC Vive, Sony VR and others still in development. Technologies are selected according to the project brief and give users different levels of interaction and involvement including moving around inside the environments, customizing them, calling up information about various objects and even connecting with colleagues in these virtual worlds. The immersive technology team is also using mixed-reality tools such as the DAQRI and Microsoft HoloLens headsets; these helmets make it possible to see information, images and objects projected into the wearer's field of view. For example, a worker wearing one of these headsets can see the work at hand, and a display of information relating to that project. They can be networked and remotely connected to multiple locations worldwide, enabling truly global collaboration.