Commuters take a trip to the future
Immersive technology is providing new ways of looking at major infrastructure projects. Network Rail has used the tech to get passengers on board with its £800 million Waterloo Station expansion plans writes head of visualisation and virtual reality Andy Thomas.
The last things rail commuters want are delays and yet more fellow passengers. And so when construction works and capacity expansion were announced for Waterloo Station in London, the news might not have been welcomed by all passengers.
However, by using immersive technology, including virtual reality (VR) headsets, passengers were given a glimpse of the completed future station. And the response was impressive. As soon as they saw how the station will look after this programme of work, most were excited by the benefits of the upgraded and extended facilities.
Waterloo is one of the busiest stations in the UK and its use is scheduled to continue growing.
Close to reality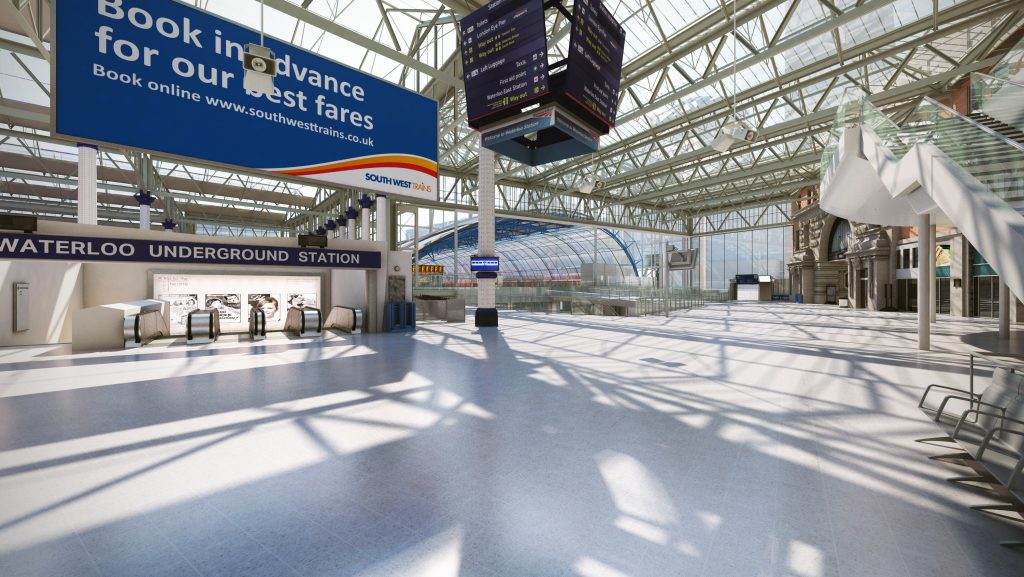 To explain the upgrade project, including rebuilding the former Eurostar international terminal to bring back into use additional platforms and increase the station's capacity by 30 per cent, we created a fly-though experience of the finished building. We digitally recreated the whole station using photorealistic textures, materials and lighting. The realism was also partly helped by the fact that our engineering teams were working on some parts of the refurbishment including a bridge, so we had access to their digital building information modelling (BIM) data. Running on Samsung and Oculus' Gear VR, the lightweight headsets were used by Network Rail on the station concourse to enable passengers to 'experience' what the station will look like when complete in December 2018.
While we use an array of different technologies and VR headsets for different projects, the Samsung Gear VR is cable free which makes it particularly easy for public use. It has instant impact and doesn't require expensive hardware to run the scene. This was a big plus for Network Rail on the Waterloo project making it quick and easy to use. For a more immersive VR experience, we use the HTC Vive. This headset provides a lot of interaction, making it possible to walk around a virtual space, pick up items and change things like the lighting or material finishes.
Bringing infrastructure projects to life
Increasingly, immersive technology is being used as a powerful communication tool by companies involved in a range of large infrastructure projects from high-speed rail to new highways and bridges. Because two-dimensional plans can be hard to interpret, it's often a natural response for the public and local communities to be sceptical about the impacts of constructing big projects. However, with immersive technology we are able to show the near reality and when people see the whole picture and understand what is proposed, they often switch to support the proposals.
In recent years we have seen the growing use of visualisations and fly-throughs to help residents understand what the new road, power station, wind farm or housing development will look like. They are useful, but follow the pre-defined camera path. With virtual reality (VR), it is possible to explore wherever you want to go; looking at the development from different angles, at different times of day and with many more types of interaction. With a headset, the visualisation provides an instant sense of scale that a 2D plan or 3D model on-screen can't reproduce. VR is also an exciting new technology, that most people are keen to try out. At community events for example, people actively want to participate making it much easier and more enjoyable to communicate about the proposed scheme.
Digital decision day
This technology has been used to impressive effect in many projects around the world. In the US for example, community consultations for a proposed new bridge in Florida took an unexpected turn. Read the full story on this project here.