A progressive approach to coastal protection and restoration
For this year's Infrastructure Week, May 13-20, we are sharing insight from our leaders and employees that examine how the infrastructure choices we make today will shape our future. Follow the conversation on our blog and on social media as we #BuildForTomorrow.
Natural (i.e., nature-based) infrastructure entails the use of natural systems such as land, forests, and wetlands to advance coastal protection and restoration efforts in a manner that is both cost-effective and ecologically beneficial. Examples include the beneficial re-use of dredged material to rebuild shorelines, the construction of "living shorelines," and the placement of oyster reefs – all of which can protect coastlines while advancing ecological health.
It's rare to find a solution in civil engineering so straightforward that the concept immediately starts the mind racing. Even those who have no formal training in the area can conjure up projects worthy of consideration in their community, home state, and home country. As a founding member of the Natural Infrastructure Initiative (NII), a coalition of public, private, and non-governmental groups promoting natural infrastructure, the aforementioned projects are exactly what we had in mind. The group includes The Nature Conservancy, AECOM, Caterpillar, and Great Lakes Dredge and Dock, with the U.S Army Corps of Engineers as an active and valued partner.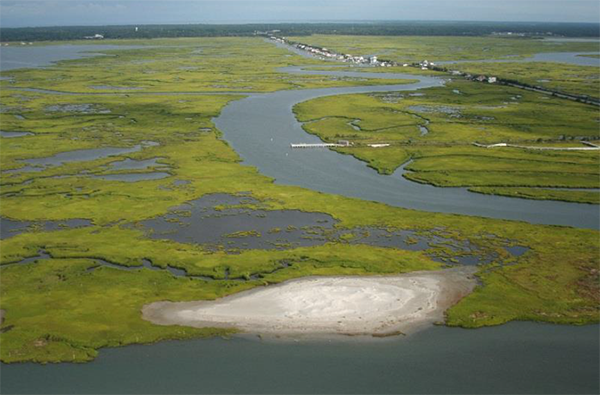 Natural infrastructure solutions are a win–win to assist coastal and riverine jurisdictions as they respond to, and plan for, natural and human-induced disasters. Among others, this includes extreme weather events, storm surges, sea level rise, land subsidence, and coastal flooding. For example, during Hurricane Sandy, coastal wetlands helped prevent an estimated $625 million in damages, based on insurance industry models/tools used to quantify the economic benefits1.
Natural infrastructure represents a progression in our thinking about coastal protection and restoration. Traditional approaches to "hardening" our shorelines, for example, may have positive economic impacts by protecting vulnerable coastal assets, but they can also have adverse ecological and social impacts by compromising aquatic habitat and separating residents from the resource. For these reasons, it's important to promote natural infrastructure solutions as options when projects are in the initial planning stages. For many projects in this arena, costs versus benefits are often more short-sighted than the longer-term benefits of natural infrastructure. While it isn't suggested that natural infrastructure solutions replace traditional approaches to coastal protection and restoration, it's important to keep in mind that natural infrastructure solutions can and should be equally and objectively considered when project alternatives are examined. Given that more than $69 trillion in economic infrastructure development is projected through 20351, it's easy to see why promoting the full and objective consideration of natural infrastructure alternatives is important to engage stakeholders, scientists, engineers and communities in the conversation about major investments.
AECOM and other NII members are advancing natural infrastructure solutions through project design and implementation, promoting pilot programs, advocating for legislative language and removal of regulatory/policy barriers through testimony on Capitol Hill, and pursuing development of consistent evaluation criteria to assess both the feasibility and performance of natural infrastructure solutions.
Stay tuned for a follow-up blog post that will highlight more of our natural infrastructure projects.
1Dr. Todd S. Bridges, USACE Senior Research Scientist. 2019. Natural Infrastructure: A Smart Investment.