Addressing an ecological crisis
This past July, Florida Governor Rick Scott declared a state of emergency. Invasive and toxic blue-green algae had created a crisis in the ecological health of many residential waterways in the state, and the area's politicians, environmentalists and vacationers sought immediate help.
Retained by Lee and Martin counties to implement an algae recovery and treatment operation, our AECOM environmental team brought a unique solution to the problem using an innovative technology to address and remove the harmful algal blooms (HABs).
The problem originated in discharges from Lake Okeechobee that contained nutrient-rich elements that fueled toxic algae growth. This 730-square-mile lake is the largest freshwater body in the state and lies northwest of West Palm Beach at the northern edge of the Everglades.
The U.S. Army Corps of Engineers manages the lake's levels by discharging billions of gallons of water through the Caloosahatchee and St. Lucie rivers during the summer months to prevent flooding. Due to a record amount of rainfall in May, the water released this year from Lake Okeechobee created an unprecedented ecological catastrophe. A toxic green slime coated waterways, killed fish and marine life, and caused residents to move out of their homes and tourism-related businesses to close.
Toxic blue-green algae coats inland waterways. 
Assessing the problem, our team developed a technology and process that was selected as the most viable solution. We deployed a custom-built, mobile algae harvesting unit that separates algae biomass from water. Skimmers — the same type used to recover oil from the 2010 BP spill in the Gulf of Mexico — capture thick mats of toxic algae floating on the water's surface. The harvester then converts the recovered algae into two streams: a dense algae biomass that can be handled as a solid and a second that filters the green-brown algae water into a clear water stream.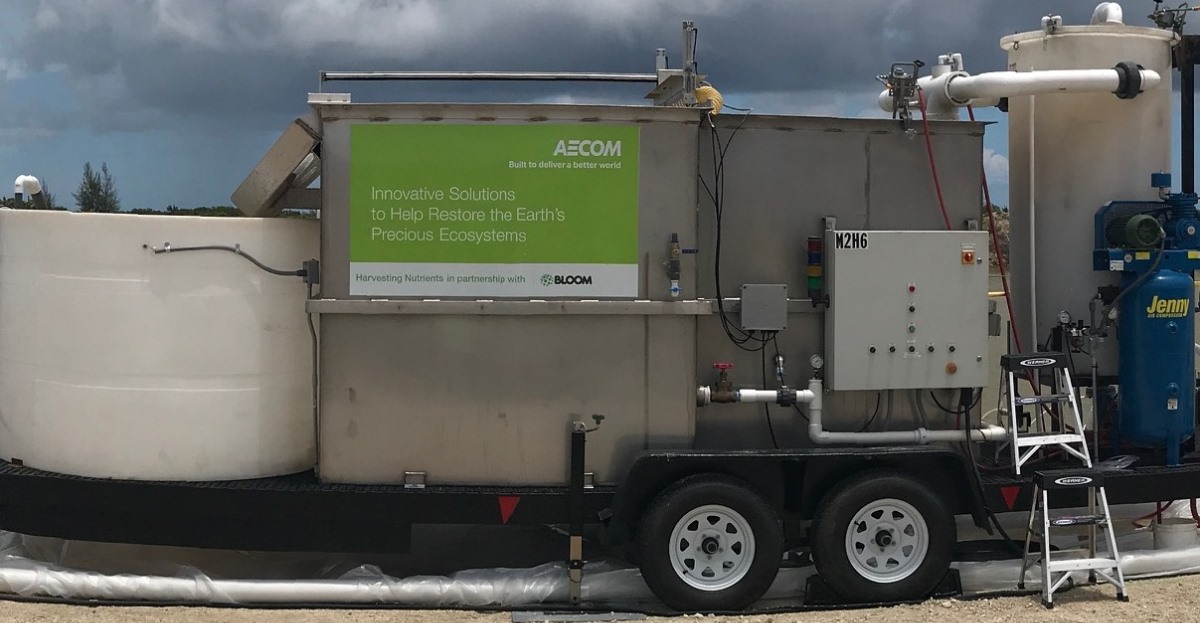 AECOM's custom-built, mobile algae harvesting unit.
Our environmentally friendly process offers a significant benefit — nutrient removal without collateral damage to other aquatic organisms. Phosphorus and nitrogen, which are essential for algae growth and the proliferation of HABs, are contained within the harvested algae cell structure. When exported from the surface water, nitrogen and phosphorus — which "feed" potential future algae blooms — are subsequently removed.
Rather than removing algae after it becomes a prolific problem, we can instead harvest fresh algae and nutrients from the water before it enters Lake Okeechobee. Fresh algae can then be used in commercial products, helping support an environmentally sustainable industry.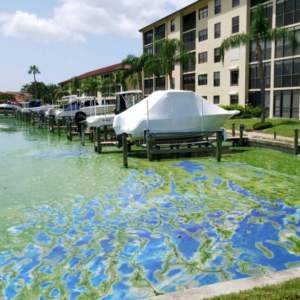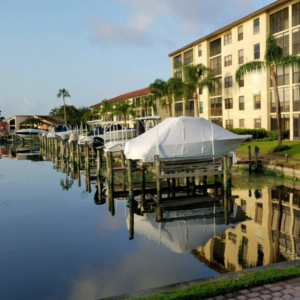 Lee County before algae removal (August 9, 2018) and after (August 10, 2018).
The technology is scalable and designed in a modular manner to allow for large-scale nutrient removal projects in freshwater lakes and waterways. Easily tailored to meet the needs of each situation and client, our approach is designed to be quick and efficient. Knowing the widespread and costly impacts of HABs, our team continues its research and development, with a focus on technology transfer and practical solutions.
Harvesting live algae can make a huge difference, turning back the clock and restoring our impacted lakes by removing excess nutrients before they become a problem.