Laying the foundation in Rincón
Our recently launched Blueprint Travel Grant Program supports employees making service-based trips around the world in partnership with charitable organizations. As they return from their journeys, we're following their stories through an #AECOMBlueprint blog series. Our first stop — Panama.
On the last day of June, I embarked on my Blueprint Travel Grant service trip with three peers from the Washington, D.C., professional chapter of Engineers Without Borders (EWB). After two flights, a six-hour bus ride, and a bumpy two-hour "chiva" ride, we arrived at our destination: the indigenous community of Hato Rincón.
Home to the Ngöbe-Buglé tribe, Rincón is located in the mountains of Western Panama. Due to its remote location and political marginalization, Rincón has struggled to keep pace with the rest of the rapidly developing country. Recognizing that infrastructure is one of its greatest challenges (and potential assets), the community sought assistance from EWB to build a community center. The center will house a library and computer lab to be used for higher education, remote medicine and documenting the Ngöbe-Buglé heritage.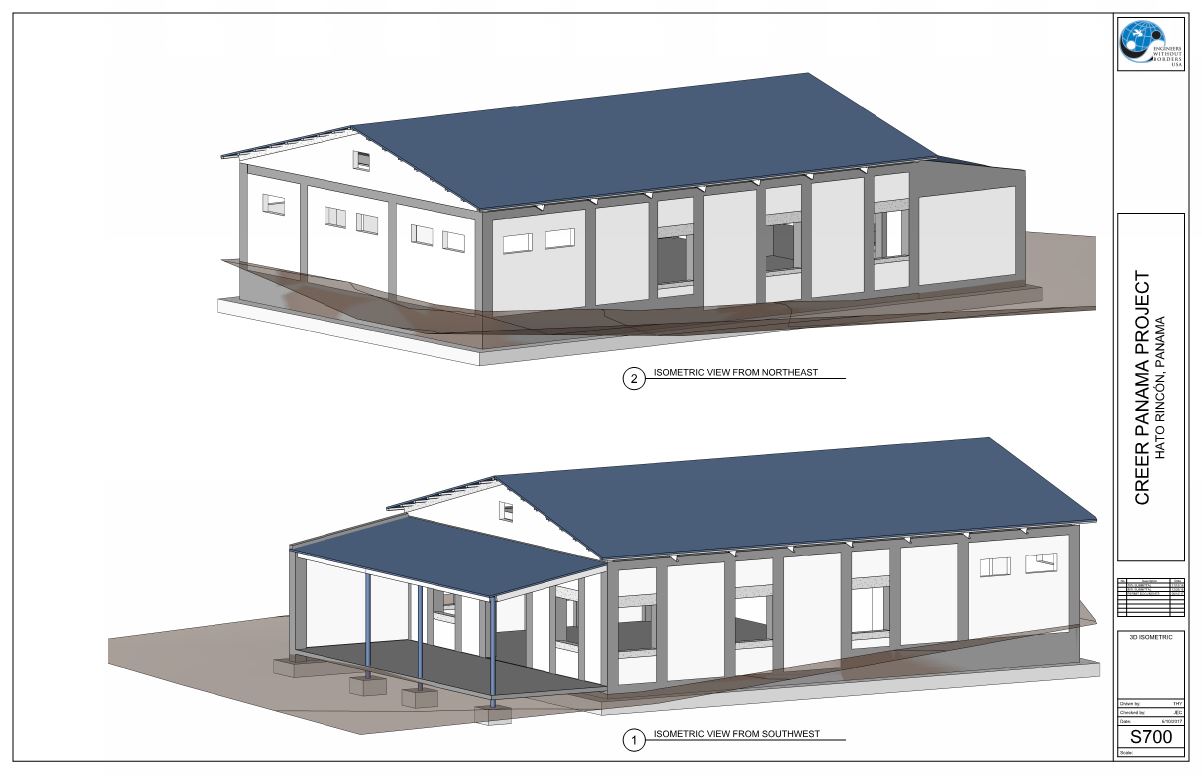 Caption: The design of the community center comprises a one-story confined masonry structure with a metal truss roof. Solar panels on the roof will connect to a deep-cycle battery to power laptops long after nightfall. 
Throughout June and July, five EWB teams made the trek to Rincón to provide labor and oversight for construction. Teams preceding ours had poured concrete stem walls integrated with the foundation and had begun confined masonry wall construction.
Our task was to continue this work, in partnership with the community members who have been instrumental to this project. Each day, 5-10 Rincón volunteers helped us mix mortar and lay rows of masonry blocks. During periods of the year when construction is not active, the community will continue creating thousands of blocks.
Our team battled near constant rainfall throughout the week, but managed to lay block courses to the target height. The most important task was pouring concrete columns in the northeast corner to stabilize the masonry walls and then capping the rebar. On the last day, we secured the site since it will be dormant until our next trip.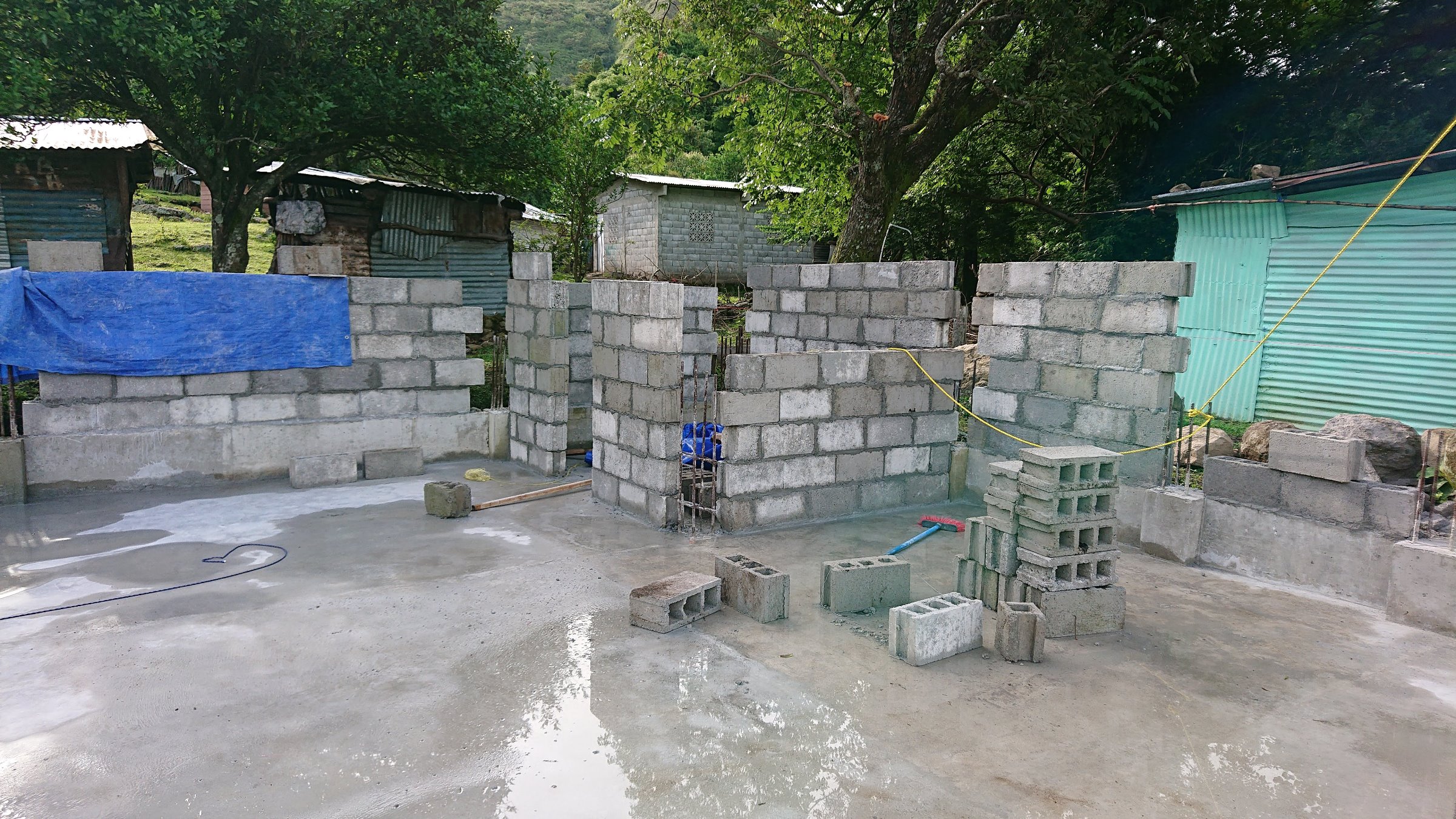 Caption: The community center is located in a high-traffic area in central Rincón, near the school, church, transportation routes, local store and soccer field. 
Our EWB team also contributed donated laptops and hosted computer lessons for children and adults. We walked residents through the process of powering up and logging in, navigating the desktop, and the essentials of word processing. For many older participants, this was their first opportunity to interact with a computer, which was exciting for everyone!
It was amazing to see how enthusiastic and invested the community is in this project, and gratifying to hear what the community center means to them and how it will impact their lives. One teacher told us that although some of his best students win scholarships to local secondary schools, many drop out because they don't have the computer skills they need to keep up. With the donated laptops and community center, he'll be able to give computer classes to better prepare his students to succeed.
Though the center will not be finished until 2020, I have no doubt construction will proceed smoothly under the direction of the motivated volunteers in Rincón. I hope to return in the spring, when our goal will be to finish the walls, pour all remaining columns to full height and begin installation of the roof. In the meantime, we'll concentrate our efforts on fundraising for the 2019 trip!
Receiving a Blueprint Travel Grant was an enormous help for me and my EWB team, enabling a shift in focus from fundraising to planning. The grants demonstrate a commitment to creating a safer, more secure and resilient world, but also a commitment to AECOM employees. This is a company where I can merge my career with my passion for international development and volunteerism.
Through Engineers Without Borders, I have been able to apply and develop my technical skills on meaningful projects, join like-minded peers, travel and, most importantly, meet people who have given me an entirely new perspective on life. There are opportunities to get involved for engineers and non-engineers alike, and I would encourage anyone interested to reach out to me on LinkedIn or their nearest chapter of Engineers Without Borders to learn more.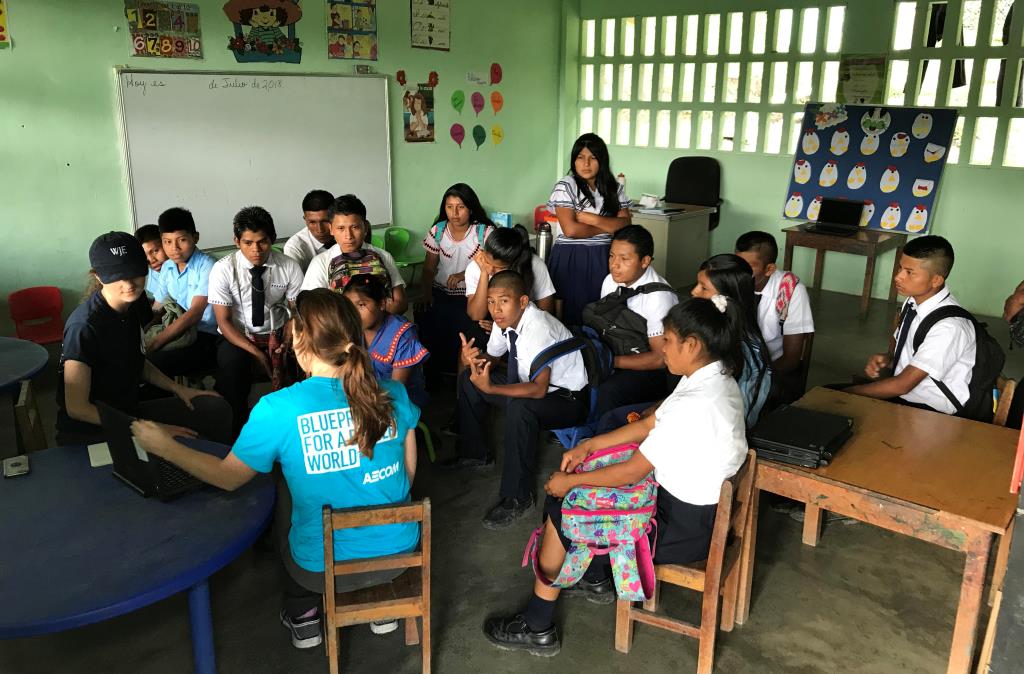 Caption: Students learn the basics of word processing with donated laptops.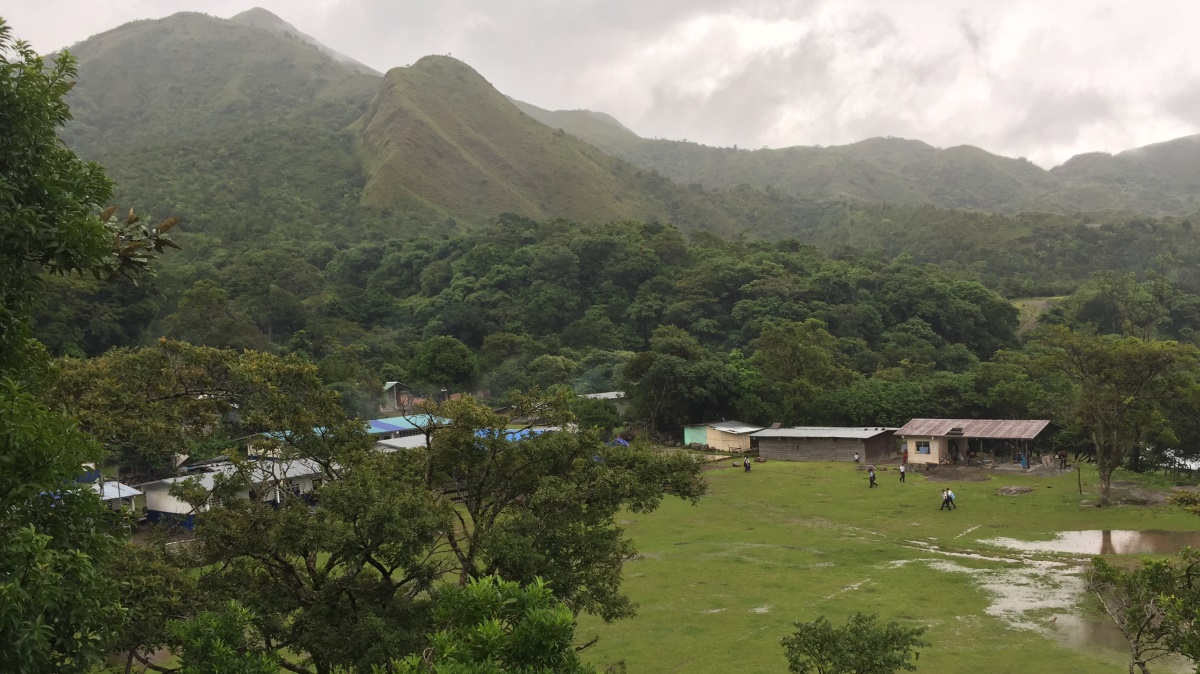 Caption: Hato Rincón is located in the mountains of Western Panama.