Award-winning volunteer believes in leading by example
Tina Bird with Estevan Army Cadets at their Annual Cadet Review. 
I have been volunteering for as long as I can remember. In elementary school, I recall mentoring younger students and helping them learn to read. I also provided peer support throughout my elementary and high school years by promoting drug-free choices and teaching students how to deal with peer pressure in a positive way. Once my husband Craig and I had our children, Chris and Cassandra, we moved to Estevan, Canada. As the kids grew and began getting involved in different activities, I decided that the best way to support and encourage them was by showing them how to help others. I am a firm believer in leadership by example, and can personally attest to the notion that the youth are our future leaders.
I have volunteered across numerous groups, including Estevan Comprehensive School Community Council, the youth soccer association, Girl Guides of Canada, Scouts Canada, Estevan Army Cadets, Relay for Life, Canadian Cancer Society, Southeast Regional Victim Services, Lions Club, United Way, and Heart and Stroke Foundation, to name a few. In these groups, I have held various positions including event chair, logistics chair, victim support worker, canvasser, camera and phone operator and food server. Typically, I dedicate a minimum of six hours per week to volunteering, but as additional events arise, the hours can rapidly climb.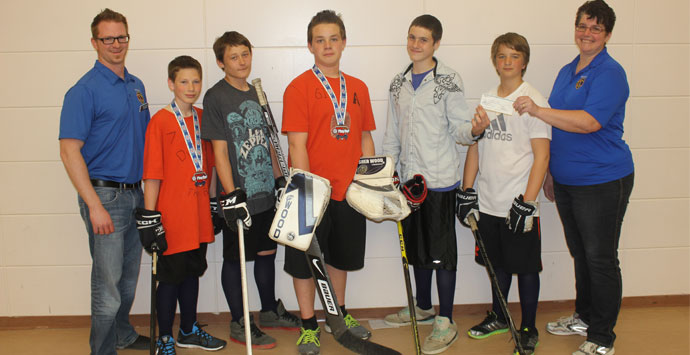 Tina Bird with Lions Club youth following a highway clean-up that facilitated a donation check for the group's upcoming hockey tournament. 
Volunteering is near and dear to my heart, and I believe that the time and energy I have given is an investment in our future. I also believe  that if you want to make an impact, actions speak louder than words. It is important for everyone to step forward and help because a seemingly small action can create a ripple that continues to grow. I have seen the benefits in my children who are, I am proud to say, following my example as adults. Cassandra helps with United Way telethon by taking pictures at numerous events, while Chris volunteers with the cadet corps in Lloydminster and helps out in the community as needed.
I have also seen the benefits of positive role models while volunteering alongside other youth, where they have been able to benefit from new friendships and mentorship opportunities. My fondest memories are of hearing from past volunteers  — who are now adults with children of their own — when they've told me that I helped foster their growth in volunteerism and that they are now volunteering alongside their children.
Recently, I was awarded the Saskatchewan Volunteer Medal. This is a highly prestigious honor that recognizes people with outstanding volunteer service and/or exceptional community involvement in an area that is the beyond the performance required for normal duties.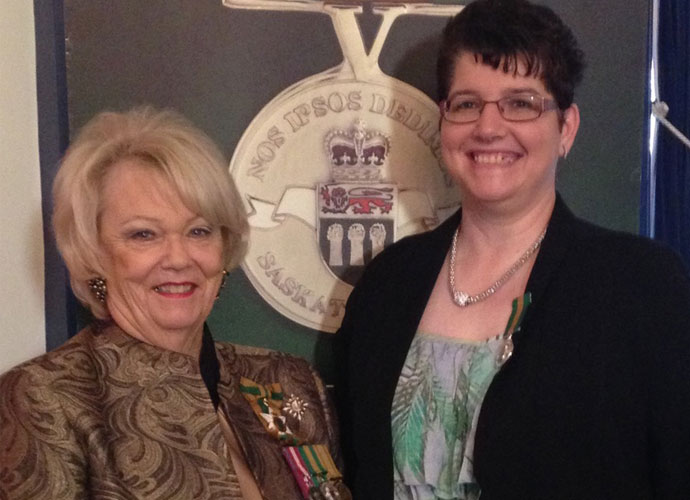 Tina Bird with Lieutenant Governor of Saskatchewan Vaughn Solomon Schofield.
During the award ceremony, I was introduced by Doreen Eagles, member of the Legislative Assembly of Saskatchewan for the constituency of Estevan, and presented with the medal by Her Honour, Vaughn Solomon Schofield, Lieutenant Governor. I was extremely honored to have been selected along with a 92-year-old World War II veteran and six other amazing award winners; the strong sense of community in the room was unforgettable.
Although recognition for volunteerism efforts was very unexpected, it's astounding to me since I volunteer because I believe in the motto engraved on the medal, "Nos Ipsos Dedimus," which means, "We gave of ourselves." If we all give a little of ourselves, think of the feats we could accomplish and what a fabulous world we would live in.
Without the support of my husband, children and AECOM, I wouldn't have been able to pursue my passion for volunteering. And to all current and future volunteers that give of themselves, please remember that we are truly changing the world one action at a time.

Tina Bird is a safety, health and environment administrator at AECOM in the company's Lampman, Saskatchewan, Canada, office. She is a mother to children Chris and Cassandra, and a loving wife to Craig Bird. Tina is a baker, cook and volunteer extraordinaire (who does it with flair).