Building emergency homes in Brazil
Many times, we live in our comfort zone within our own enclosed worlds and do not realize what happens outside of it. Social inequality and poverty are problems that affect many countries nowadays, and the experience we received — with support from AECOM's employees in Brazil along with TETO — makes it clear how beneficial it can be to step outside of that comfort zone.
TETO is a non-governmental organization present in Latin America and the Caribbean that seeks to overcome poverty for millions of people in poor communities through collaboration among residents and young volunteers. In one weekend of unforgettable experiences, volunteers are exposed to a different view of reality by building a house for a needy family.
We partnered with TETO to complete a 162-square-foot emergency house in Vila Beira Mar, Rio de Janeiro, Brazil, in two days — working with other youth volunteers and families in the community. Shortly after sharing our amazing experience with a few of our colleagues, AECOM made a commitment to fund the construction of an emergency house in Jardim Gramacho, a disabled landfill in Rio de Janeiro, and mobilized eight other employees to join us.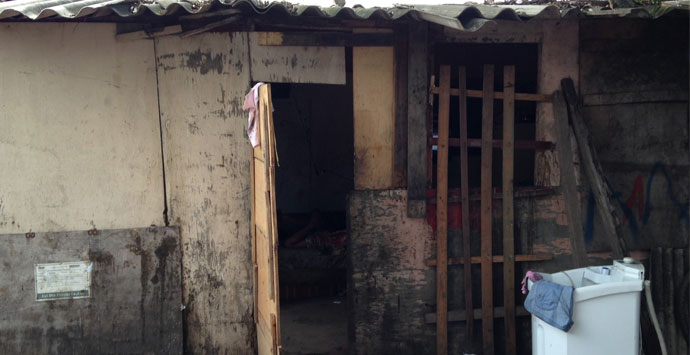 An image of the family's previous home. 
Upon entering the area, the poverty level in the community is extremely evident. The first steps you take into the community, you see and smell a polluted river, and mountains of garbage and dirt. There is a stark sense of abandonment, and feelings of compassion and sadness are an immediate rush. On the other hand, the residents help take a bit of the focus away from the poverty as you witness very happy revelers, a love for loud music and children playing.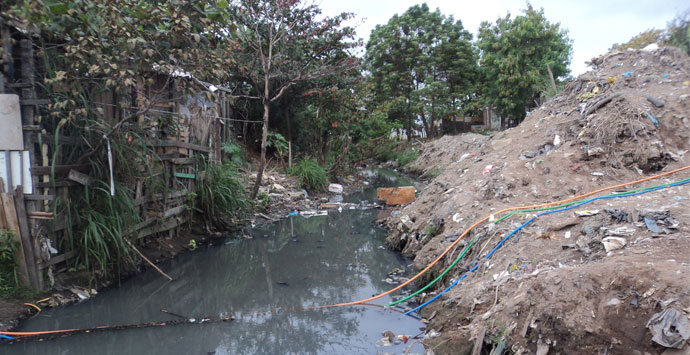 The opportunity to donate your own physical work to help a family is very pleasurable. Ten people are needed to build an emergency house in two days. This team is united and focused — always working together, and helping and motivating one another at times when strength and stamina are essential. The energy that the community transfers to the team, especially from the children, gives us the fuel to continue.
The construction of the house is beneficial to both sides. The family that receives the house sees it as a way to live with more security, comfort and dignity. And, the volunteers learn to work as a team, overcome physical and psychological limits and respect each other's differences.
Although very hard and tiring, the work with TETO was an extremely enriching experience, helping us grow both personally and professionally. We thank AECOM for giving us the opportunity to participate on this project.

Nathalia Marins is an accounting analyst at AECOM with a degree in business administration and accounting. A participant in constructing two TETO homes, she hopes to build more houses in 2015.
LinkedIn: Nathalia Marins

Juliana Silva is a project analyst, environment, at AECOM with professional experience including environmental studies, phase I environmental assessments, and environmental due diligence and compliance assessments. She has knowledge of Brazil's enviornmental legislation and standards.
LinkedIn: Juliana Silva