Excellence Awards: Improving food security in the pearl of Africa
I've just landed in Entebbe, Uganda, to supervise the construction of a grain store that my colleagues and I at Engineers for Overseas Development (EFOD) have spent the last two years designing and fundraising for.
I'll admit I'm a little nervous; I have no idea what to expect. I've never been to Africa before and am not sure how I'll get on. I'm accompanied by another EFOD engineer and together, we are here to supervise construction for two weeks out of a 16-week programme.
We head to the hotel where we have planned to meet the team we are replacing. They are accompanied by John, our Ugandan driver and guide for the next two weeks. As soon as I see John, my nerves are allayed … he's wearing a Manchester United shirt. I think I'm going to feel right at home!
The community we have come to help is a cooperative of widowed women in the village of Nyakoi, a village on the outskirts of Mbale. The purpose of the project is to build a secure facility to store crops. This will allow them to work together to manage resources and ensure food security by enabling them to store their crops year round.
Uganda is certainly a reality check compared to life in the U.K., but the warmth of the people far exceeds the tropical temperature. We don't have to venture far before a child calls out with a wave, "Mzungu (person of European descent), how are you?"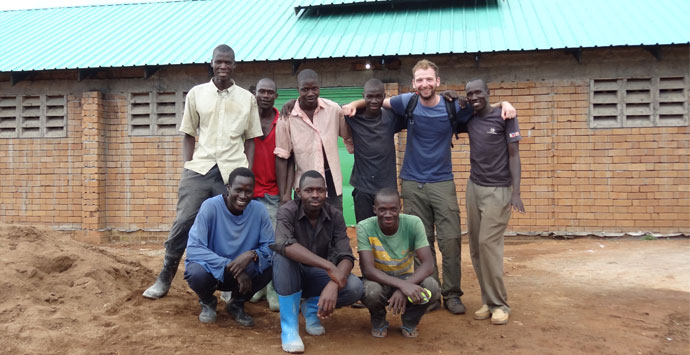 James with a team of workers on site.
The reception is just as warm on the site and everyone — from villagers to local tribal elders — drops by to thank us for our work with the community. It's refreshing to see a country with such a strong community spirit. At times, when observing our driver John, it's hard to work out who he actually knows; total strangers greet people like best friends.
The foreman asked me, "What do your buildings look like in England?" It was only then that I realised that my Ugandan hosts have little idea about where we come from. I quickly pull out my phone and show him pictures of England, anything I can find, my flat, the London Eye, Big Ben. Within moments, work has ground to a halt as 30 men pile around me to get a glimpse of the U.K.
Stuffed between my hard hat and safety boots, I also made space in my bag for a football. Within the tiniest patch, an impromptu game would break out every lunch with workers, kids and even the local pastor enjoying a kick about.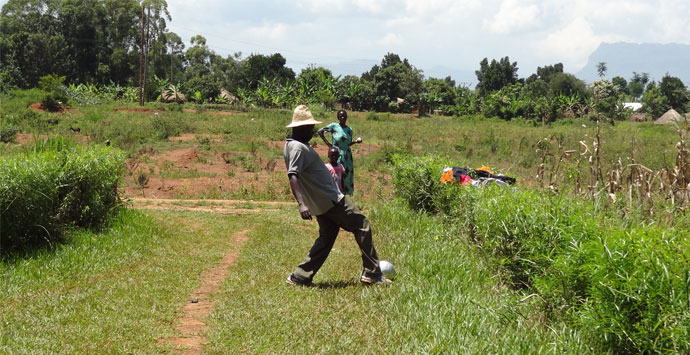 The benefits of the store we built will generate wealth for the community for years to come and for that I am immensely proud, but what really stands out for me are the relationships I have built with the people in Uganda.
It would be difficult to sum up Uganda, but Winston Churchill did so back in 1907 when he said "Uganda is truly the pearl of Africa." I'm not going to argue with that…
Featured in the blog post above, the Grain for Gain Food Security Program is the winner of the 2014 AECOM Excellence Award for Corporate Social Responsibility.


James Birchall is an engineer in AECOM's civil infrastructure business line, and is based in Leeds, United Kingdom. He is also the treasurer of Engineers for Overseas Development North West.
Twitter: @JBirchall23
LinkedIn: James Birchall