Sacramento's transformation is underway
The state of California is the world's eighth largest economy. Sacramento Mayor Kevin Johnson thinks that its capital city should reflect that—with a vibrant downtown, greater transportation connectivity, and increased environmental resilience, all leading to a renaissance for business and culture. This is not just an idea; many of the projects that would help realize it are currently under planning or construction.
Mayor Johnson spoke about his vision during a recent visit to AECOM's Sacramento office. The firm is invovled with many of the projects currently reshaping the city. Johnson said he wants residents, visitors, business, and government to view the city as a 'can do' town. He wants to make Sacramento a more business-friendly city through business infrastructure investment, as well as streamlining business and government processes. He spoke about the need for Sacramento to move towards a position in which public safety, culture, multi-modal transit, and technology are the pillars of a new vitality for the city. Lastly the mayor expressed his desire to enhance the Sacramento riverfront to include mixed residential, recreational, retail, and commercial uses.
The development of the Entertainment and Sports Complex (ESC), which broke ground last week, is the cornerstone for reshaping the urban core. The city convinced the NBA to deny an imminent deal to move the Sacramento Kings to Seattle and embrace plans for a new venue that would convert a dilapidated shopping mall into a city icon and year-round zone of activity. AECOM is designing the arena with a focus not only on setting the next benchmark within the NBA (as it did for the Indiana Pacers' Bankers Life Fieldhouse and the Brooklyn Nets' Barclays Center), but also on creating a building, public spaces, and 1.5 million square feet of mixed-use development that inject life into their surroundings. The building will invite the city to view the game from the outside and offer views of the city from the inside. It will open what an SI.com article calls "the world's largest patio doors" to welcome visitors, create an indoor-outdoor environment, and allow unique summer Delta breezes to cool it, reducing energy demands. For the fans it will offer the next level of technological interactivity. The public spaces have been designed as a productive landscape, with pistachio and walnut trees producing nuts, green walls producing herbs, rain gardens managing stormwater, and other trees providing shade.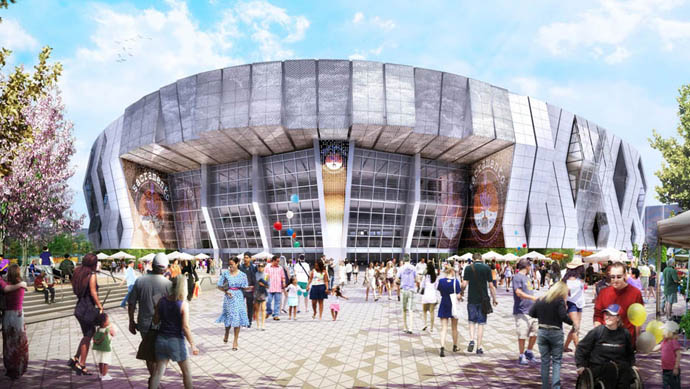 Two blocks from the ESC, the Sacramento Commons project would add over 1,300 new housing units, a hotel, and new retail on four city blocks. The Sacramento Housing & Redevelopment Agency also has plans to redevelop an old public housing project in the River District into a new mixed-income neighborhood. AECOM has been integrally involved in both of these projects.
Now the nearby Sacramento Railyards is joining the downtown transformation under the leadership of LDK Ventures. On their behalf, AECOM is creating a new masterplan for most of this 240-acre redevelopment area, one of the largest urban regeneration projects in the U.S. today. Sports and employment center facilities are proposed to anchor the project, including a possible Major League Soccer stadium that could draw a resident team. With the adjacent Amtrak station and planned California High-Speed Rail (HSR) terminus, the Railyards could become an iconic example of transportation-oriented development nationally and globally.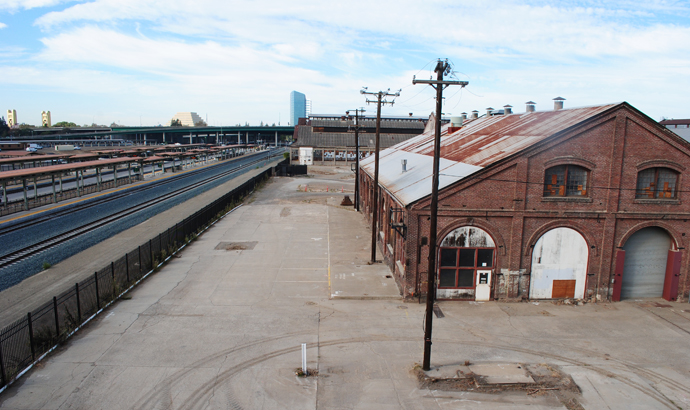 The Sacramento Railyards depot is the seventh busiest train station in the country and will only get busier with planned transportation developments. A 13-mile rail extension, the "Green Line," will link downtown with South and North Natomas and the Sacramento International Airport, reducing congestion and emissions along I-5. AECOM is working with the Sacramento Regional Transit District to deliver it. The proposed HSR system would connect Sacramento, San Francisco, and San Jose via two lines that converge in Fresno, and then travel south through Bakersfield to Los Angeles and San Diego. With California's Central Valley in greatest need of economic development, the Merced to Fresno section will be the first segment delivered in a project that could spur a high-speed rail revolution across the United States. AECOM has had primary responsibility for the planning and environmental analysis of the HSR Central Valley corridor since its initial phases in the late 1990s. The Merced to Fresno section is the only segment to date that has received its environmental clearances and permits.
Sacramento International Airport has already completed a new 19-gate, $288-million concourse and $408-million, 400,000-square-foot terminal building. AECOM led one of the two construction management teams that delivered the project four months ahead of schedule and $60 million under budget.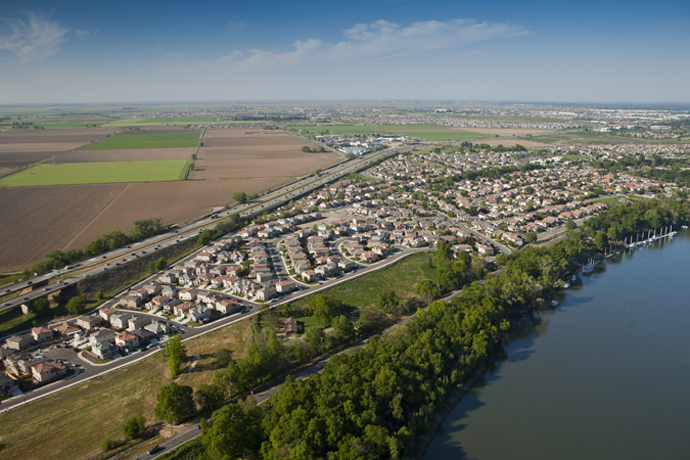 Sacramento sits within the 53,000-acre Natomas Basin floodplain, which contains 83,000 residents and $8.2 billion in damageable property, protected by 40 miles of levees. Since 2006, AECOM has been working with the Sacramento Area Flood Control Agency and the U.S. Army Corps of Engineers on the Natomas Levee Improvement Program, which will protect the metropolitan area for the next 200 years. This work has included multiple, phased and overlapping environmental impact statements, reports, regulatory permitting, as well as ecological restoration, cultural resources conservation, public outreach and construction monitoring. Current work includes ongoing environmental monitoring in the Natomas Basin and engineering design and EIR preparation for additional flood risk reduction as part of the North Sacramento Streams, Sacramento River East Levee, Lower American River, and Related Flood Improvements Project.
Mayor Johnson's city certainly looks like a can-do town, and it will be exciting to see how far Sacramento has come just a few years from now.

Jake Herson (jacob.herson@aecom.com) is managing editor for AECOM's Connected Cities blog.