#CoolJobs: Our Ice Age dig adventure
When he was a child, for summer holidays in New Zealand, AECOM's Craig Helm and his family would visit a local river. Craig and his brother spent hours creating little "dams" on many of the small river braids. As an adult, Craig finds himself spending a lot of time working on significantly larger dam projects that take longer to design and construct than one sunny afternoon. What started off as a way to pass the time during a summer holiday turned into a career that he thoroughly enjoys. Craig and his coworker, John Sikora, recently worked together on the Ziegler Reservoir Enlargement Project in Colorado and share their experience during this dig, which revealed some pretty amazing finds!
When we started working on the Ziegler Reservoir Enlargement Project, we had no idea it would turn into one of the largest mammoth and mastodon sites in North America.
The project consisted of the reconstruction and enlargement of an existing dam through an upstream raise and outlet works construction. Our AECOM project team members also included Chris Rey, David Lady and John France. During the geotechnical investigations, we determined that a large volume of unsuitable foundation material had to be removed beneath the upstream dam shell prior to construction of the enlarged embankment.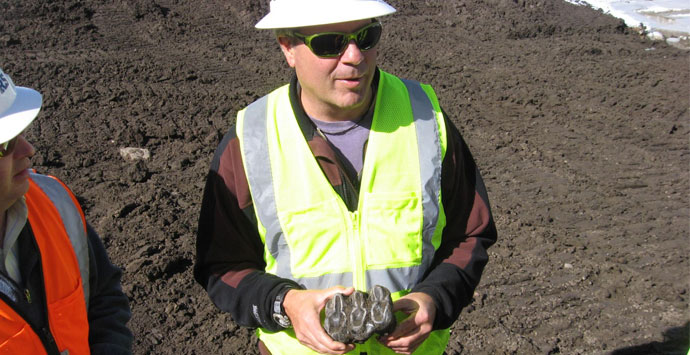 John noticing this molar was different than the original mammoth molar — and realizing this reservoir site just got more complex!
Shortly after we began excavating the unsuitable foundation soils, the contractor's bulldozer operator, during the last push for the evening, encountered a mandible. A closer look revealed a nearly intact mammoth as the cartilage between the vertebrae was still in place.
We contacted the Denver Museum of Nature and Science (DMNS) to excavate the mammoth, but before they could mobilize, we uncovered molars from a different type of animal and figured out they were from a mastodon, an ice age animal that lived even earlier than the mammoths. The discovery prompted the project to evolve from a typical dam construction project to a site that required daily interaction between the owner, engineer, scientists, contractors and the media. We assisted DMNS with the geotechnical and geological interpretation of the site. As we continued to dig, we repeatedly found more bones from different species of ice age animals. It was incredible to watch as bones were being discovered everywhere. Since the initial detection, we discovered more than 5,000 bones from Columbian mammoths, mastodons, a giant ground sloth, ancient ice bison, deer, camels, salamanders and fish.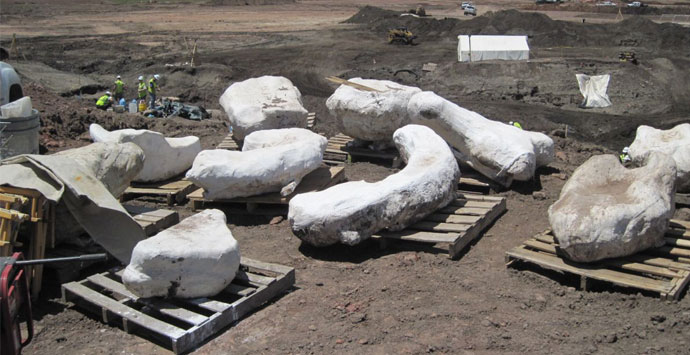 The Denver Museum of Nature and Science encased skulls and significant bones with plaster to preserve and transport the bones back to their lab in Denver, Colorado, United States.
It was amazing how well preserved the bones were at the site. This was because an overlying layer of clay prevented any oxygen from infiltrating the bones, which stopped the decay process and kept them in pristine condition. The drainage area was approximately 35 acres, which, based on modern hydrology at elevation, is a nearly perfect monthly water balance. So, not only were the bones very well preserved, but other organic materials were also preserved so much so that green blades of grass and grass seeds were found with careful inspection of the bog soils. These types of materials can be useful for radiocarbon dating of the site, as well as for reconstruction of the environment that existed when these animals lived and died.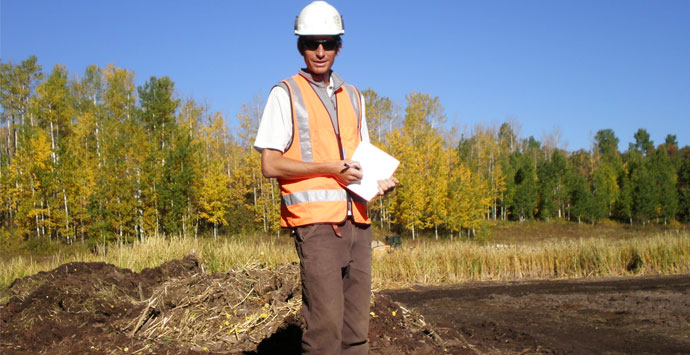 Craig on site at the Ziegler Reservoir Enlargement Project.

The dynamics of the site quickly changed from a handful of contractors excavating the foundation soils to more than 50 volunteers and scientists extracting and preserving these ice age fossils. We worked to manage the excavation site so that the scientists and contractors could work simultaneously. Scientists needed to be able to properly remove the bones by hand, while the contractors needed to continue digging. For a week or two, it seemed that anywhere the contractors started digging, they hit bones and had to move to a new spot.
One of the most exciting parts of this project was seeing how a diverse team of contractors, scientists, volunteers and engineers could work together to achieve a common goal of safely excavating and preserving the bones while constructing the dam on a very small site.  Overall, this ended up being one of the most interesting and unique projects we have ever worked on.

Craig Helm is a geotechnical engineer (and Kiwi originally from New Zealand) based out of AECOM's Juneau, Alaska, United States, office who continues to work on dams and mining-related projects. He recently began working on a dam construction project on the West Coast of New Zealand, but has more recently found himself doing similar fieldwork in northern Alaska. Outside of work, he enjoys climbing in the mountains and spending time outdoors with friends and family.
LinkedIn: Craig Helm

John Sikora is a water resources engineer based in AECOM's Glenwood Springs, Colorado, United States, office with more than 27 years of experience planning, designing and constructing hydraulic structures for water supply and tailing dam projects. John enjoys fly fishing, mountain biking, hiking, backpacking, backcountry skiing, roasting coffee and brewing beer on the western slope of Colorado.
LinkedIn: John Sikora