Deep Dive with Paul Avery
Our Deep Dive series features our technical experts who give you an inside look at how we are solving complex infrastructure challenges for our clients from across the world.
This week, we hear from Paul Avery, a technical specialist in emerging transportation technologies from our Transportation business in Austin, Texas. Paul shares why and how he and his team have developed a process and digital tool called AV-ReadiTM for evaluating the level of readiness for automated vehicle (AV) deployment on roadways.
The tool, which was developed in collaboration with Corby Schaub, a GIS specialist in our Data Practice Group, and Akik Patel, a transportation planner, seeks to demystify the automated vehicles technology, focusing on transit and freight applications, for infrastructure owner operators (IOOs), such as Department of Transportation, tollway authorities, and transit agencies, as well as automated vehicle industry developers and manufacturers.
Tell us more about AV-Readi™ and how it helps bring clarity to the automated vehicle deployment technology.
In 2018, we formed the Automated Bus Consortium (ABC) with more than a dozen founding public transit agency members. The goal was to incentivize the development of full-sized, 40-foot SAE Level 4 automated transit buses—one of the highest degrees of automation possible—and their deployment on existing bus routes.
At the time though, there was no standard process for evaluating the feasibility of deploying an AV on a roadway. This was in part because the technical capabilities of AVs exist along a broad range of maturity levels and their true capabilities are often not publicly disclosed. To successfully deploy AVs, this issue of deployment first had to be solved. AV-ReadiTM was our solution.
AV-ReadiTM is a process and set of digital tools, and is comprised of two major components, each with a similar but distinct purpose. The first component, called complexity analysis, evaluates the roadway in detail, identifying the location, as well as the type of challenges to deployment along the roadway. This data can lead to specific insights into infrastructure or technology enhancements that may improve readiness.
The secondary, optional assessment is higher level. It evaluates the roadway as a whole, identifying attributes that help or hinder deployment. These attributes, however, are not tied to a specific location. Rather, they inform the automation process itself, and help optimize vehicle behavior.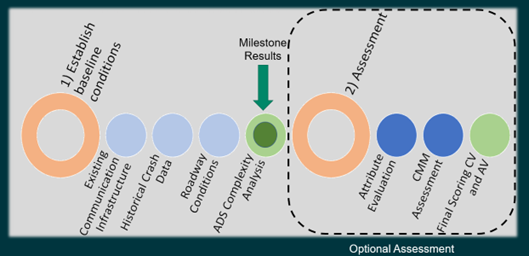 With AV-Readi™, we've assessed almost 7,000 miles of roadway across the United States and Canada. For our transit agency and IOO clients, our analysis has enabled them to make an informed route selection for the effective deployment of a full-sized automated transit bus along existing routes. For our industry clients, it has identified routes that would minimize the impact to local communities by ensuring large freight vehicles do not transit their streets.
What was a key challenge you faced while working on this project? How did you solve it?
One of the key challenges facing the ABC is that standard processes do not yet exist for evaluating the safety and effectiveness of automated driving systems. While the ABC's transit agencies needed to select an existing service route for AV deployment, it wasn't clear which were the safest or most effective.
I saw an opportunity to utilize my deep industry experience in the development of automated vehicles and Corby's expertise in GIS data processing and visualization to create a process and tool to assess and visualize the feasibility of routes. AV-ReadiTM was the result—and contains several innovations.
Our first innovation was to quantify complexity.
To capture challenges across each route, we began splitting routes into segments within a GIS environment according to vehicle behaviors, such as braking, merging, accelerating, and other actions. We then coded these segments according to the difficulty of these behaviors to create an overall complexity index to compare routes. Using this index, agencies could easily assess which routes were favorable for AV deployment.
But even as we split routes into segments, we still wanted to assess them holistically. Our solution was the secondary analysis discussed above, which I developed with Corby and Akik Patel, a transportation planner in Austin.
This analysis assesses the environmental attributes across the whole route and determines if those attributes enable or hinder deployment on that route. The process produces a separate set of index values, which can be combined with the complexity analysis to provide a more holistic assessment of the deployment readiness.
Working on AV deployment presents many opportunities to innovate, as the field is growing rapidly. While these are just two of our more recent innovations, The AV-ReadiTM tool is continuously evolving so we can offer more analysis for our clients more efficiently, and the results continue to be validated by feedback from our clients.
How has this experience shaped your approach to future work using AV-Readi™?
The development of AV-ReadiTM is ongoing, and with each new project, the team is leveraging additional capabilities and incorporating new situations. As it has developed, it's attracted international attention, and may soon be applied to projects in Europe, Asia, and the Middle East. The team is also focusing on preparing AV-ReadiTM as a software as a service (SaaS) model to make it more accessible across AECOM, and developing training for our professionals so they can offer this service to their local clients.
Want to learn more about AV-ReadiTM and how it is making a positive impact for IOOs and the AV industry? Follow the links below to dive deeper.