Do our cities need more icons?
This was the subject of a discussion convened by AECOM at the Center for Architecture during the opening week of our Urban SOS exhibition. We invited a small group of thinkers and observers of the built environment in New York to discuss the topic with four of AECOM's design leaders.
Jacinta McCann, global lead for AECOM's Design + Planning practice and president of the Landscape Architecture Foundation, kicked off the discussion by showing the experience of different cities – Sydney and its Opera House (a single object); Doha's Marina Bay (a cacophony of objects where AECOM is now designing a public realm to stich it all together); and New York's Rockefeller Center with the art of Jeff Koons. Iconography can come in many different shapes and sizes, Jacinta said.
Ross Wimer, Americas lead for AECOM's Architecture practice (pictured above), explored the idea that a building could be iconic not just on the outside but on the inside. Drawing on the example of a tower project he has worked on in China, Ross showed how internal workings and innovations in sustainability and structure can speak just as powerfully about a city's aspirations –  if not more so, in fact – than its striking profile in the skyline. Ross talked more about this in a recent podcast.
Stephen Engblom, Americas lead for AECOM's Design + Planning practice, took a historical view of iconography. From the Victorian train stations of the industrial era, to the towers of the roaring twenties in America and today's Gulf States and China, iconography follows the money so to speak. We can trace a direct correlation between waves of economic progress and architectural expression. The latest evidence of this, Stephen noted, is the recent trend of tech companies commissioning grand headquarters projects by starchitects, a phenomenon best reported by architecture critic Paul Goldberger in Vanity Fair. There's Apple and Foster, Facebook and Gehry. Twitter's headquarters remains one of the last holdouts of urban grit in San Francisco.
Bill Hanway, global lead for AECOM's Architecture practice, conjectured that perhaps what's most important to a city is not an iconic building or even an iconic skyline, but great systems underpinning it all. Bill cited the example of our work as masterplanners since 2005 for the Queen Elizabeth Olympic Park. There, striking structures such as Zaha Hadid's Swimming Pool, Anish Kapoor's Orbit, or Hopkins' Velodrome are carefully knit together into a cohesive park with new transport interchanges: the centerpiece of a powerful legacy plan that emulates London's traditional village patchwork pattern, far more iconic overall than any of the individual buildings.
Susan Szenasy, publisher of Metropolis, agreed with Bill's assertion, noting that many cities suffer too many little silos. Paula Deitz, editor of the Hudson Review and landscape architecture critic, asked if this question is something more and more cities around the globe are asking themselves as big challenges like climate change would seem to dwarf any particular iconic building. Other attendees included writers and editors from The Architects' Newspaper and Architect Magazine, as well as representatives from the Van Alen Institute, Columbia University's Graduate School of Architecture, Planning and Preservation, the Institute for Public Architecture, the New York Mayor's office, and the New York City Economic Development Corporation.
Balancing the need for iconic architecture with the bigger picture of urban systems and challenges is an issue that AECOM grapples with in its work with cities around the world. There's probably no more striking example of architectural firepower than Saadiyat Island, Abu Dhabi. There a cultural district is under construction that will feature a particular intensity of iconography: Frank Gehry's Guggenheim Abu Dhabi, Norman Foster's Sheikh Zayed Museum, Zaha Hadid's Opera House, Tadao Ando's Maritime Museum, and Jean Nouvel's Louvre Abu Dhabi. AECOM has carefully masterplanned Saadiyat so that these jewel-like icons can shine, but are firmly embedded into the urban fabric of Abu Dhabi. It's a 'master-architect' role that requires flexibility grounded in respect for the power of striking architecture while with an eye to the whole urban puzzle. Abu Dhabi is a forward-thinking emirate trying to make a statement about the power of culture in a region fraught with conflict: a line-up of beautiful temples to knowledge and expression by architects who are diverse in both architectural style and cultural origin. Criticised by some as extravagant, it might just be an iconography that its time and place needs, considering the regional context.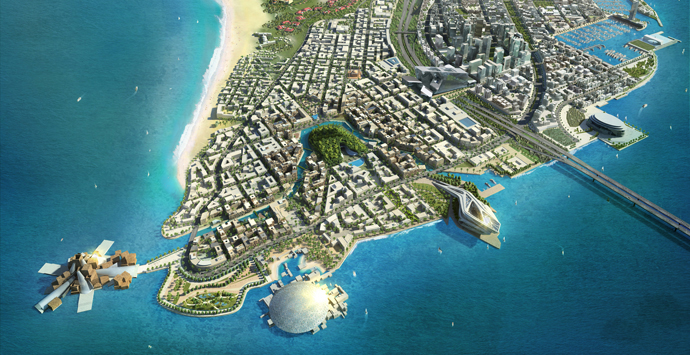 Saadiyat Island Cultural District.
In Cambridge, UK, we are undertaking a similar role as our masterplan for the University of Cambridge's Northwest extension enters its first development phase. We have helped to assemble a cracker-jack team of some of the UK's and Europe's most interesting architects to design new residential and academic clusters in what will be the largest extension for one of the world's oldest and most prestigious universities. The project, for which AECOM has been shortlisted for the World Architecture Festival Future Projects award (winner to be announced this week in Singapore), brings together a coalition of architects: Alison Brooks, The AOC, Cottrell Vermeulen, Maccreanor Lavington, Marks Barfield, Mecanno, Mole Architects, MUMA, Pollard Thomas Edwards, RH Partnership, Stanton Williams, Wilkinson Eyre, and Witherford Watson Mann, with AECOM as landscape architects as well. The architecture will be refined, a touch eclectic but very much in the spirit of European city-making that makes places like Cambridge so special.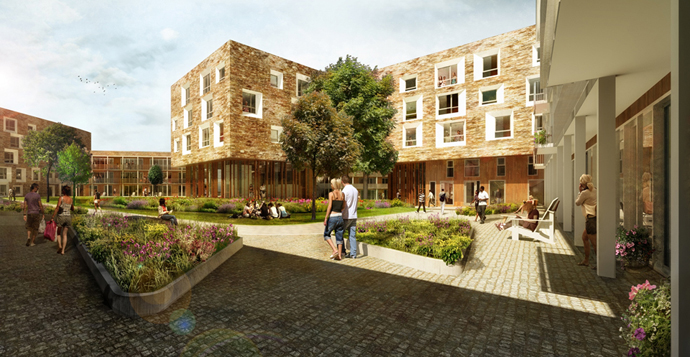 New residential courtyard in Cambridge University's northwest extension.
In contrast to Saadiyat, it is a subtler iconography, but iconic nonetheless. Given Cambridge's centuries of heritage and status as a UNESCO World Heritage Site, new architectural interventions must be deftly handled and delicately conducted to respect what is a memorable place. Each architect will have her or his own distinct expression, and the result will be contemporary. Centuries from now, it will be the early 21st century layer in the rich Cambridge texture that includes the Victorian, Georgian, Elizabethan and Medieval. Taken together, these make one iconic place, especially when one takes the long view of history.
That's why in retrospect, the right question probably isn't do our cities need more icons. It's more multifaceted than that. Iconography is about symbolism and aspiration, and these are at the heart of architectural expression and civic building. As urbanists, we should be questioning not whether we need more icons – our cities thrive on them – but how can they be better and more relevant to the people they are intended to inspire? Are we designing the right kinds of icons? Can a city as a whole be an architectural icon?

Daniel Elsea (daniel.elsea@aecom.com) is creative director for AECOM's Buildings + Places group.