Emeryville: "the little city that could"
Key Australian city-shaping organisations including BVN Architecture, UrbanGrowth NSW, and  Parramatta and Bankstown City Councils have embarked on the United States – Australia City Exchange on Innovation Ecosystems with the Future Cities Collaborative, an initiative of the United States Studies Centre at the University of Sydney, led by Professor Ed Blakely.
Our mission is to learn from US cities and bring a broader perspective to what we need to do in Australia to become a next-generation knowledge economy driven by a culture of collaboration and innovation – whether that's the way we think as educators, businesses or individuals, or how we plan our cities.
So far we've led a cracking pace, visiting three cities in three days. Our first stop was Emeryville, on the east side of the San Francisco Bay. Mayor Dianne Martinez gave us an overview of the extraordinary transformation of this former industrial area into what is today a thriving sciences and technology innovation ecosystem. Martinez affectionately refers to her province as 'the little city that could', drawing upon an underdog mentality to topple competitors.

The transformation was born of necessity; as industry moved out of the area, the city was left with vast sites of contaminated waste land. They formed a development agency and, using tax incremental financing, provided the essential infrastructure and attracted global brands such as Pixar, Novartis and Bayer. Some other key moves and factors that allowed the transformation from industrial area to innovation ecosystem included:
Jumping on an opportunity to build the Emeryville train station, which became the San Francisco terminus for all Amtrak trains. When Oakland moved too slowly after its station (the previous Amtrak terminus) was destroyed in the 1989 Earthquake, Emeryville acted first and had its station up and running in 1992, before Oakland.
Collaboration with the private sector. The city has been described as a developer masquerading as a municipality, and it wears this badge proudly. Through an open dialogue with key developers such as Wareham Property, certainty has been provided around the redevelopment process.  Initiatives like the establishment of a free local bus loop to the nearest BART station and a Brownfields Programme all provided the incentive to attract development and investment in surrounding neighbourhoods.
Proximity to the University of California Berkeley (UC Berkeley). Bio-tech companies have been attracted to this student population as a potential talent pool to mine.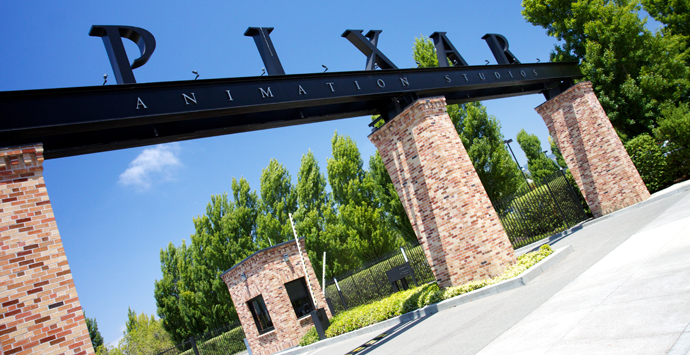 We then heard from the CEO of Wareham Development, Rich Robbins, who after having developed much of the precinct over the past 20 years, gave us his opinion on why it had been successful.  Key points included:
Align all stakeholders' interests through true collaboration with the public sector and view the entire development area as a programme rather than one-off sites.
Promote low-rent work and housing environments to attract start-ups from UC Berkeley.
Ensure that a local artist community is established, and that public art becomes a feature of the area.
Take a long-term view, and see yourself in the role of developer as 'an accessory to profound thinking.'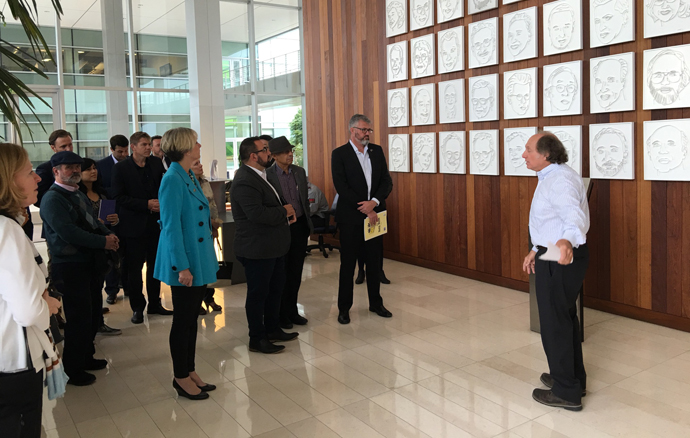 So, with all this positive conversation, how did the precinct stack up from an outsider's perspective?
We visited a start-up called Nano Precision in one of the Wareham Living Sciences buildings and learnt that the flexibility around space requirements has been one of the most attractive parts of being located at Emeryville. They also draw upon UC Berkeley for talent, the very place the founders came from when they won the business plan competition.
Nano Precision benefits from network gatherings with similar firms in the precinct and uses Meetup.com to facilitate these weekly meetings.
The public realm felt quite deserted, and this is because many of the key tenants like Pixar have huge confidentiality requirements and tend to create inward campuses – providing food to their staff within the building. Even elements like secure gates and fences are quite defensive and not open and inviting.
Generally, care has been given to the public realm, and high-quality finishes exist. However, consistency of materials and signage could be more coordinated.
This innovation precinct was more opportunistic than strategic – it was born of a dire necessity and this local government did what we wanted these precincts to do – innovate. It engaged with a reputable developer and saw opportunity and capitalised on it before their opposition (Oakland) did. The phrase "Kill or be killed" comes to mind, but it isn't perfect by any means, and with foresight I would see Emeryville better integrate the residential and retail components and also campaign to capitalise on their greatest asset – the San Francisco Bay.
Next stop is Seattle. I look forward to sharing our findings over the next few weeks as we continue to make our way across the US. Regular posts and images will be uploaded here, on AECOM's Connected Cities blog, as well as to the Future Cities blog.
Register to receive the final report due in mid-June. This report is one part of AECOM's research into future cities. We are exploring three broad ideas that we believe will impact how cities are planned, how they function, and the way in which we will all live, work and navigate within them.