Future-Focused, Collaborative Design for Healthcare Facilities
AECOM was selected by Henry Ford Health System and Henry Ford Macomb Hospital (HFMH) to collaboratively plan, design and provide construction documents for a US$123 million five-story, 160-bed in-patient intensive care unit and medical surgery patient care facility in Michigan.
AECOM's partnership with Enviah, a Grand Rapids-based, woman-owned business, has been fostered through a deep rooted and keen understanding of operational system performance models and the complex systems and structures required for this type of project.
Using their evidence led three-dimensional process – Discover, Design and Do – Enviah collaborated with HFMH in the pre-planning stage. The approach was centered around a thorough investigation and understanding of the Henry Ford Macomb Hospital's existing operational model and how the new building could transform their operations to achieve optimal outcomes. Results were quantified through system measures of efficiencies, including optimal staff productivity as they care for patients, staff engagement and workplace pride, and increased patient satisfaction through a defined experience of care.
"Enviah's operational focus mirrors our thinking that great healthcare design should be aligned to simplify and organize business operations and then tailored to improve the practitioner and patient experience. It is an absolute honor working with Dr. MacAllister and her teams to help solve our clients' complex problems and deliver projects that will serve local communities for years to come." – G. Jerry Attia, AECOM Michigan's Vice President and Managing Principal
AECOM quickly moved forward with incorporating the operational model into a patient floor plan. Our planning and design architects embraced the operational mapping as a strategy for designing a cost-effective, positive care experience, and space that delivered quality, safety and inspiration for staff and patients alike. As our work on the project progressed, Enviah's proprietary Syntax Mapping System validated that the planning resulted in lower numbers of steps for caregivers, increased visibility on the patients and more intuitive wayfinding for visitors.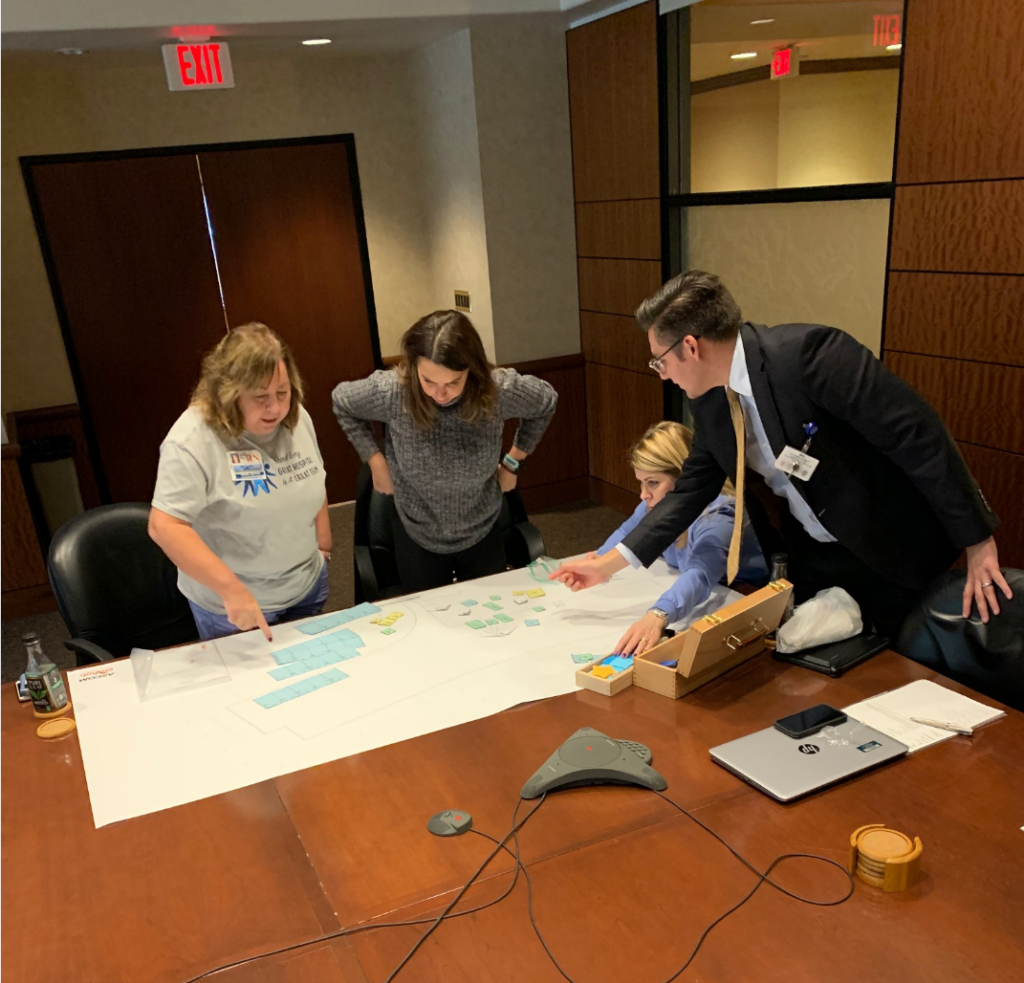 A paper doll session at Henry Ford Macomb Hospital
We were pleased to learn that HFMH leadership found that Enviah's future-focused thinking and research has led to improvements in their approach to the delivery of services and operations.
"AECOM's team approaches design from the core of the business operation and cares deeply about the significant investment the client makes when creating new spaces for their businesses. By combining AECOM's healthcare design expertise with our operational model and tactical applications and design solutions, our approach not only fully conceives how the building will operate in the future, but also incorporates a real sense of place that complements the local community culture." – Lorissa MacAllister, PhD, AIA, Enviah's Founder and President
Soon after completing the pre-planning phase on the HFMH project, and due to the unprecedented challenges healthcare systems faced in the wake of the coronavirus pandemic, Enviah and AECOM teamed up once more to collaborate on an alternate care facility in Memphis, Tenn.'s former Commercial Appeal building.
The established rapport and technical expertise of the team allowed us to jumpstart our response to the planned 28-day designbuild of a 403-bed COVID-19 response facility in support of a FEMA mission. Enviah created a process map that responded to the staff and patient care workflow and AECOM married the process map with the initial design plans. Equipped with process mapping and plans, our team collaborated with the U.S. Army Corps of Engineers and various Tennessee medical professionals for the project.
Our teamed efforts have been most impactful to the communities served, both in Michigan and Memphis. AECOM and Enviah understand the importance of our contributions to population health through the built environment. When we work together to address the operational and business needs of our clients and then deliver a project that supports and enhances the care of people in the community, our success is measured in contributing to improved healthcare outcomes.