Reimagining next generation learning environments in health science
Today's patients depend not only on the perspective of one individual, but also the strength of an interprofessional healthcare team. This team can include a diverse group of members, including physicians, psychologists, nurses, physical therapists and others. To foster and strengthen the necessary mutual trust and understanding, healthcare professionals should learn to embody this team approach while in their professional schools, enabling them to seamlessly enter the workforce.
By reimagining next-generation learning environments — including team-based instruction and simulation, and student collaboration space — we're providing students with innovative learning opportunities to support interdisciplinary healthcare teams.
Trends driving learning environments in health science
While embracing the latest in medical education technology, students want to use cutting-edge virtual anatomy systems, but are also eager for more classic, hands-on learning opportunities with cadavers. When aiming to provide students with the best medical education, schools will focus on providing students with multiple learning modalities.
A good example of this is the integration of a virtual anatomy curriculum, coupled with hands-on anatomy/dissection experiences. Both experiences help build an integrated understanding of how to work with digital and physical models.
Another significant shift in health science education is in the medical library. The medical library of yesterday, with extensive stacks of books and reference material, is obsolete. We're now seeing more universities replacing these resources with informal study, team and collaboration spaces, coupled with information resource advisors to assist with student research.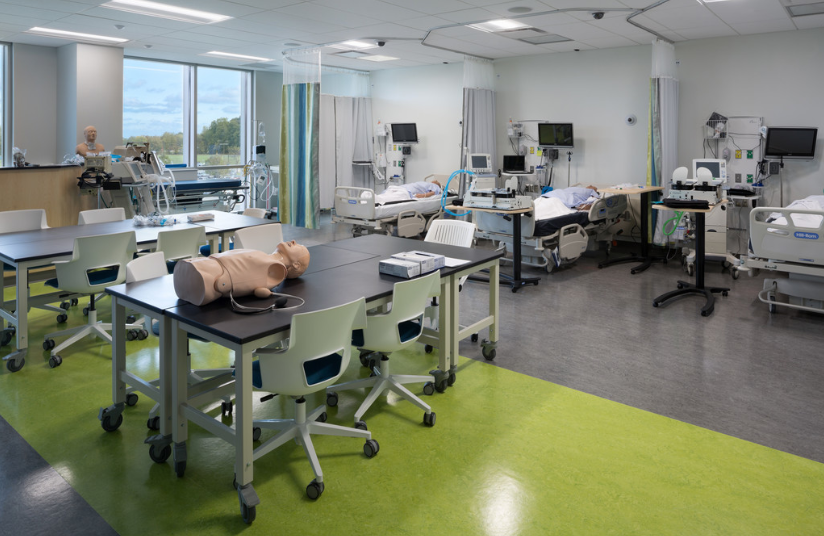 Medical simulation is a key aspect of health science education and one of the key aspects of interprofessional education. At Lakeland Community College, Ohio, we're using state-of-the-art technology to simulate clinical environments. Based on the model of a functioning hospital — from corridors to exam rooms — we've designed the space to mimic real-life hospital spaces.
Everyone learns differently, so we focus on providing students with access to a variety of learning spaces, ranging from individual study space, problem-based learning rooms, active learning areas and lecture halls. Tying all of these spaces together and encouraging students to collaborate and work together enables them to have a team-based approach, which is vital in today's healthcare profession.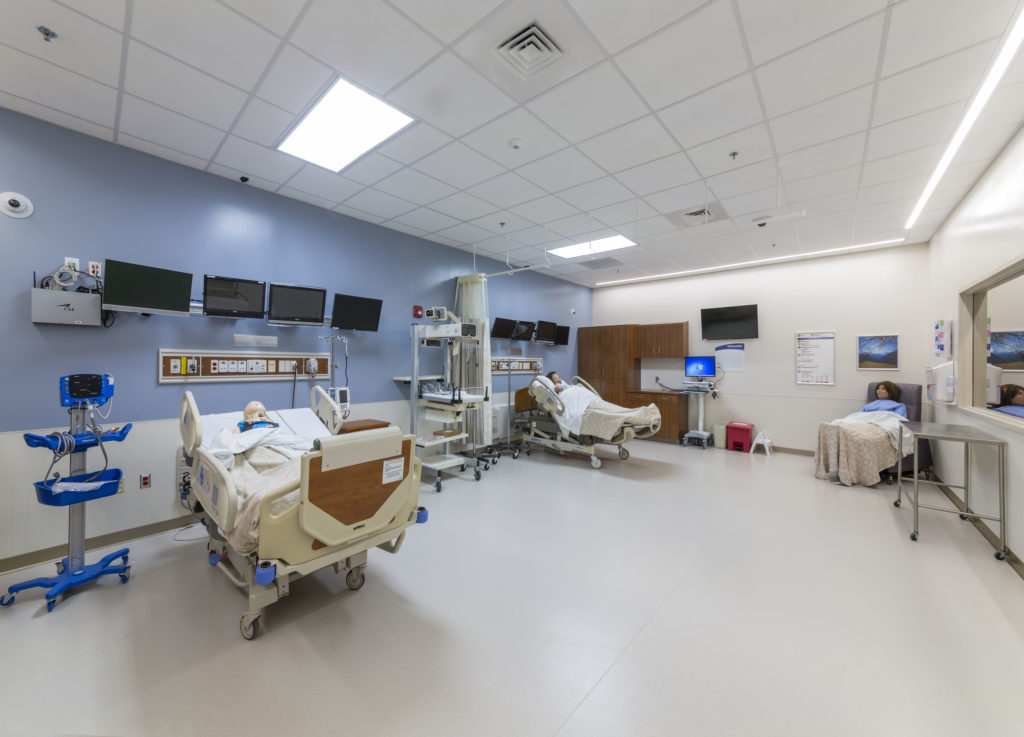 At the Carilion School of Medicine and Research Institute, Virginia, we've designed a team-based, patient-centered learning environment. This design allows students to teach each other within a Patient Centered Learning (PCL) model, supporting collaboration and interaction, which are key components to success in medical school.
In addition to providing varying types of learning spaces for health science students, providing sophisticated research environments can inspire students to enter the world of biomedical research opportunities. Coupling academic space with research space provides students with the opportunity to engage in research exploration, exploring future career pathways. Having research space right next door encourages students to be curious and inquire about the different types of research opportunities that they may choose to explore.
The AECOM Approach
AECOM is a multidisciplinary design practice that integrates all aspects of planning and design, for the built environment. Our integrated team approach brings an elevated and more complete perspective to the clients we work with. We ensure that our cross-disciplinary approach to solving problems, is a key aspect to the buildings and places that we design. Fostering team-based learning, in all types of spaces, including campus quads, landscape gardens, dormitories, student unions, sports facilities, performing arts complexes, and academic and research facilities. We understand how teams work and how to leverage communication and collaboration across multiple skill sets. This core understanding of how we work supports our clients' goals to create spaces where teams can excel. Our iterative and collaborative design practice helps institutions create human-centered buildings and places that help foster innovation for the next generation, and generations to come.