Strengthening Engineering Ecosystems in Sub-Saharan Africa
Our Blueprint Travel Grant program supports employees making service-based trips around the world in partnership with charitable organizations. As they return from their journeys, we're following their stories through the #AECOMBlueprint blog series.
As a recipient of AECOM's Blueprint Travel Grant, last September I was able to support Safe Water Network, a non-governmental organization working in Ghana to provide safe, reliable water to previously under-served communities.
This water sanitation project differs from a typical water installation project because we used a sustainable market-based approach for operating clean water stations. By investing in the next generation of engineers and scientists in Ghana, Safe Water Network helps provide opportunities to work on real-life problems facing industry partners. I was personally invested in and inspired by this project because it allowed me to help support the future of Ghana, my birth country.
I attended a four-day workshop organized by the Kwame Nkrumah University of Science and Technology and Safe Water Network in Kumasi, Ghana, aimed at guiding engineering students in their applied research projects. The workshop aimed to ensure that their projects remain relevant to industry challenges, teach them necessary skills for a smooth transition into the workforce and improve gender equality in STEM education. Students worked in groups to solve real-life technological problems faced by Safe Water Network and other industrial partners by researching practical solutions to the problems. In addition to Safe Water Network, organizations including Engineers Without Borders USA, Feminist Data and Research Canada also participated in the project.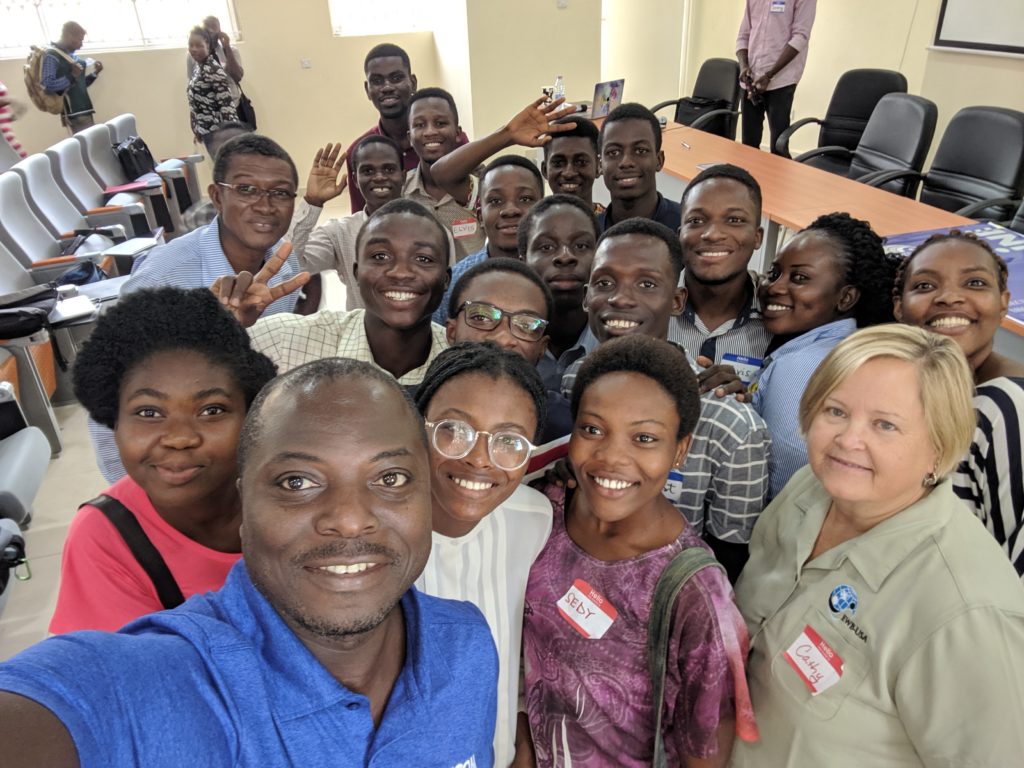 During the workshop, I connected with students to help them refine their research projects and provided them with training on effective project management and engineering skills.
These student projects were completed in collaboration with Safe Water Network and will have an impact on the country's water infrastructure:
Water monitoring and control:
This project proposes a system for monitoring the water level in water tanks and automatically regulating the water level at home or in establishments that have two or three tanks. In this project, we created a Wireless Sensor Network (WSN) using ZigBee and Global System for Mobile (GSM) communication modules.
Smart Level Monitor (SLeM) – Remote liquid level monitoring in water and septic tanks with remote pump control ability:
The students designed and developed a Smart Level Monitor (SLeM) to regularly monitor the level of liquid in water and septic tanks and remotely report level and pump status, where applicable, while providing detailed statistics and remote pump switching control ability.
Multi-sensor system for remote water quality monitoring
This project proposes a system that makes use of multiple sensors to monitor, remotely, the quality of water at targeted areas in Ghana. The target market for this project includes the Ghana Water Company Limited (GWCL), water monitoring companies and fish pond operators.
Aqua-Tento – Real-time assay of water bodies for contaminants:
The primary aim of this project is to identify quality parameters and contaminants that can be easily measured. The system will send data to the responsible agencies, Ghana Water Company Limited (GWCL) and the Ghana Environmental Protection Agency (EPA), to aid in improving the quality of water supplied.
Leakage detection in water pipe systems:
This solution provides infrastructure for the real-time monitoring of water pipes within the distribution network of any water distribution company. Currently site inspections are periodically carried out to determine the conditions of the pipes in the distribution network and also check for leaks. If a leak happens after an inspection, it is mostly undetected until the next inspection cycle.
My experience volunteering with Safe Water Network was especially rewarding given the challenges the world is facing right now. My trip not only reminds me that it is vital that we use our time and resources to help those in need, but it is also important that we work together to make the world a better place.