Gender Equality vs Equity: Rethinking how we approach a #BalanceforBetter
In recognition of International Women's Day on March 8, and this year's theme, #BalanceforBetter, we are featuring stories from our leaders and employees throughout the week of March 4, describing their own approach to workplace equality and honoring inclusion and diversity.
There is hardly a doubt that we operate in a male-dominated industry. While there are commendable efforts to make it a level playing field for all, the speed of progress has been slow.
We have been told to embrace the differences between men and women so that our workplaces are more inclusive. However, I believe that in this age of socio-political polarization, we should also focus on the similarities between women and men, and to embrace what makes someone unique as a person.
We tend to think of gender equality as having equal representation in leadership and new hire intakes, but it is also to do with granting women the same opportunities to succeed in jobs of their choice.
Equity removes any gender-based connotations given to certain traits and qualities, such as social expectation of how a man or woman should act. True equity can be reached only when no assumptions are made about one's ability or expertise is based on gender, such as a woman being assigned a more nurturing task or role simply because she is a woman.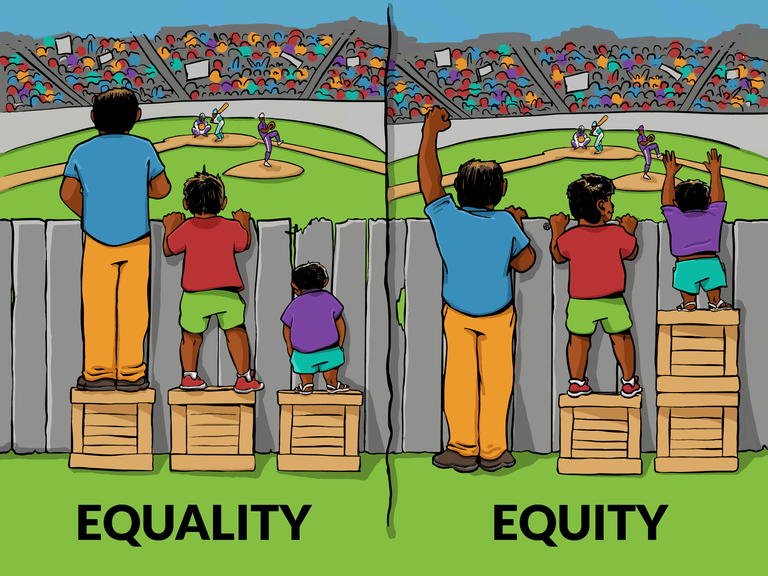 Interaction Institute for Social Change | Artist: Angus Maguire
Much like the picture shown, performance metrics and opportunities can fail to recognize the intrinsic social framework that people abide by. For instance, women who are returning from maternity leave often have their commitment to their careers questioned when they ask for flexible work schedules or reduced work travel. In a conservative country like India, where I am from and currently based, family responsibilities are often assumed and assigned based on gender. I believe it becomes a greater responsibility for the workplace to aid in creating cultures that normalize more flexible work schedules and encourage equal treatment of parents.
While millennials appear to be more balanced with their parental roles than previous generations, one can only hope that this is trending towards women being given the same opportunities as their male counterparts to lead promising and fulfilling careers. With companies changing their cultures and individuals adopting a mindset where flexible work schedules are a positive thing, I think it would also help in increasing the number of women at the top of the corporate ladder and opportunities for recognition of their accomplishments.
I challenge everyone to celebrate what makes each human the unique individual they are, regardless of gender, and make a conscious effort to discard the behavioral assumptions attached to gender norms.
I am confident that by challenging gender stereotypes, we would make the most of our immense human capital to make the world a better place.