Embracing diversity is not just the right thing to do, it's good business
In recognition of International Women's Day on March 8, and this year's theme, #BalanceforBetter, we are featuring stories from our leaders and employees throughout the week of March 4, describing their own approach to workplace equality and honoring inclusion and diversity.
It's 2019. We all know diversity matters.
But, what are the actual advantages of a diverse workforce? Why should companies feel compelled to act instead of react to this shift in culture? We're entering a new world of corporate diversity and inclusion – one that strives to enact real change and provide equal weight to all voices.
The business benefits of a diverse workforce are long-proven. According to McKinsey, companies in the top quartile for gender diversity outperform their competitors by 15% and those in the top quartile for ethnic diversity outperform their competitors by 35%. That means diversity is an actual competitive differentiator – a strategic positioning tactic that an organization can use to advance its market position.
Why is this? Whether it be in the office, on a project site, or in the board room, when everyone comes from similar backgrounds and experiences, creativity is inhibited. People of varying genders, races and ethnicities think differently – and that's a good thing. Geographical, educational, sexual, political, economic and age diversity lead to better problem-solving, diverse viewpoints and innovative practices. Competitive differentiators!
AECOM recognizes that its diverse practices set it apart. By building diverse teams and creating inclusive environments, employees are empowered with the autonomy to reach their full potentials.
Meeting market demands
The war for talent is at an all-time high, particularly in the construction industry. Candidates have more options than ever for employment. Inclusive environments rank high on their lists of 'must haves' – particularly among young talent. To be attractive, companies need to step up diversity efforts to appeal to this next generation of applicants.
Clients that value diversity expect their partners to, as well. Many of AECOM's top strategic accounts have diversity initiatives in place and are committed to diverse representation on their boards. It is critical for companies to show their commitment to diversity by establishing programs with achievable goals, tracking progress and communicating initiatives not only within their own organizations but also with clients, partners and outside audiences.
AECOM seeks to attract, recruit and retain the brightest, most imaginative talent in our industry. That's not possible without established diversity and inclusion advocacy programs. In 2015, AECOM set a goal to double women in leadership positions by 2020 — and we're making progress to achieve this!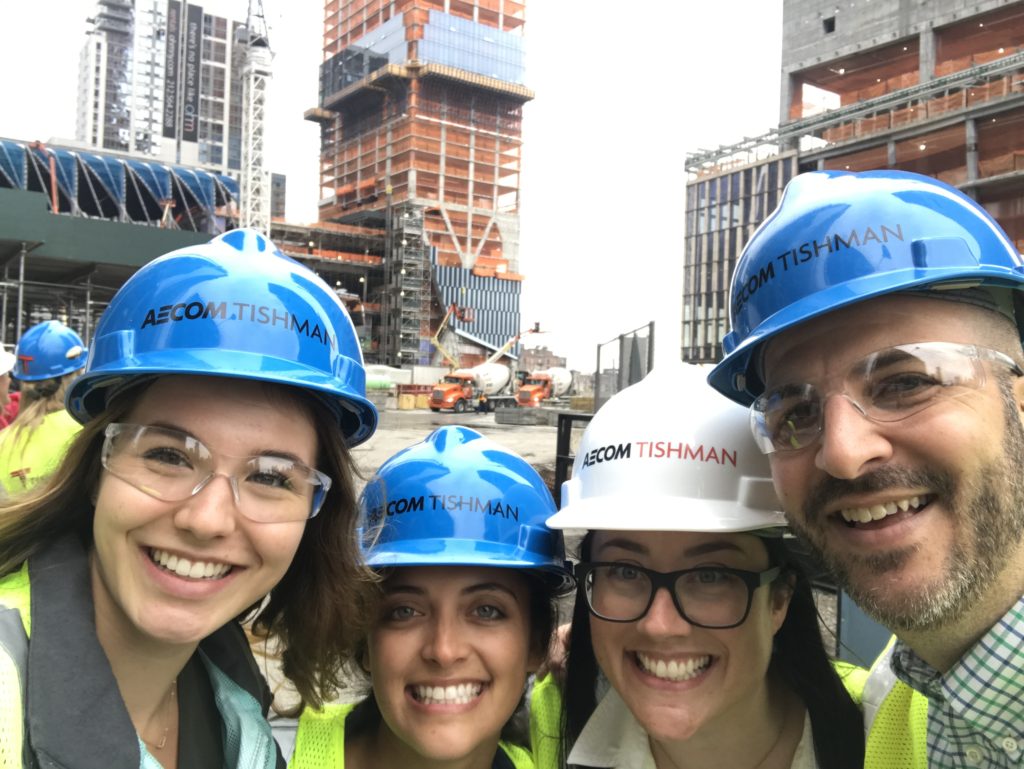 Fostering inclusion
For hiring, not only do we strive to attract diverse candidates, but we also try to assemble a diverse hiring panel. This isn't just about gender or ethnic diversity – bringing in people from different departments and qualifications not only demonstrates the breadth of an organization's talent to potential candidates, but affords the hiring organization added perspective throughout the decision-making process.
Once new hires are on board, it's critical to continue these inclusion efforts. Every single employee should understand how they can progress in their careers and climb the ladder internally. It is imperative that we connect women and minorities with role models they can identify. Equally as important as mentors are sponsors. Having someone at the decision-making table who can advocate for promotions, opportunities and pay decisions is crucial for advancement.
Mentors and advocates have shaped my career from the outset. The people who have influenced my growth have had my back when I was taking risks and were voices in my favor when it came time for bigger opportunities – from suggesting I move across the world for a once-in-a-lifetime project to something as simple as inviting me to a meeting with more senior leaders and allowing me to present my own work.
Innovation culture
Corporate cultures with an emphasis on diversity and inclusion are conducive for out-of-the-box thinking. Collaborative environments are where innovation thrives. Sourcing opinions and feedback from different departments and regions can lead to innovative solutions that add real value.
AECOM's Global Challenge is a great example of what happens when employees are encouraged to be an active part of an organization's innovation culture. I had the absolute pleasure of mentoring one of last year's global challenge entrants – who happened to be a young woman. Her idea proposes a real solution to a widely-identified issue in the construction industry. What would have happened if she worked in an environment where she was discouraged from putting forth new ideas? Diversity of thought leads to innovative practices that will continue to transform our industry.
We can't deny that historically, our industry hasn't been a leader in diversity and inclusion. But in recent years, mindsets have been shifting, leading to better opportunities that welcome all backgrounds and experiences. At AECOM, we are proud of our diversity and inclusion efforts and accomplishments to date, while also recognizing there is still more to be done. Because embracing diversity and inclusion is not only the right thing to do, it's good business – better opportunities for employees, better results for clients and better futures for everyone.