In search of urban equity
La Plaza Mayor: the site of the forum in the foreground at the border of recent manifestations of the city's prosperity – including the towers of la Plaza de la Libertad, designed by OPUS, a renowned Medellin firm – juxtaposed with lower-income residential neighborhoods blanketing the slopes beyond.
"Urban Equity in Development – Cities for Life" was the focus of the seventh session of the World Urban Forum April 5-11. More than 22,000 practitioners and academics from 142 countries descended upon Medellín, Colombia, known for its climate of eternal spring and innovative urban interventions, to share experiences and develop new ideas on how to foster equity in our cities.  
The forum proposed that "equity" means leveling the playing field so that everyone benefits from the urban advantage and the prosperity of cities. In a rapidly urbanizing world, marginalized and vulnerable neighborhoods continue to grow and their populations are increasingly exposed to risk and left farther from accessing additional resources gained through the development of cities. UN Habitat estimates that two thirds of the world's urban population live in cities where income inequality has increased since the 1980s. Tackling this challenge was the overriding objective of the group convened in Medellín.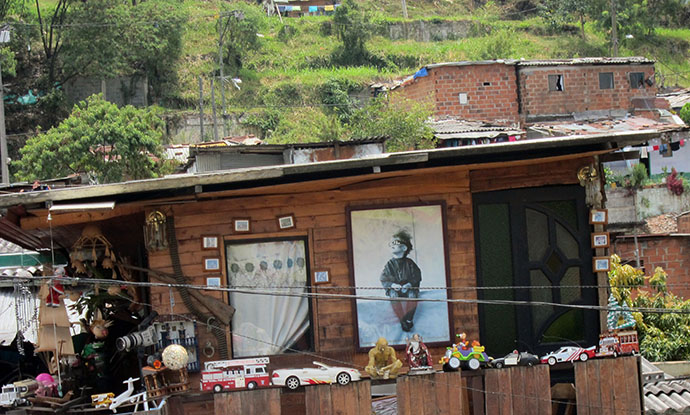 It is common practice in Colombia to reuse and repurpose building materials and found objects at every scale, as this small home adjacent to a major thoroughfare aptly demonstrates. 
The city was an open lab for attendees to see firsthand through guided tours and unstructured wandering the implementation of initiatives now studied throughout the world: from emblematic libraries and schools, connected through efficient transportation systems that have catalyzed community-driven development in formally marginalized mountainside neighborhoods; to the projects of public utility companies infusing accessible cultural opportunities into communities once devoid of such civic engagement.
While the positive connotations of the city's infrastructure achievements were visually clear, it was not entirely apparent how these targeted projects universally improved livelihood indicators for  citizens. Anecdotal discussions revolved around subsequent increase in crime, nearly 40,000 homes in conditions of risk and continued challenges of unplanned growth on the city's periphery. When pressed, local architects suggested that there was a limit to what we could accomplish toward equity in the strictest sense, but that indeed we could improve quality of life. Equity, like perfection, is something to strive for. It may not be obtainable in our generation, but simply by working towards the goal we will make great strides forward.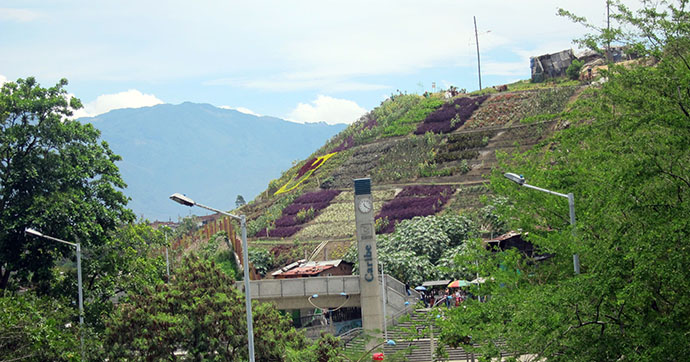 A former landfill was developed as a demonstration site for converting brownfields into an environmental mitigation and awareness project that can be easily reached via a public transportation stop at its base.
One such path forward was a major subtheme of the forum. Talk of resilience as a concept and mechanism to increase equity touched every corner of la Plaza Mayor convention center. Scores of sessions addressed the topic, from the UNISDR's Disaster Resilience Scorecard for Cities, a comprehensive and effective way to assess a city's resilience to natural hazards, to the Rockefeller Foundation discussing how to build a resilient city and their 100 Resilient Cities initiative. Multilateral institutions such as the World Bank and the Inter-American Development Bank were there in force, the latter of which is spearheading the Emerging and Sustainable Cities Initiative throughout Latin America.
Equally impactful initiatives were put forth as models, such as the American Planning Association's involvement in the Energy and Climate Partnership of the Americas and the C40 Cities Climate Leadership Group, a network of the world's megacities committed to addressing climate change. Another recent but rapidly growing alliance is MAS Global Network, an open group of professionals and academics across the globe dedicated supporting urban practitioners in making their cities more livable and resilient. An initiative they adamantly campaigned for was the inclusion of "urban" as a unique goal within UN Habitat's Sustainable Development Goals to guide Habitat III in 2016. As the world continues to urbanize, it is increasingly paramount that we recognize that by ignoring the urban we will continue to perpetuate inequitable cities. However by embracing the movement and by planning for and building in resilience we can arrive closer to more equitable cities.

T. Luke Young is AECOM's director, Buildings + Places, Spanish-speaking Latin America