Inspiring the next generation of engineers
My colleague Burcu Yazgan Kayabali and I are both engineers with AECOM in Turkey, as well as managers within our business — thanks to the continuous support from our families, friends and colleagues.
The road to success is never easy and straightforward, and in the developing world, it can be even harder for women to stand up and find opportunities to grow. With these challenges to overcome, role models are so important to inspire future generations.
With this sense of responsibility, we serve as mentors for the Engineering Girls of Turkey (EGT) initiative of Limak Holding, one of the biggest Turkish contractors. The initiative is carried out in partnership with the Republic of Turkey Ministry of Family and Social Policies and the United Nations Development Program (UNDP). Now entering its third year, the program provides scholarships and mentoring for 100 university students from more than 50 universities.
Through the program, we help guide young students to become future engineers and represent our industry. It has been a unique journey for us — sharing experiences, exchanging views, exploring each student's potential and, most importantly, helping them believe in themselves.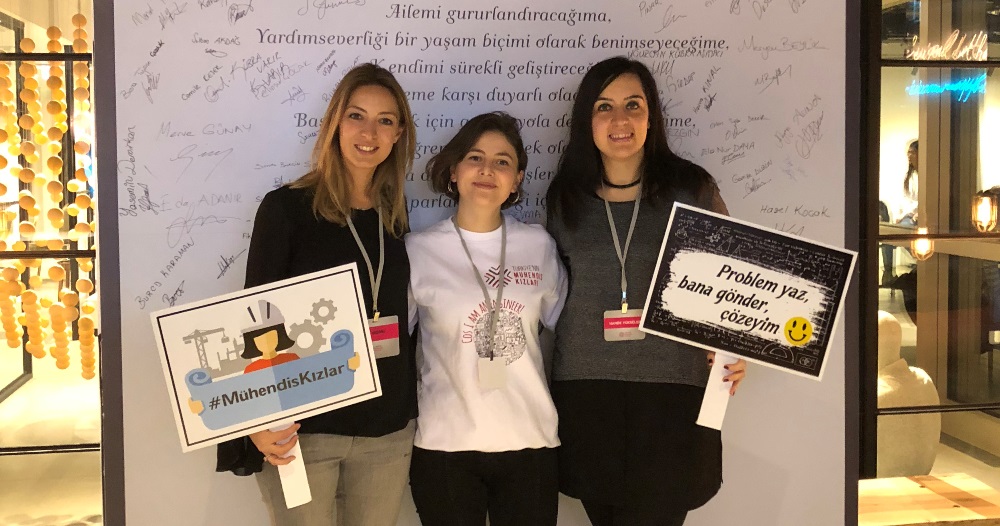 From left to right: Burcu Yazgan Kayabali (mentor), Meral Yildirim (mentee) and Hande Yukseler (mentor) at an EGT event.
As part of the EGT initiative, the third annual meeting of students and mentors took place on 24 February in Istanbul with well-known keynote speakers — an actor who's also a goodwill ambassador of UNDP Turkey, a woman CEO, a woman author and a social entrepreneur. They shared their inspiring stories and underlined the importance of gender balance across all sectors. As AECOM Turkey, we were among the engineering companies participating in this initiative with the highest percentage of employees who are women.
Diversifying the makeup of our AECOM teams in Turkey has been at the core of our own efforts. Fifty percent of our employees are women, and we've made great inroads in supporting and advancing them so they can achieve their full potential. And we believe we can achieve much more. Through outreach, such as the EGT initiative, we can continue our work to positively influence young women to join our industry, and at the same time, advance more women into senior roles within our company.
As mentors, we hope to help bridge the gender gap in our industry. Our focus is on being a great place to work where merit is the only thing that counts. We offer some of the most compelling opportunities for all talented individuals and commit to fair selection. We advocate for and champion women's achievements, as well as encourage young women to enter the professions that inspire them and where they can make a difference in the world.