"I'm a man!" That's what my three-year-old niece exclaimed when I proudly placed my very first hard hat on her head. She said, "I'm a man," and was so excited. She flexed her muscles, and my heart sank.
I'd recently graduated with a degree in civil engineering and was working as an engineer trainee for the Virginia Department of Transportation. My family was visiting from South Carolina, and I was eager to show them my new steel-toed boots, safety vest and hard hat. When my niece made her declaration, I knew there was work to be done.
Twenty years later, I'm grateful that the mere appearance of a woman on a construction site is no longer an oddity. However, according to the findings of the World Economic Forum's 2017 Global Gender Gap Report, gender parity is still more than 200 years away. For me, that only means there's no time to lose — we need to do everything we can right now to accelerate the movement. The most rewarding way I've found to do that is by investing in the next generation.
As a young girl, women in my small-town community made an investment in me. My teachers recognized my aptitude for math and science and found ways to cultivate my interests. Women who looked like me, and who were members of service and non-profit organizations, invested their time to help me better understand myself and my world. I especially recall my time as a part of a girls club founded by African American women leaders. Their motto was "Lifting as We Climb," signaling their understanding that no individual woman could rise without the improvement of the whole race. Their agenda was focused on job training, wage equality and child care — issues that, if addressed, would lift up all women. This organization was founded over a century ago, but their ideas still hold true.
As the incoming president of the Central Virginia Chapter of WTS, I take pride in the work that our chapter does in the community through the Transportation YOU program. By introducing middle school girls to a wide variety of transportation careers, we're helping shape the future of our industry and taking strides toward gender parity. But there's always more to be done.
I've sought additional opportunities to collaborate with community organizations and increase the outreach and diversity of our programs. In partnership with the Richmond (VA) Chapter of The Links, Incorporated, WTS was able to provide a transportation-based STEM session to female cadets at Franklin Military Academy in Richmond. As chair of the Environmental Ownership Committee of my sorority, I've sought opportunities to create partnerships to improve local parks infrastructure, establish new green spaces and build community gardens. There are opportunities to affect change and deliver a better world all around us.
We learned last week that my oldest nephew will start at the United States Naval Academy this summer. We're all very proud! I'm particularly proud because he's graduating from South Carolina Governor's School for Science and Mathematics, and he has always aspired to be an engineer like his Aunt Unwanna. Despite all this, when I recently told him that I met a NASA astronaut who was a Naval Academy grad, he said "Really? Is he a recent grad?" I proudly said, "SHE was actually one of the first women to graduate from Annapolis."
There's still work to do. But I'm up for it. I'm a woman!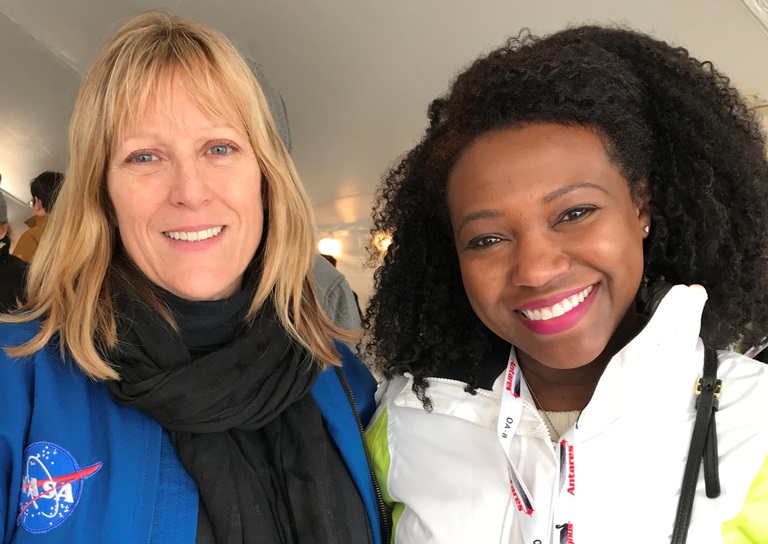 NASA Astronaut Kay Hire with Unwanna Dabney.
This blog post is part of a series celebrating International Women's Day 2018 and this year's theme, #PressForProgress.