Joining the innovation coast
From a late 1800s manufacturing and warehousing hub to today's innovation ecosystem housing the brightest minds and dynamic businesses, we're excited to join the next generation of pioneers in Brooklyn's Industry City.
We recently opened a new office in Brooklyn because the area exemplifies the urban challenge throughout the United States. Brooklyn has had an exciting and often turbulent economic history. As the economy fluctuated and it was no longer a shipping and warehousing center, it needed to reinvent itself. Today, Industry City has a completely different future in front of it.
As a company that has seen great change and is dedicated to making the most of today and tomorrow, we need to understand the past, but also deeply understand our clients' needs as they emerge today. We want to be a partner in the work to help neighborhoods and cities grow, to create opportunity and help solve the social issues cities face. By being in Brooklyn, we can attend neighborhood meetings, talk to people and have a presence in the community. So much of our credibility is based on who we are, how we communicate, and if we understand our neighborhoods and have a sense of place.
Industry City is a beautiful amalgamation of the past and the future. It has become a dynamic collaboration space where we can engage in creative thinking, conversation and solution building. We have architects, engineers and landscape architects, all working together to reimagine what Brooklyn can be. It's time to consider a new vision — one that not only takes into account all of its residents, but that acknowledges the world economy has shifted and is driven by technology. We want Brooklyn to be a part of this shift, and to benefit from it.
Our employees in Industry City are involved in so many exciting things. We have landscape architects working on resilience projects in Lower Manhattan, which you can see from Brooklyn and clearly envision what sea-level rise means. We also have engineers working on what's called the "Triple Cantilever," an incredibly complicated engineering marvel meant to rebuild an elevated highway while it stays open and operational. We're also involved in the overall research, design and testing of autonomous vehicles and how they will impact the urban landscape.
Like the economy, AECOM is on a cusp. We can no longer simply be an architecture and engineering firm. We need to be a multi-platform, multi-disciplinary partner that can design, build, finance and operate projects. This requires collaboration and vision, and this space in Brooklyn is intended to bring people together, not only from New York and New Jersey, but from all around the country, to find cutting-edge ways to use and refine the technologies that will better our lives.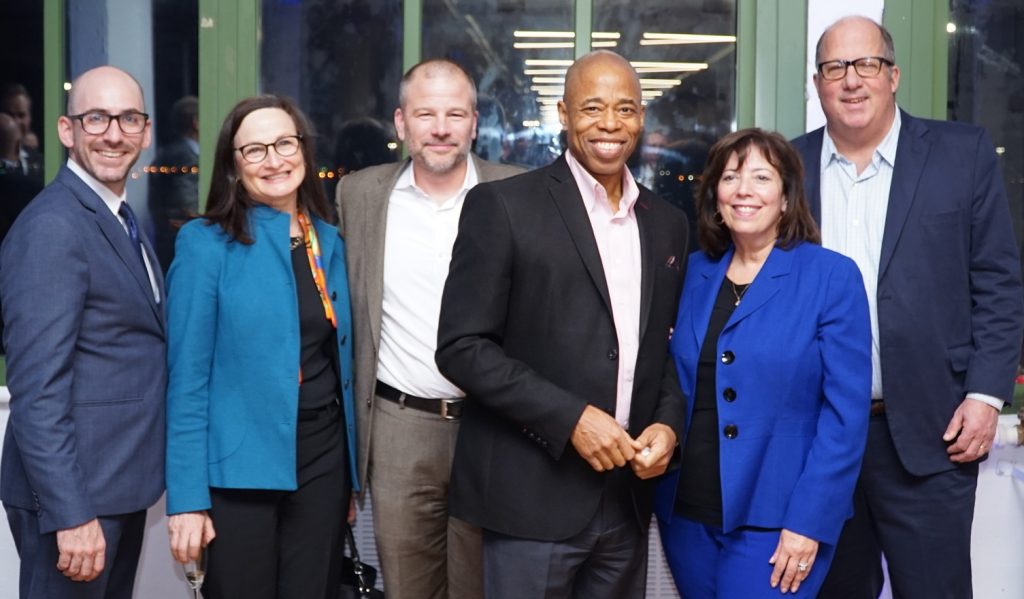 Thank you for the great Industry City welcome!
Pictured from left: Andrew Hoan (President and CEO, Brooklyn Chamber of Commerce),
Regina Myer (President, Downtown Brooklyn Partnership), Andrew Kimball (CEO, Industry City),
Eric Adams (Brooklyn Borough President), Denise Arbesu (Board Chair, Brooklyn Chamber of Commerce)
and Chris Ward (Chief Executive, AECOM New York Metro).