Making a positive impact in India
I'm Colette Hayes, a planner at AECOM from North Queensland in Australia. I'm fortunate to be participating in Pollinate Energy's Young Professionals Program alongside my colleagues, Beth Scott and Juli Anderson, in India. Follow our journey over the next few weeks as we partner with this powerhouse not-for-profit social business, working within the slums of Hyderabad to bring clean energy alternatives to the community and meet wonderful people along the way.
After a few hiccups getting out of the airport, I finally arrived at the Hive — Pollinate Energy's headquarters — in Hyderabad around 2 a.m. (fun fact: It's next door to the home of a very famous Tollywood* celebrity!).
Following a couple of hours of sleep (India is loud!), we were ready to go. After meeting everyone at the Hive, we dove into the formalities of the Young Professionals Program. It's always amazing to listen to people who are so passionate about what they do, and that was exactly the case for our program leaders, Dave and Tom.
Our first visit to the slums offered an introduction to what we would see over the next few weeks. Residents of these communities are often from rural areas; they migrate, "temporarily," to make money for food, shelter and their children's educations. While some say they have been living in the slums "for a long time," many have been there since birth.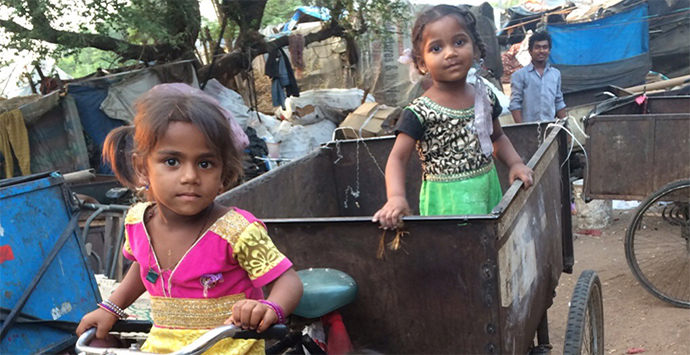 Pulling up on the side of a main road in the city, we could see the community for the first time. From our vantage point, it appeared as though the city of Hyderabad stopped for 500 meters and left a void — the slum, home to thousands of impoverished people. We stood on the side of the road for a few minutes taking it all in.
The community was made up of approximately 800 tents on a very small portion of land. The ground was uneven, dusty and littered with glass and rubbish. Intermittently spaced between the tents were puddles and flows of sewerage. In areas with access to a small amount of electricity, live wires were strung up just meters above the ground.
The planner in me immediately emerged, and I was suddenly trying to find my bearings in their infrastructure, wondering how people accessed water, whether it was clean, where the bathrooms were, how residents got food, where they worked — but we'll get to that in another post.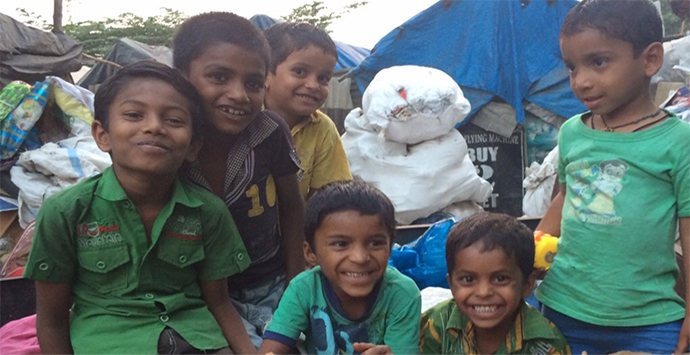 As we ventured into the community, it was only minutes until children appeared. These kids were so beautiful and happy, with such big grins on their faces! They especially loved being photographed. Adults in the community were intrigued and came out to see what we were doing and what was going on. The people we met were so warm and welcoming, despite the conditions surrounding them.
Four hundred million people in India live without access to electricity. Many use kerosene lanterns and cook stoves (using plastic and whatever else will burn) for light and cooking, contributing to India's crippling air pollution, the country's fifth-most-common killer.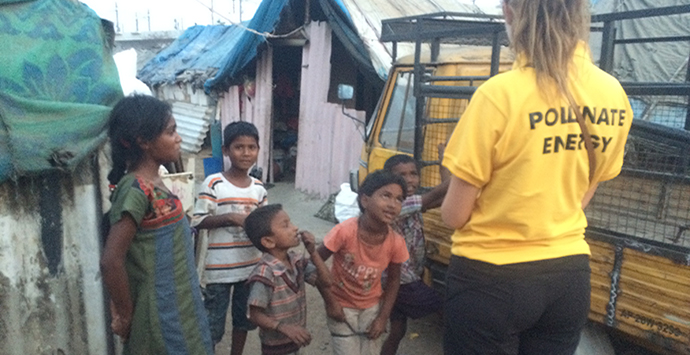 That's where Pollinate Energy comes in: providing sustainable, solar-powered lights and energy products for everyday use. Several people in the community had already bought the lights and, upon inviting us into their homes, showed us the positive impacts that these simple objects had made — immediately evident as darkness fell.
But it's not just electricity and light that poses a challenge for those living in the slums of Hyderabad. Sanitation and water quality are also causing problems. Our tests showed that most water in these communities is (at least) doubly contaminated, and many residents told us they fall ill once a week or more. Interestingly, however, when we asked people if they thought their water was safe, the majority said yes.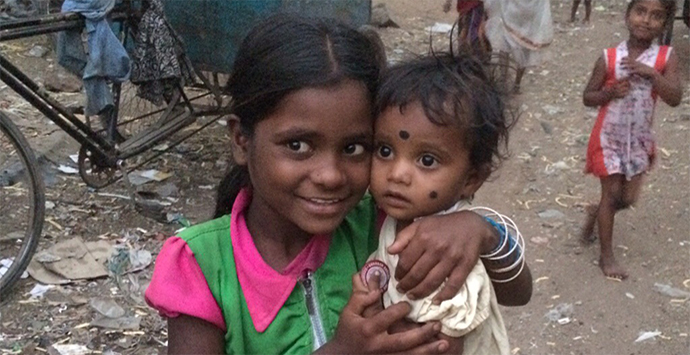 Pollinate Energy's next initiative is to introduce water filters to the community. A big job lies ahead in terms of communication, education and logistics, but in my first few days here, the positive impact we are already making is inspiring.
*Telugu cinema, or Tollywood, is a part of Indian cinema producing films in the Telugu language, centered around the Indian states of Andhra Pradesh and Telangana, based in the Hyderabad neighborhood of Film Nagar.

Colette Hayes is a planner based in AECOM's Townsville office in Australia.
LinkedIn: Colette Hayes