Need for public leisure places keeps rising
Millennium Park, Chicago. Photo by Brian Palmer.
As urbanization increases across the globe, with its associated increase in built space, density, infrastructure, technology, and associated economic development, not to mention a faster pace of life, the basic human need for leisure and cultural activities and places will continue to grow in importance.
An important portion of this will take traditional, if more modern and interesting forms, such as parks like the High Line in New York City and Millennium Park in Chicago, beautiful spaces that are destinations in their own right that provide visitors with the opportunity to stroll, relax, take in the view, watch other visitors, enjoy an event, and even exercise, all without requiring them to knowingly cross a barrier or gate, enter a building, or spend any money.
At the same time, we will continue to see growth in attendance at leisure and cultural venues that in some form or another more directly control access and that directly or indirectly require (or need) visitors to spend money. Some of these, such as observation decks, will be direct byproducts of urbanization, ease of access by urban visitors, and improvements in building technology, allowing visitors to have a higher and higher view of the city, which is both educational and entertaining, such as the One World Observatory on top of One World Trade Center in New York City, forecasted to draw 3.8 million visitors annually.  This will be just one of three observation experiences in New York City, and will add to the growing number of such experiences worldwide.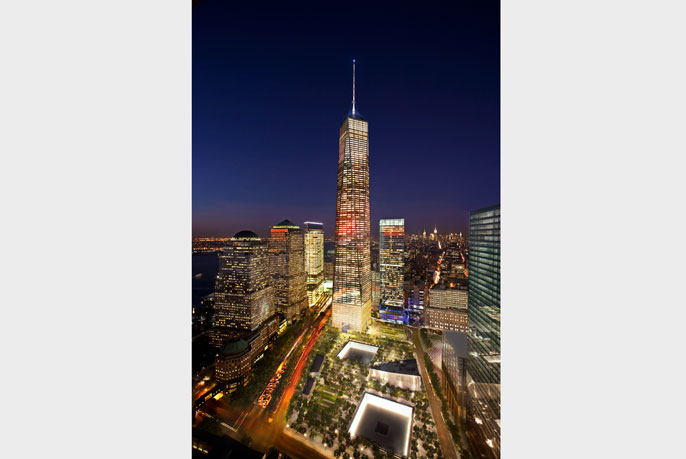 One World Observatory atop One World Trade Center. Image courtesy of The Port Authority of New York and New Jersey.
Attendance is also expected to grow at major cultural institutions, such as museums and performing arts centers, as well at sports facilities, entertainment venues, and amusement parks and related facilities. While all of these have existed in various periods for significant periods of time (some longer than others), the quality of the experiences offered to visitors has increased over time at each. In addition, despite the continued improvement in technology in the home, which seemingly poses a threat to experiences in places outside the home, in fact we are social creatures and enjoy sharing experiences together, particularly ones that are in some way meaningful.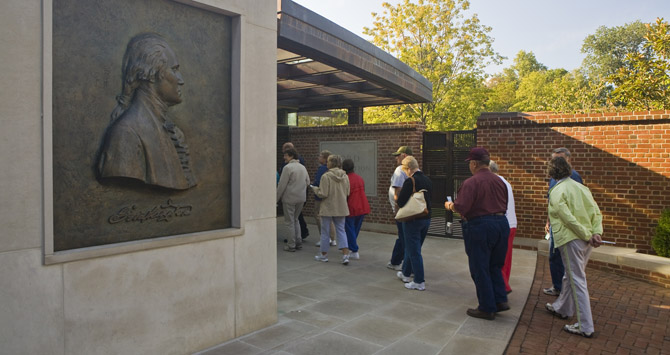 Mt. Vernon visitor center, Virginia. Copyright AECOM photo by David Lloyd.
Evidence of this trend is given by the continued growth in attendance at the top 25 theme parks worldwide, which collectively had 206 million visitors in 2012, up from 188 million in 2007 prior to the Great Recession. Similarly, while global figures have just started to be tracked, attendance at the top 20 museums worldwide was 99 million in 2012 and is expected to continue to grow rapidly in the future, particularly due to the impact of the growth of museums in developing countries, such as China which intends to add 1,000 museums over the next decade.
More information about attendance trends at major theme parks, water parks, and museums worldwide can be found in the 2012 Theme Index and Museum Index prepared by the Themed Entertainment Association (TEA) and AECOM. Click here for the full report, from which the following figures have been reproduced.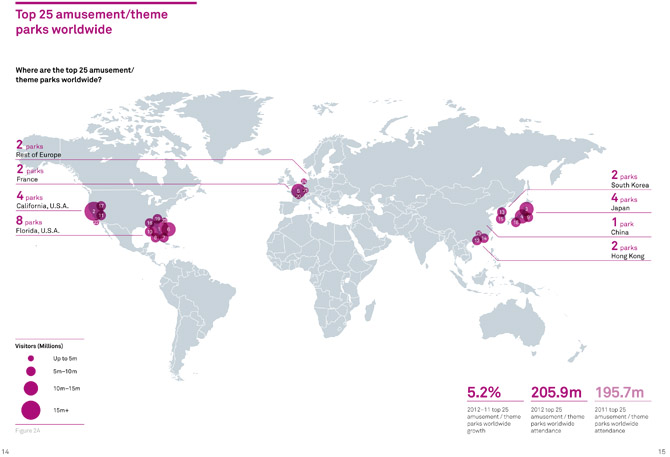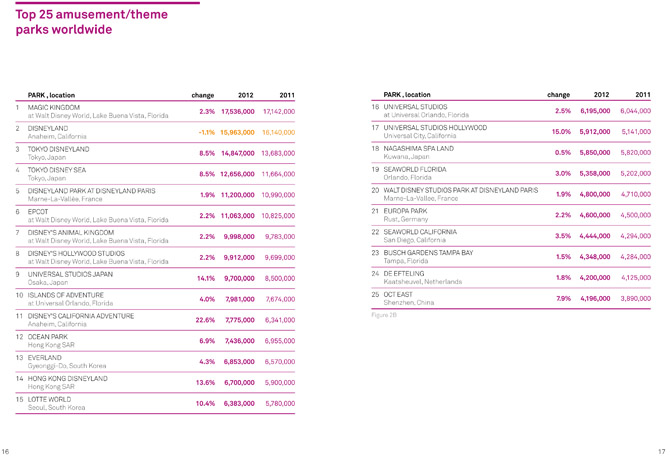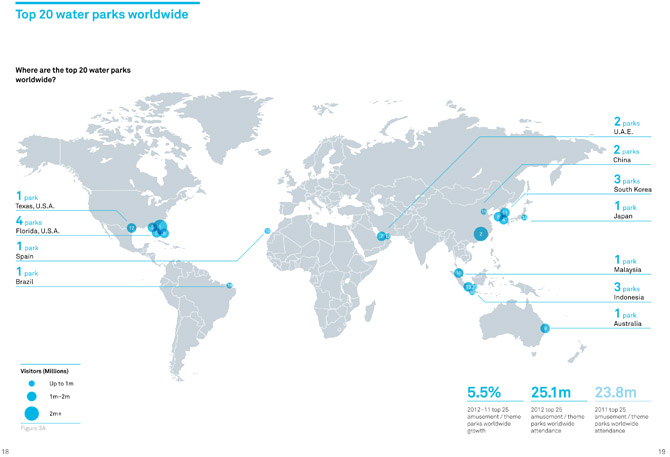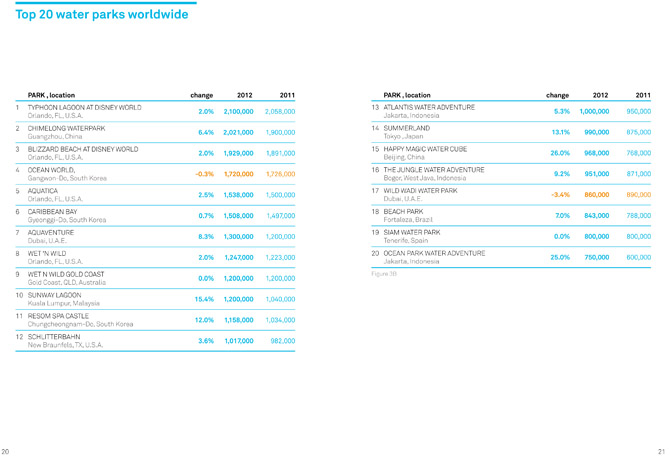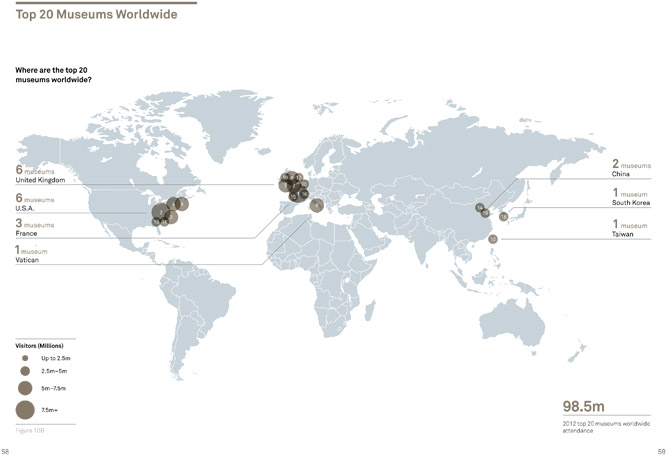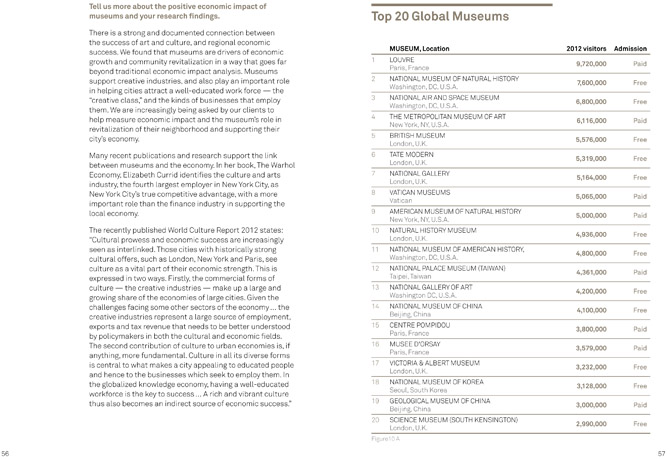 Brian Sands (brian.sands@aecom.com) is a vice president with AECOM's Economics practice.