Optimize your office portfolio with scenario planning
With post-pandemic workforce trends in a state of flux, developers, landlords, owners and corporations are continually adjusting strategies as they consider the performance of their real estate portfolios. If you're one of these real estate stakeholders, understanding what is driving the new workplace, from hybrid work to variability and flexibility, will enable you to navigate through conflicting predictions so you can evaluate scenarios and implement solutions that best align with your needs and interests.
Workforce needs
If one thing is certain in the aftermath of the pandemic, it's that nothing is certain, with polls on workforce trends providing contradictory information. A recent Gallup poll, for example, suggests that only two in 10 remote-capable workers are expected to be on-site full-time in 2023, down from 60 percent in 2019. And yet, workers are returning to the office. In January 2023, office usage increased in 10 major metro areas, rising to about 50 percent of 2020's pre-pandemic attendance per Kastle Systems, a key card property management company that tracks office building entries. Still, it's estimated that fewer than 10 percent of employees are in the office five days a week.
Variability
With the expectations of how and where we work continuing to shift, we are clearly not returning to the same workplace that we left. In the past, developers, landlords, owners and corporations could plan their spaces using a basic metric centered on the premise that workers were present in the office according to the standard five-day work week. While workers are returning to the office, attendance numbers and specific days vary — even from week to week — which makes planning for a returning workforce even more challenging. The one constant is there is no one solution that fits all. Instead, there are variable scenarios tied to an assortment of new workforce trends that can accommodate nearly every office environment.
Flexibility
This is where flexibility comes in. There is not one solution for all real estate portfolios, for an office building with multiple tenants, or even for one company, as optimal scenarios are driven by business goals, assets and their associated workforces. As a corporate and commercial real estate stakeholder, it's imperative that you determine and implement flexible solutions that consider potential trends, variability and workforce needs to enable success across the spectrum.
Depending on your position as a stakeholder, you have a wide range of potential scenarios and solutions. For example, developers, landlords, owners and corporations may look at different long- or short-term leasing arrangements providing greater flexibility in occupied space. Alternatively, landlords may find that five years in the future, the office space could be best transformed into an alternative use.
As potential scenarios are further defined, it is important for you not to lose track of the workforce. There are as many perspectives on flexibility as there are workers in an office, with views that can make the difference in who returns to their workplace and for how many days each week. The key may be in developing solutions that address common worker needs — which can vary greatly depending on the company and the industry — ranging from providing onsite services such as daycare to establishing multiple, smaller offices in more convenient locations.
We routinely employ scenario planning and predictive analytics to develop processes that bridge the gap between business, people and the built environment. This level of engagement enables us to better understand your workforces, visualize your assets and analyze your real estate portfolios — helping clarify the pros and cons of current and future scenarios and paving the way to make better informed decisions. 
Our professionals recently delivered scenario planning and portfolio optimization services for a global pharmaceutical corporation. Using our planning tools, we analyzed workforce patterns, culture and values while optimizing assets across 4.5 million square feet of space on 11 different campuses.
More and more, we are embedding digital tools such as PreView, SSIM, and AECOMzero into our planning and analysis, providing for greater predictability and deeper insights in a more rapid manner.
A framework of success
Developing frameworks that allow for rapid scenario analysis is a process, and selecting successful scenarios is a challenge. Working with an expert team of corporate and commercial real estate professionals who understand how to integrate the evolving needs of today's workforce with critical factors like variability and flexibility will ensure you are making the most of your office portfolio, now and into the future.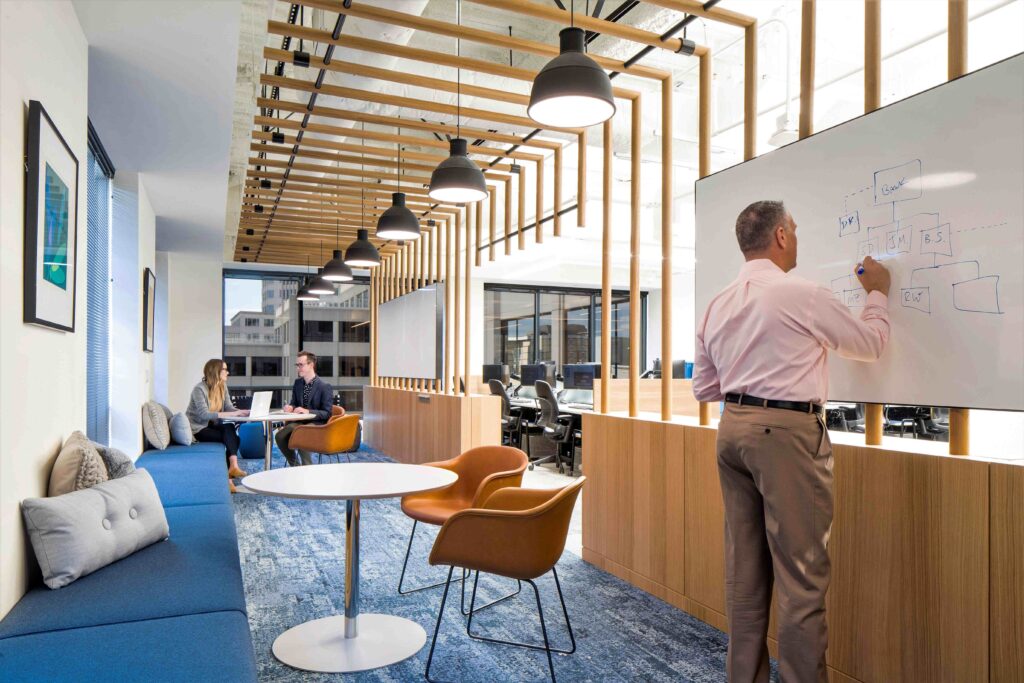 Learn about Strategy+ (our design-led management consulting studio)