People Spotlight Series: Meet Dr. Robin Sham
Our People Spotlight series gives you an inside look at our technical experts around the world. This week, we are highlighting an international authority on long span bridge engineering from our Transportation business line in the Asia region and providing you an insight into his inspiration and work.
Dr. Robin Sham leads the AECOM Long Span Bridge Group and is based in Hong Kong. With a career that spans over three decades and several continents, he has worked on many of the world's record-breaking cable-stayed and suspension bridge projects.
For his notable contributions to the civil engineering profession, he has been appointed Commander of the Order of the British Empire by Her Majesty Queen Elizabeth II, recognized by the UK's Institution of Civil Engineers (ICE) as an engineering superhero and Gold Medalist, and named by the Engineers' Society of Western Pennsylvania as one of the greatest bridge engineers of the 20th and 21st centuries.
Elements of his genius can be seen in his design of a 31-metre Guinness World Record-breaking suspension bridge made entirely of LEGO® bricks. The structure was the centerpiece of an ICE exhibition celebrating civil engineers who have created some of the world's greatest bridges.
What inspired you to join the industry? Ever since my childhood, I have been fascinated by bridges. A yearning to create artifacts that are physical and tangible inspired me to become a civil engineer. I perceived bridges as a metaphor for overcoming obstacles and resolving conflicts, and as structures for connecting people and places. I was determined to realize the physical and emotional power of bridges to connect people and drive the growth and development of countries. My desire to create new types of bridges, spanning larger distances more efficiently than ever before led me to embark on a mission of fact finding and path finding to make myself a bridge engineer. The experience in my early pursuits was enriched when I delved into the research of artificial intelligence in bridge design. That gave me a glimpse of the creative thought processes in a designer's mind, which was to shape my ensuing career.
Tell us a story of how your work positively impacted the community. The civil engineering industry is constantly evolving and we now have access to technology that enables us to build structures in topographies and environments that were once unthinkable – places where waterways were 'too wide to be crossed', winds 'too strong for construction', soil-types 'impossible to build on,' and severe earthquakes would deter construction.
The achievements of the AECOM Long Span Bridge Group are deep in history. We pioneered the creation of third generation suspension bridges to attain aerodynamic stability in typhoon winds at speeds in the realm of 100m/s (Tsing Lung Bridge); we spearheaded the sciences of construction engineering with the first attempt in history to construct cable-stayed bridges with main spans exceeding 1km (Sutong and Stonecutters Bridges) at a time when such a human endeavor was technologically uncharted; and we created seismic-resilient and scour-tolerant designs for disaster prevention and economic expansion (Second Penang and Padma Bridges). At present, our team is working on the Gordie Howe International Bridge, the longest cable-stayed bridge in North America, which will become a strategic border crossing between the US and Canada; and on the 22km-long Mumbai Trans Harbour Link, the longest sea link in India, which will bring economic expansion and relieve traffic congestion for the region.
What is the favorite AECOM project that you've worked on and why? I am privileged to have worked on practically all of our long span bridge projects, which are some of the world's longest and most magnificent. Our team relentlessly reimagines its designs and reinvents its strategies. My current favorite is a combination of two landmark projects forming a family of monumental bridges – the Cross Bay Link and the Southern Bridge, currently under construction in Hong Kong and expected to be completed in 2022.
The Cross Bay Link is a 1.8km-long sea link carrying a highway, a footpath, a cycle track, flower pots/planters and viewing platforms. When the cycle track comes off the sea link, it forms a 5km-long loop across the landscape and finally returning to the Bridge. The center piece of the Cross Bay Link is the Eternity Arch, a 400m-long orthotropic steel arch bridge. When viewed from the shores, the arch bridge is designed to appear as the mathematical symbol of infinity. It is all part of our design to deliver a sea link for multimodal transport and multipurpose leisure activities.
Our design for its pedestrian counterpart, the Southern Bridge, presents a single arch rib spanning diagonally above a 110m-main span curved deck girder. As the pedestrians walk through the curved bridge, they will be treated to gorgeous shifting views of the structure and the neighboring bridge. The project will regenerate a former refuse disposal ground and promote leisure activities and water sports. The erection of the Southern Bridge is expected in late 2021 – early 2022.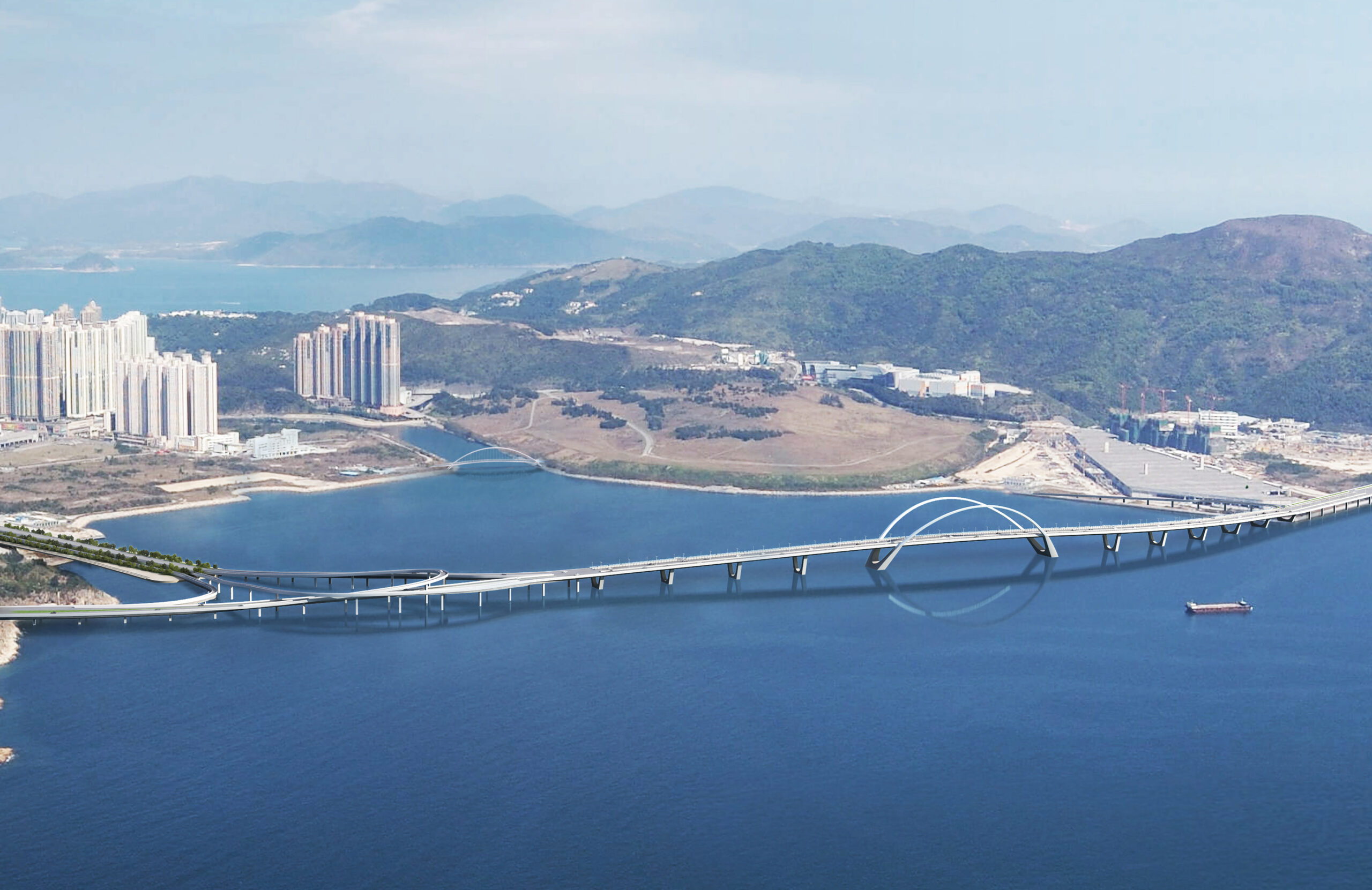 What career advice would you like to share? The key is teamwork — as personified in the Liverpool Football Club anthem, "You'll never walk alone".
A career in civil engineering offers the challenge of "directing the great resources of power in nature for the use and convenience of man," as said by Thomas Tredgold. There is also, I find, a triumphant sense of accomplishment in delivering a project. What other career can offer this?