People Spotlight Series: Meet Matt Talley
Our People Spotlight series gives you an inside look at our technical experts around the world. This week, we are highlighting a client account manager based in the United States and providing you insight into his inspiration and work.
Matt Talley is a Senior Vice President and AECOM's Client Account Manager for the Federal Emergency Management Agency (FEMA) and the U.S. Department of Health and Human Services (HHS), where he focuses on delivering exceptional customer experience; equity, diversity and inclusion; and community engagement. He has extensive experience managing high-level, politically sensitive humanitarian and disaster response and recovery operations. Matt also volunteers as a foster parent and was appointed by the 16th Judicial Circuit of Florida, Monroe County, to serve as a Guardian ad Litem to advocate for children in the foster care system. 
Since then, he's assisted in several major disasters in the United States, from the 2004 "Florida Four" hurricanes and Typhoon Chata'an to the 2015 Texas floods and the destructive 2017 hurricanes that hit Texas and the Caribbean. In his own words: "My own home was severely damaged after Hurricane Irma. The commonality of it all — the value I find in the work I do — is putting myself in the shoes of others and helping people and communities rebuild during their most vulnerable time of need."
What inspired you to join the industry? After the events of September 11, 2001, I spent two years in New York City working with FEMA in the public assistance program. One of my applicants was PS 234, Independence School, an elementary school in lower Manhattan just blocks from the World Trade Center. Some of the students lost their parents in the towers on that day. Many of us who worked with FEMA volunteered to re-plant a garden outside the school to show that beauty and growth can overcome bad and evil. The garden is still there today and on the 20-year anniversary of September 11, my eight-year-old son, Jerry, stood in the middle of that garden. It was a very emotional moment for me.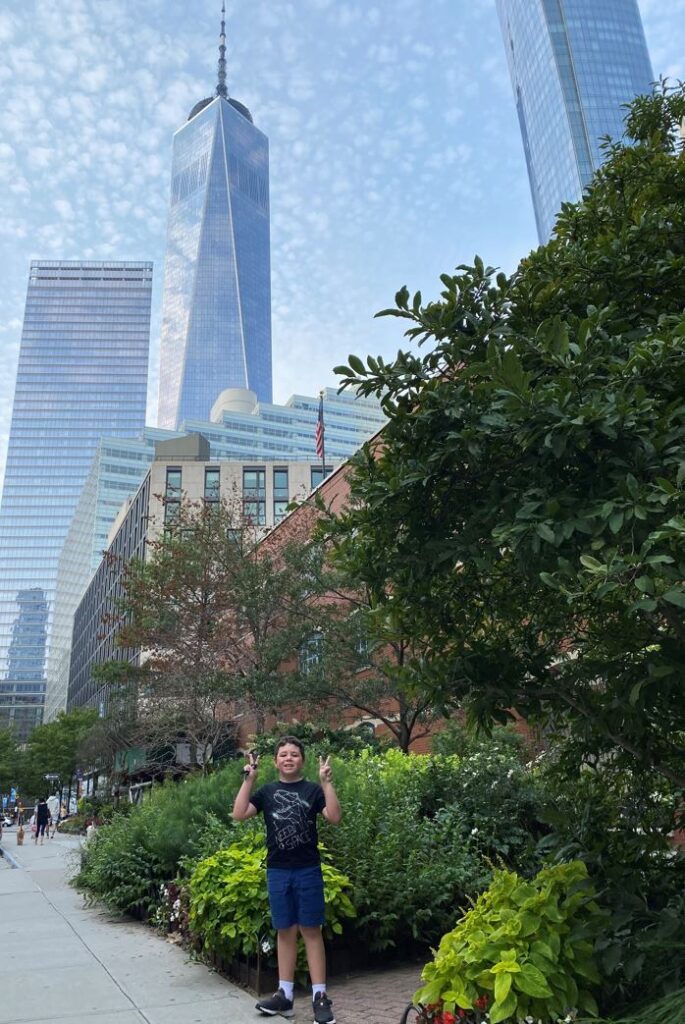 What is your favorite AECOM project that you've worked on and why? One of my favorite experiences at AECOM is my involvement with the launch of our internal Equity, Diversity and Inclusion (ED&I) Employee Resource Group (ERG). One of the biggest reasons I joined the company was because of the energy around ED&I. I've lived my entire life in communities with large disparities in socio-economic status, and I've seen struggling families first-hand. Growing up, my dad worked for the railroad and my mom was a nurse. There were four kids in our family, and my parents had to make every penny count. In my professional experience working with FEMA, I've seen the total despair of disaster survivors. Community engagement and equity are personal to me because I have lived it. I've developed an empathetic and deep-rooted desire to get resources faster to the most in-need communities, both as a volunteer and with projects for our Federal clients. I chose AECOM because of the company's commitment to service and the support we get as employees, professionally and personally, so we can bring our whole selves to the work we do for the betterment of our colleagues, our clients and the communities where we all work and live.
Tell us a story of how your work positively impacted the community. Much of the work I do at AECOM and with our clients is directly applicable to my community connections. During hurricane season, I often speak on a local morning radio show about disaster preparedness or knock on my neighbors' doors to make sure they have disaster plans in place. That inspired me to become an official Community Ambassador, where I volunteer to connect community members with city leadership and promote equity across emerging issues—most recently supporting our local COVID-19 response. I am also a volunteer Guardian Ad Litem in my community, where I advocate and speak for children removed from abusive situations. I learn so much from these kids, and seeing their strength and resiliency inspires me.
What career advice would you like to share? I would encourage everyone to say 'yes' to a project that may be a stretch personally or professionally. Committing to the World Trade Center project early in my career helped shape my passion for serving our clients and communities. It allowed me to be the good I hoped to see in the world. It was difficult taking on some of these projects, but I'm lucky to have support from my family and AECOM leadership who genuinely care about work-life balance and creating meaningful opportunities for our people.