COP26: Strengthening our global commitments
As the world looks to Glasgow for the COP26 conference on climate change, we'll be discussing some of the changes our industry needs to make and reflecting on the COP debate on the AECOM Blog. Join the discussion on social media by following us on Twitter and LinkedIn. Find more information in our special COP26 edition of our "Future of Infrastructure" report: https://infrastructure.aecom.com
We welcome governments' efforts to strengthen carbon-cutting targets and fund initiatives to mitigate against climate change and strengthen resilience, which were announced this week at COP26. Behind the headlines, we were also working hard to play our part in the battle to stave off the worst impact of the climate crisis.
"Everyone who has come here to Glasgow is committed to climate action and making a difference and that has been really inspiring for me to see," said Robert Spencer, our business line director for Environmental, Social and Governance. "That's what I'm taking away from COP is this 'can-do' attitude. People sitting down and taking coffee together to work out solutions to this problem we all face."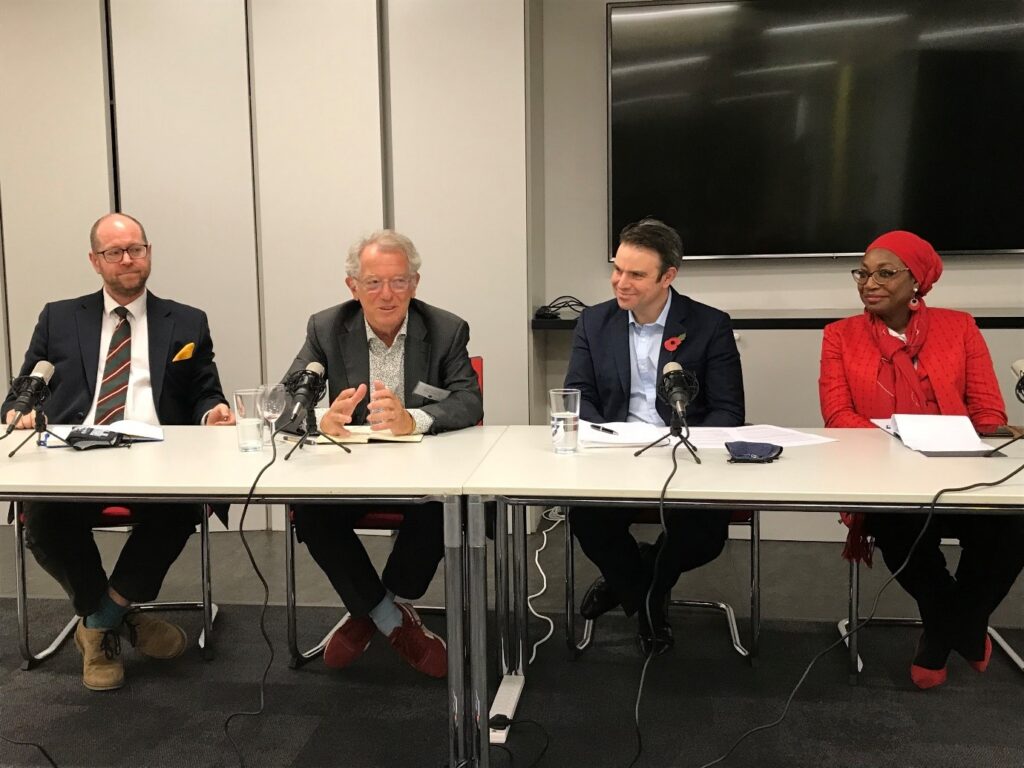 Robert was speaking during a lively, insightful panel discussion on the challenges we face tackling climate change, which was held on Wednesday at our Glasgow Offices and hosted in partnership with the Climate Crisis Advisory Group (CCAG). For many of the AECOM delegation, it was the highlight of the week.
Sir David King, a member of CCAG, founder and chair of the Centre for Climate Repair at Cambridge University, and formerly the UK's Special Envoy on Climate Change, urged nations to triple their emissions-cutting pledges – but warned that won't be enough. "Even if we get to net zero tomorrow, we have already got the Arctic melting irreversibly," he said, in response to questioning by James Banks, our head of Marketing and Communications for Europe and India. "What's happening in the Arctic circle region is affecting every region on the planet."
Scientists have identified a number of tipping points, which once past could lead to abrupt or irreversible changes to the earth's systems. To prevent the melting of the Artic leading to other tipping points, Sir David called for investment in greenhouse gas removal techniques and research into methods and techniques that can repair parts of our damaged climate system.
Dr Fatima Denton, director of the United Nations University Institute for Natural Resources in Africa and also a member of CCAG, spoke of the "power symmetry" she witnessed between those who have amassed great wealth while polluting the planet, and those most vulnerable to the impacts. However, she said it would be wrong to pit the developed world against the developing world, noting that "there are many areas where countries can come together."
To get the appropriate solutions, Robert spoke of the need to involve those affected by the decisions. This was the approach of the COP26 Futures We Want project, commissioned in 2021 by the UK in their role as COP26 President and delivered by a consortium led by Deloitte, which included AECOM, the University of Cambridge, One Young World and Radley Yeldar.
The project developed six visions of what a net zero, climate resilient future looks like, developed in consultation with people from Brazil, India, Jamaica, Kenya, The Kingdom of Saudi Arabia and the United Arab Emirates, and the United Kingdom. Although impacts and solutions vary significantly across the globe, we have much to learn from each other: for example, Robert highlighted the very effective nature-based solutions for coastal resilience developed in Kenya. In response to a question about what more built environment professionals can and should do to reduce emissions, Robert said AECOM has developed a process to reduce carbon through design across the life cycle of built environment assets, called ScopeX.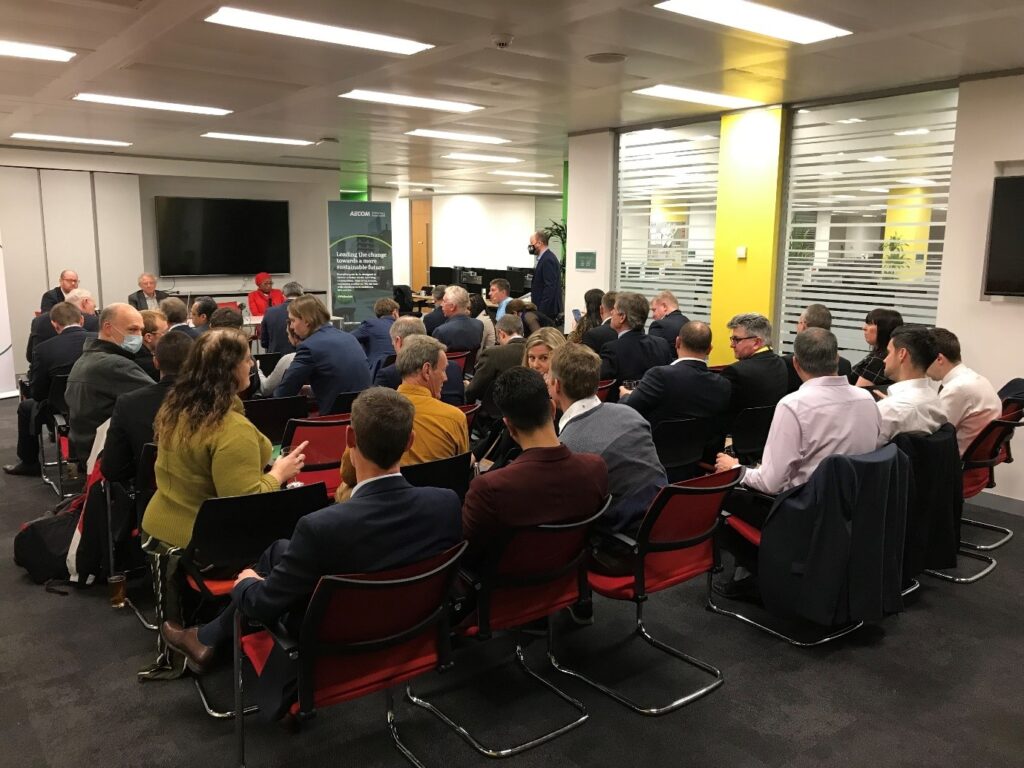 Speaking on behalf of the 2050 Climate Group, for whom she is vice-chair of the board of trustees, our Senior Sustainability Consultant Laura Brankin said: "It was a privilege to be able to attend COP26 to elevate the voices of young people. The opportunity to meet so many inspiring people from across the world and learn what they are doing tackle the climate crisis was great. However, a constant message I kept hearing was the disappointment of the exclusivity of the summit and the lack of diversity and representation, particularly from the global south due to the countless challenges faced in attending. It will be interesting to see the outcomes from the rest of this week's negotiations and I'm hopeful that these will demonstrate some meaningful action and progress being made."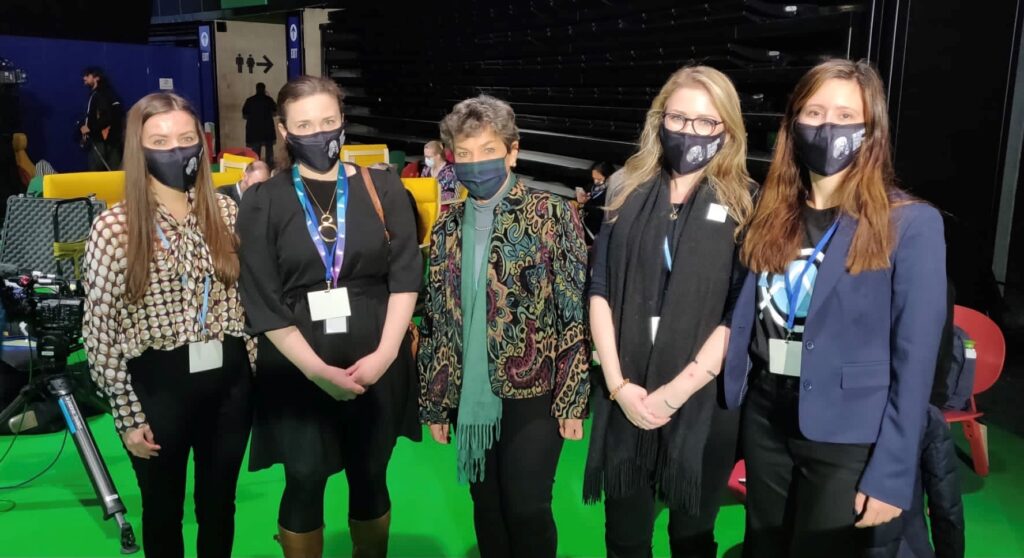 Here are some other highlights from the rest of the week:
Monday at COP was dedicated to the theme of adaptation, loss and damage. It was also our busiest day, with four events:
Dave Philp, Director for Digital Consulting, Strategy & Innovation Europe, joined Jim Lynch, senior vice president & general manager, Autodesk Construction Solutions, for a fireside chat at the Sustainable Innovation Forum to discuss resilient infrastructure. ​
"Digital tools and a secure cyber-physical fabric are important for resilience because they help us to simulate and optimize various future scenarios," said David. "Being able to re-imagine our built environment model as a system of systems, connected by data is a key enabler of more sustainable, social value outcomes. We have a limited time window to make change happen and digital infrastructure that is linked to its physical counterparts offers a catalyst to accelerate change." "To really make the gains we are talking about here, we need better collaboration," said Autodesk's Jim Lynch.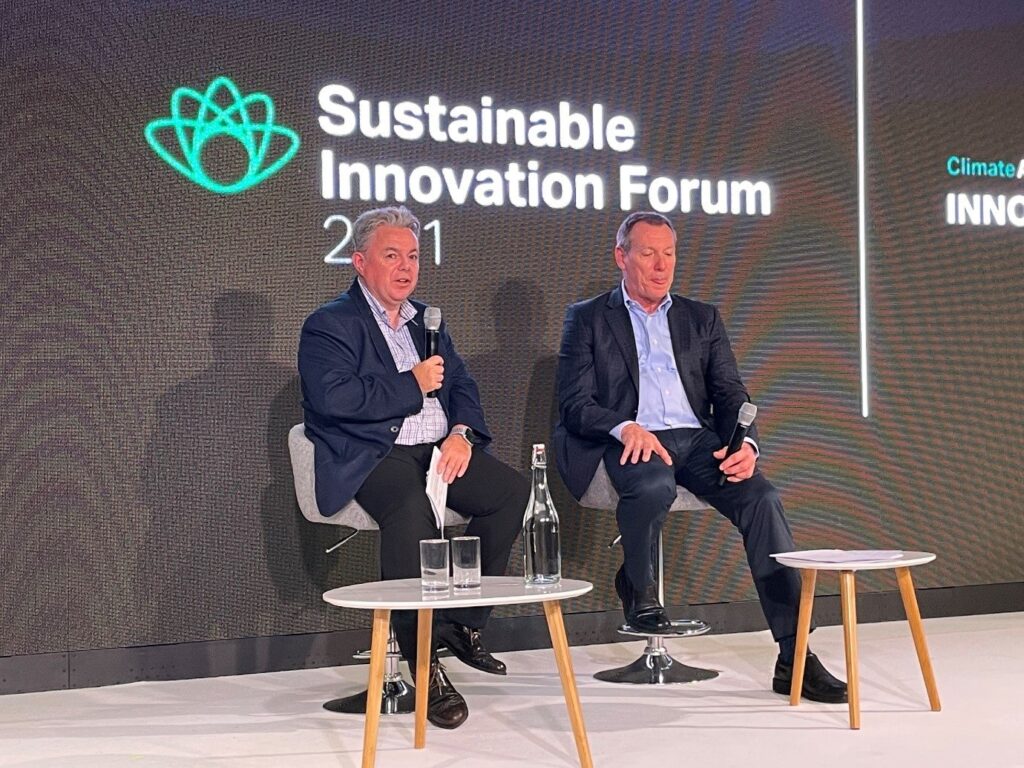 At Glasgow's Central Station, Vikki Smith, an operations lead in our central ecology team, supported Network Rail showcase green technologies with a battery train developed by Vivarail, capable of traveling at a maximum speed of 100 kilometres per hour.
"Many people joined in the conversations on board Vivarail's battery powered train journey out to Barrhead; an amazing example of sustainable zero emission transport which supports Network Rail's Environmental Sustainability Strategy," she said. "It has been an absolute privilege to support Network Rail and Vivarail to showcase their achievements at COP26."
Alice Gillman, head of marketing for Vivarail, said: "It's been a pleasure to work so closely with AECOM to develop these important events. Running our emission-free battery train at COP26 is a wonderful backdrop for the Network Rail led environment days. AECOM's commitment to understanding the challenges and finding solutions to decarbonization fits in with our work to develop new technologies. We both want to find the answers we need to reach net zero in our railways" Lisa Constable, Weather Resilience and Climate Change Adaptation Strategy manager for Network Rail, said: "It was great to see so many of our stakeholders in person and to have interesting and meaningful conversations about delivery of our sustainability strategy. I'm so pleased we were able to share this unique experience alongside all the other COP26 activities."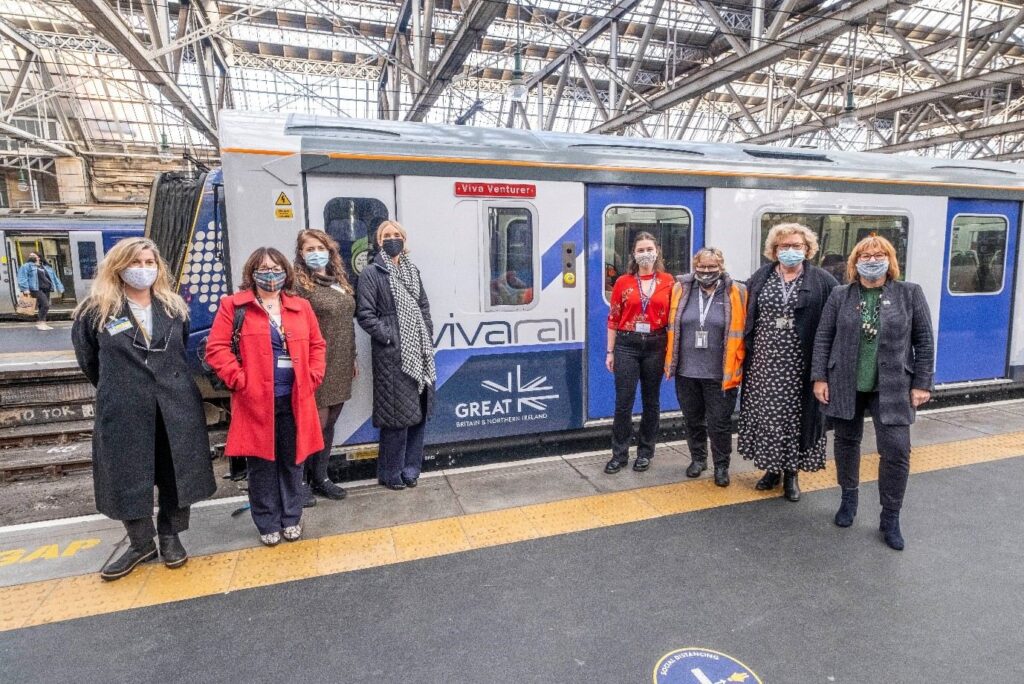 In a different part of the city, Richard Lowe, a director in our Energy sector, spoke at a COP fringe event organized by the utility company and energy supplier SSE on CCUS and hydrogen deployment. "The panel discussed how we can keep moving forward with CCS and hydrogen projects to meet the decarbonization targets set by Government. We also discussed how it was important to communicate to the public that these projects complement more traditional renewable electricity projects and that all these technologies will be needed to achieve net zero."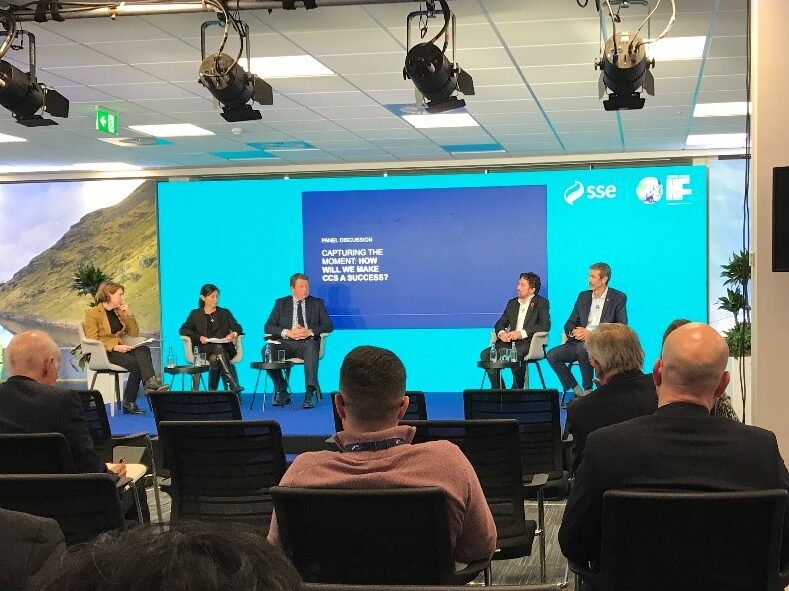 Ioana Price, one of our senior structural engineers, represented the Women's Engineering Society Climate Emergency Group at a panel discussion in the Green Zone at COP.
"We need to address the Climate Emergency with a holistic approach and Engineer-led solutions will be key to get us there," she said. "We need to fundamentally change the way we deliver projects and stop working in silos – let's do this together!"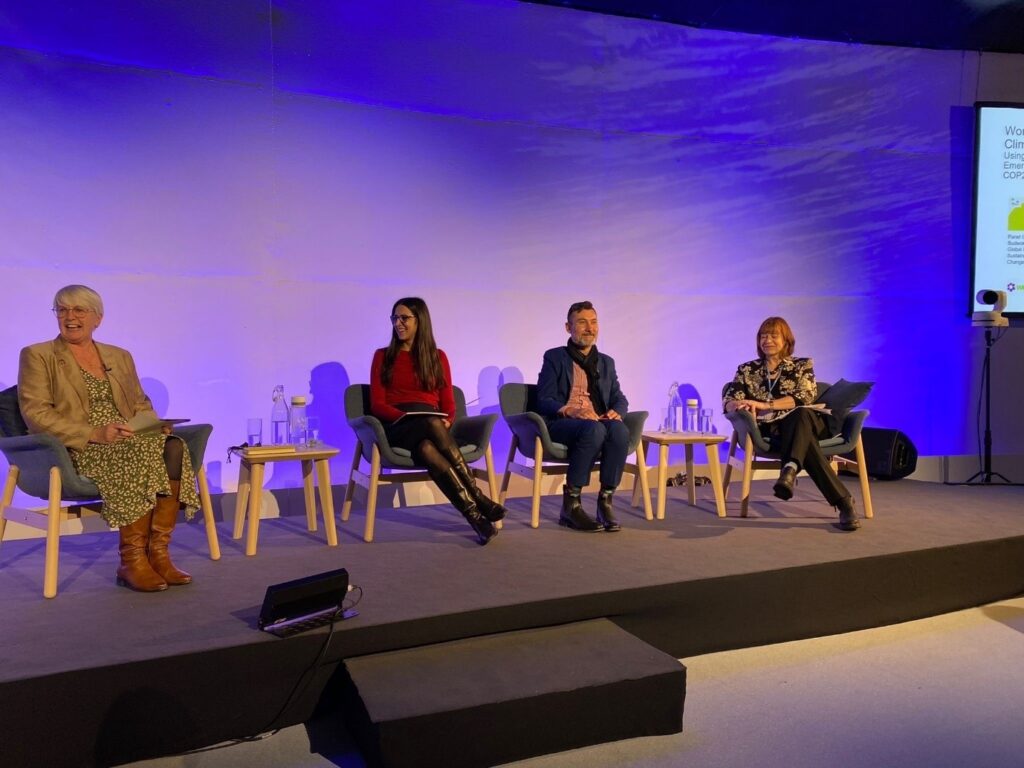 Tuesday saw the arrival of Craig Edwards, managing director for the Environment and Ground Engineering in Europe. He attended a number of events, including one showcasing our pioneering drainage system using meteorological forecasting data and sensors to enable real-time operational management on the Forth and Clyde canal.
"We need to make sure we are really working across the regions and business lines to use our collective knowledge – that's what COP cemented for me," he said. "There's a real desire here to make a difference, and a real sense of urgency. If we're going to rise to the challenge, we have to get out of our silos. The only way we are going to solve this problem is with our collective brain."
Wednesday was dedicated to clean transport. We contributed to the debate with an article from our COP26 report, a special edition of our Future of Infrastructure series on the opportunity for fleet owners to lead the way in the electrification of transport.
Thursday was dedicated to cities and the build environment. Thinking 50 years into the future, we considered the evolution of the 20-minute city concept, looking at what sustainable urban centers of the future could look like – and how to get there. Robert was invited to speak on behalf of the International Federation of Consulting Engineers at the French Pavilion in the Blue Zone for a session on decarbonizing buildings. He spoke about the launch of the FIDIC Climate Charter which aims to catalyze a movement at global level for all engineering professionals to become carbon literate and work to very significantly reduce carbon from across the whole lifecycle of the built environment.
In the coming days and weeks, we'll be analyzing what we learned in Glasgow and how we can best put our talents to use in the push towards a better world that we are currently on track for. We'll be sharing our conclusions in a forthcoming Future of Infrastructure edition, to be published in 2022.