Pushing the limits of what's possible: AECOM Innovation + Digital solutions
The world of infrastructure is changing rapidly. Long stagnant methods of design and construction are experiencing a digital revolution. Innovations driven by big data, artificial intelligence and new sensor technologies are redefining what's possible for traditional highways, bridges, buildings and campuses.
We are excited to announce the launch of AECOM's new Innovation + Digital microsite, a platform to interact with you — our clients and partners — to share innovative solutions, products, thought leadership and success stories from across our global business.
Innovation and digital transformation are essential to our culture at AECOM. Across the globe, our talented teams are always working to improve infrastructure and create opportunities for everyone. Whether we are creating digital solutions to drive efficient design, innovating through modular construction, or helping the world address environmental contaminants like PFAS, we are at the forefront of change.
Our people are finding new and improved methods of working — with project collaboration moving to the cloud, remote teams are becoming the norm and our scale is emerging as a key differentiator for our company.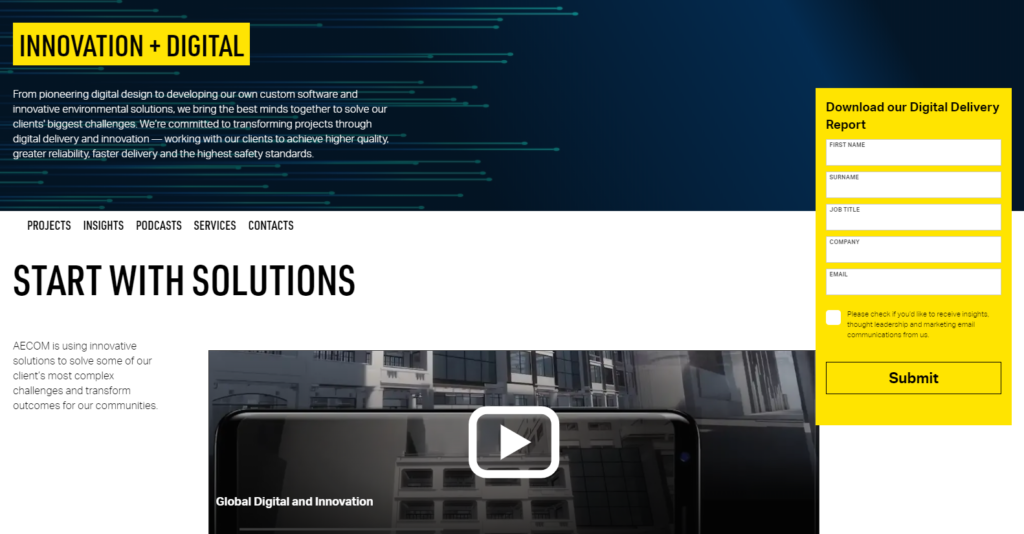 As we continue our digital journey, we are focused on three key areas of growth:
Efficient and Automated Design and Construction captures how we apply technology to design better, build faster and collaborate virtually throughout the process.
Data-driven Asset Management focuses on the infrastructure lifecycle, bringing digital tools and process innovations to how we assess, plan, deliver, operate and maintain the world in which we live.
Data Management and Intelligence looks to unlock the value of data, capturing the scale of AECOM's global footprint and delivering valuable offerings for our clients across sectors.
We encourage you to fully explore our Innovation + Digital site. For a complete experience:
Start by watching the video highlighting our global achievements at AECOM.
Read about how AECOM and Google sponsored an exciting hackathon with our clients.
Listen to Pete Flint discuss the future of offsite modular construction, hosted by James Banks on AECOM's Talking Infrastructure podcast. Then dive deeper, with insights from designer and author of "A Lead Designer's Handbook" Dale Sinclair as he describes transforming the design process.
Download our Digital Delivery Report for future reference and spend some time getting to know our global Digital and Innovation network, who are helping to deliver cutting edge solutions to projects across the world.
We encourage you to visit our new microsite to learn more about our digital journey, our offerings, how to reach us for more information and, ultimately, how we can best partner with you to deliver an innovative future.