#SafetyforLife: Going the extra yard for AECOM's culture of caring
As the national health and safety lead for the water business line, I have proactively led health, safety and wellbeing initiatives across the United Kingdom (U.K.)
I think it's extremely important to go the extra mile to promote AECOM's culture of caring, so I make it a point to engage with staff at all levels to recognize good behaviours as well as areas of improvement. For example, I take the time to follow up with staff on submitted incidents and observations to further drive the company's strong behavioural safety culture and encourage participation. I strongly believe in AECOM's "demonstrated management commitment" Life-Preserving Principle, so I constantly challenge company leaders to demonstrate their personal commitment to health, safety and wellbeing to ensure they set the right example for others to follow. However, I ensure that I always bring my own unique, pragmatic and humorous approach to epitomize AECOM's safety culture.  Whilst health, safety and wellbeing are no laughing matter, there is still room to bring a smile to people's faces whilst delivering a serious message, for example, by using spoof images of crazy health and safety situations. Many of my colleagues have responded well to these initiatives.
I have also undertaken approximately 20 Safety Training in Accident Reduction Techniques (START),training sessions across the U.K., engaging leaders at all levels in our behavioural safety culture. We are not going to change the world overnight, but each incremental gain is a step in the right direction — whether it's encouraging employees to take a short break away from their desk at lunchtime or to avoid mobile or text distractions when walking around the office.
As the lead Managing AECOM Projects (MAP) trainer across AECOM's U.K. and Ireland group, I have the opportunity to meet with large numbers of project managers to share the benefits of AECOM's Safety for Life program as well as its culture of caring message. This has a significant impact on many of the projects we work on within the U.K. and Ireland.
One of my most-memorable contributions thus far was when I managed to recruit (through repeated nagging) 75 percent of the water business line's leadership team in the U.K. to grow moustaches in "Movember" to support cancer charities and men's health programs. This initiative hits home for me because, in my experience, I've found that many men aren't very good at talking about their health and often put off seeking medical diagnosis and shrug off minor symptoms. Growing a moustache for a month is a great conversation starter and helps highlight and promote men's health charities. It is a personal sacrifice as well since my wife refuses to kiss me whilst I have the moustache.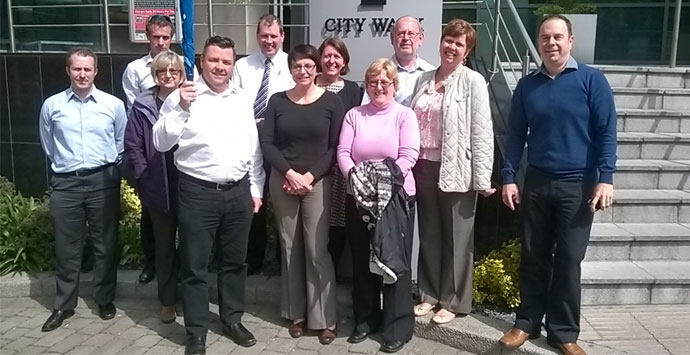 In addition to supporting the Movember campaign, I have led annual office activities surrounding AECOM's safety week during April. Last year, lunchtime walks (as seen in the picture above) were the activity of choice and encouraged staff to take a break from their desks. This year, I plan to highlight the value in everyone developing a Personal Safety Action Plan, a goal-setting tool that assists employees with reducing the risks associated with unsafe situations and environments in their professional and personal lives. The PSAP helps employees to plan, share and act together at work and at home as well as to truly engage in a strong behavioural safety culture.

Andy Yarde, a project delivery director in AECOM's water group, is based in AECOM's Leeds office in the U.K. He has more than 20 years of industry experience.
LinkedIn: Andy Yarde